YouthToSea hosts Combatting Cigarette Butt Litter Day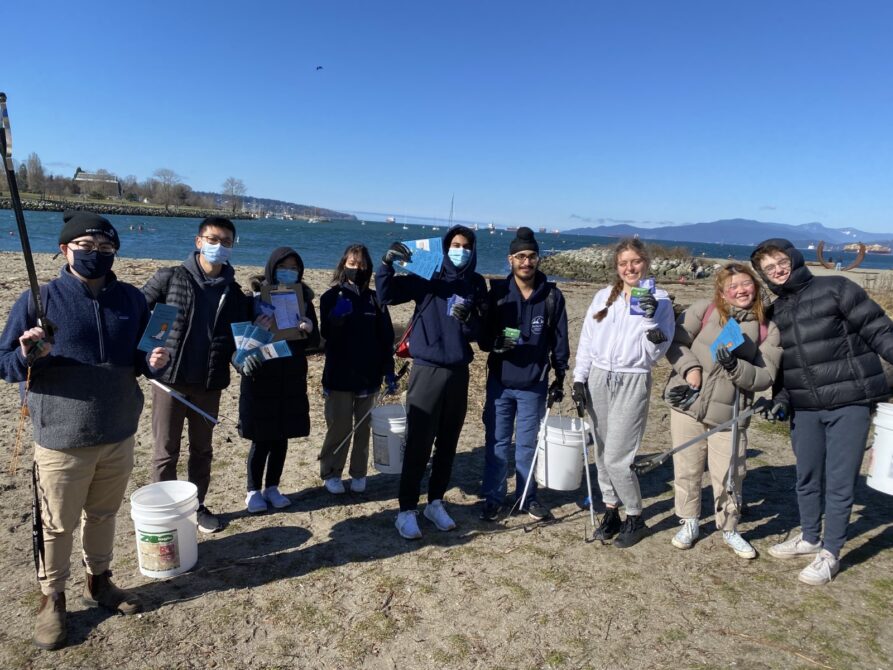 By Brittany MacLean
YouthToSea is a 5-month program that coaches youth (ages 15-18) and gives them opportunities to develop their problem-solving, critical-thinking, and communication skills through engaging with their local community on making connections to our oceans. Last year, YouthToSea brought together 80 youth from the lower Mainland of Vancouver to provide them with opportunities to develop their ocean conservation knowledge and personal skills.
If you would like to pick up a pocket ashtray and help reduce cigarette litter you can find pickup locations here: Cigarette litter reduction | City of Vancouver
For more information on smoking bylaws: Park Board Smoking Regulation Bylaw | City of Vancouver
When YouthToSea kicked off last spring, a few of the members were shocked at the amount of cigarette litter they were finding along our shorelines. Anna, Givon, and Armaan became extremely passionate about learning more about cigarette litter and what they could do to protect our shorelines. Throughout the summer, YouthToSea continued to collect thousands of cigarette butts along English Bay, and they continued to report on their findings, contributing to the data collection on the shoreline cleanup website. One day in August, YouthToSea members ended up collecting 5,817 cigarette butts in just one cleanup! This amount of toxic litter inspired Anna, Givon, and Armaan to to collaborate with the City of Vancouver and create Combatting Cigarette Butt Litter Day in March 2022.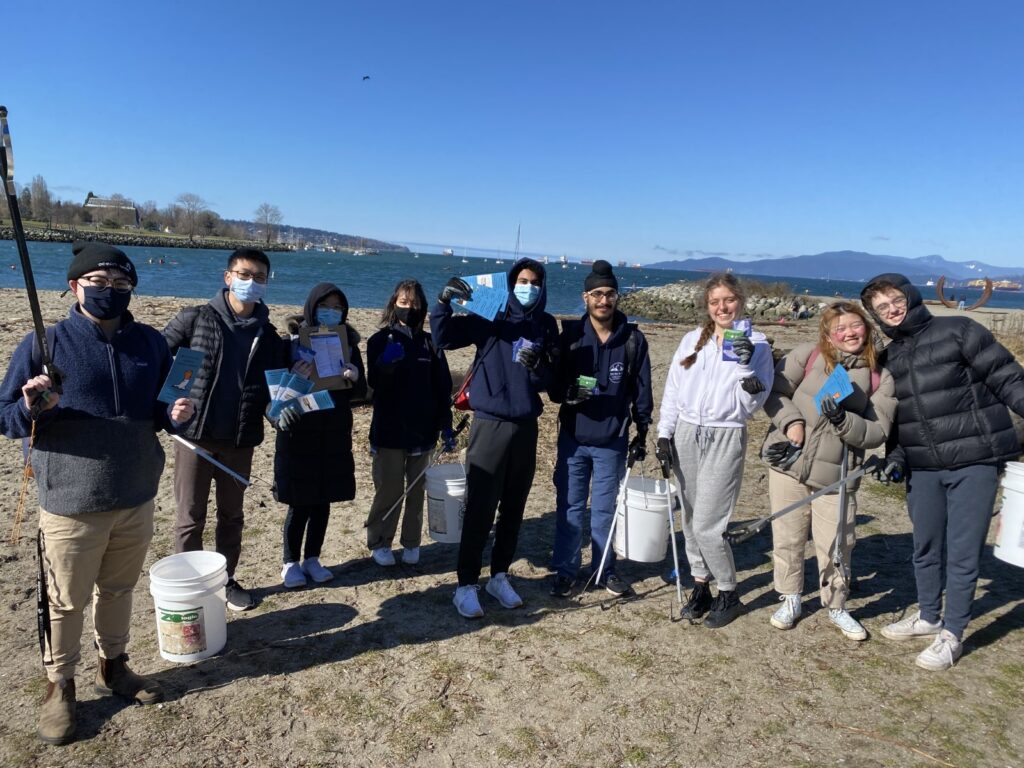 With extensive brainstorming and research, the group was shocked to learn that smoking was prohibited in Vancouver's parks and park areas, which included seawalls and beaches. It was obvious that the bylaw was not being followed, or even worse, people were just throwing their cigarette butts onto the ground extremely close to Vancouver's waterways.
Anna, Givon, and Armaan believed that if they could educate others on the amount of cigarette litter collecting along English Bay, and the dangers that it causes to our wildlife and waterways, people might think differently next time they go to throw their butts onto the ground.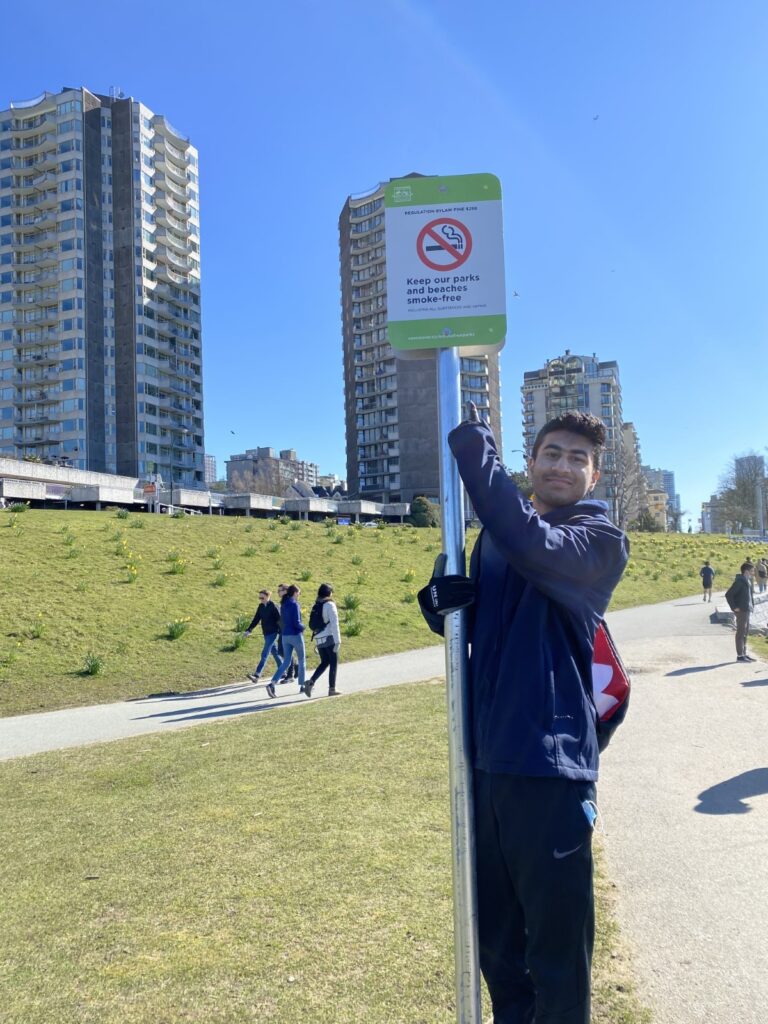 Ainie Gan and Patrick Chauo, employees of the City of Vancouver, worked alongside the group of YouthToSea participants to remind people of the city's bylaws and the negative impacts of cigarette litter. With the help of the City of Vancouver, YouthToSea was able to get new signage installed along English Bay. The signs reminded people that smoking is not allowed along our beaches, and the team also placed educational stickers on garbage bins by the beaches to give people directions where to put out their cigarette butts and dispose of it properly.
YouthToSea celebrated the successful day by completing a shoreline cleanup, handing out informational booklets about cigarette litter, and giving out some pocket ashtrays for those who were interested. On the day of the cleanup, the group collected over 700 cigarette butts in just 3 hours! YouthToSea plans to continue data collection along English Bay to see if the amount of cigarette butts decreases because of this new project.  
---
What is Ocean Bridge?
Ocean Bridge brings together young Canadians with a wide range of backgrounds and experiences who are passionate about making a difference in their communities through the lens of oceans and waterway conservation. These Ocean Bridge Ambassadors from all across Canada work together, receive funding and learn from experts in marine conservation and education through an online platform and in-person learning journeys to develop service projects related to ocean health and ocean literacy in communities across the country. Ocean Bridge is an Ocean Wise initiative funded by the Government of Canada through the Canada Service Corps.
YouthToSea is a program for youth aged 15-18 in the lower mainland of BC that aims to empower them to make a difference towards ocean conservation. It brings together 80 youth to provide them with opportunities to develop their ocean conservation knowledge and personal skills. Our mission is to coach youth and provide them with opportunities to develop their problem-solving, critical-thinking, and communication skills. At the end of our program, youth are equipped with skills, tools, and strategies to be active decision-makers in their local, regional, and national communities. To learn more, visit here.
Canada Service Corps
Canada Service Corps is designed to generate a culture of service among young Canadians; concrete results for communities; personal growth through participation in a diverse team of peers; and lasting impacts on participants. Visit www.canada.ca/CanadaServiceCorps to learn more and how to get involved in the way that works best for you.