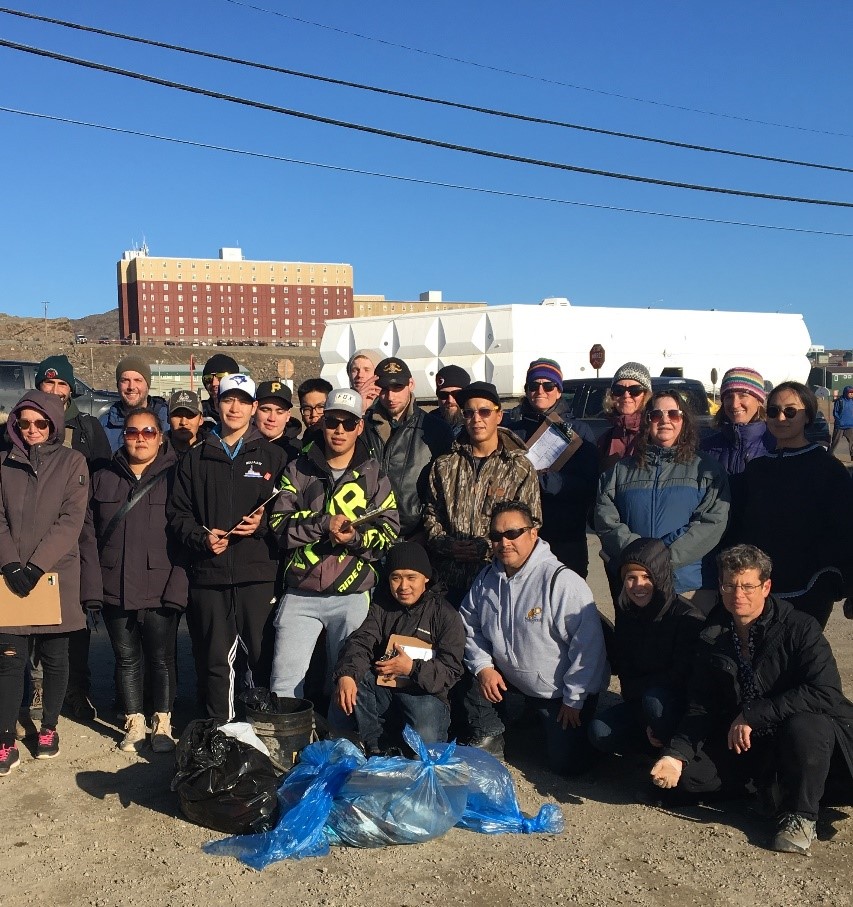 Shoreline cleanups happen everywhere – even in the Arctic!
The students collected nearly 20kg of waste during their cleanups!
What kind of litter is on an arctic shoreline? Plastic pollution in the ocean is ubiquitous it appears even in the most remote arctic regions, travelling by wind and waves from lower to higher latitudes. But while plastic pollution is a common out in the ocean, youth in the arctic wanted to find out if they could see a difference between the litter they found on the beach compared to their inland shoreline, the storm drain.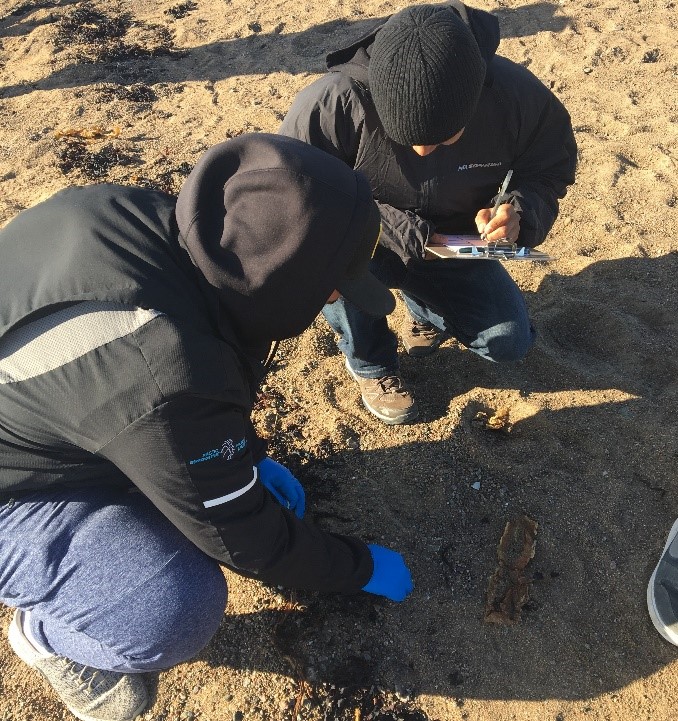 Using litter data cards, the students are collecting information on the types and amounts of litter found, this data is shared with researchers, media and municipalities.
In late September, a group of motivated and engaged student-volunteer citizen scientists from the Environmental Technology Program at the Arctic College in Iqaluit, Nunavut set out to act by leading a cleanup in a storm-drain as well as a traditional sandy, beach shoreline.
After tallying up their data cards, the students found that cigarette butts were the number one offender at both the storm-drain and beach (for a total of 990 butts!), followed by tiny plastics or foam (340 pieces), and food wrappers (189 pieces). All these items frequent the top of the Dirty Dozen list every year – a list of the most frequently found items on Canada's shorelines. In addition, all of these are single-use plastic items; items that are often used once and then destined for landfill or the environment where they will eventually break down into microplastics and pose a threat to wildlife.
From their citizen science, the students discovered that there was significantly more debris in the storm-drain compared to the beach. For example, of the 990 cigarette butts found, 710 of them were collected from the storm-drain, and the remaining 280 were collected from the beach. The students found this surprising, as they expected to find more at the traditional beach shoreline location.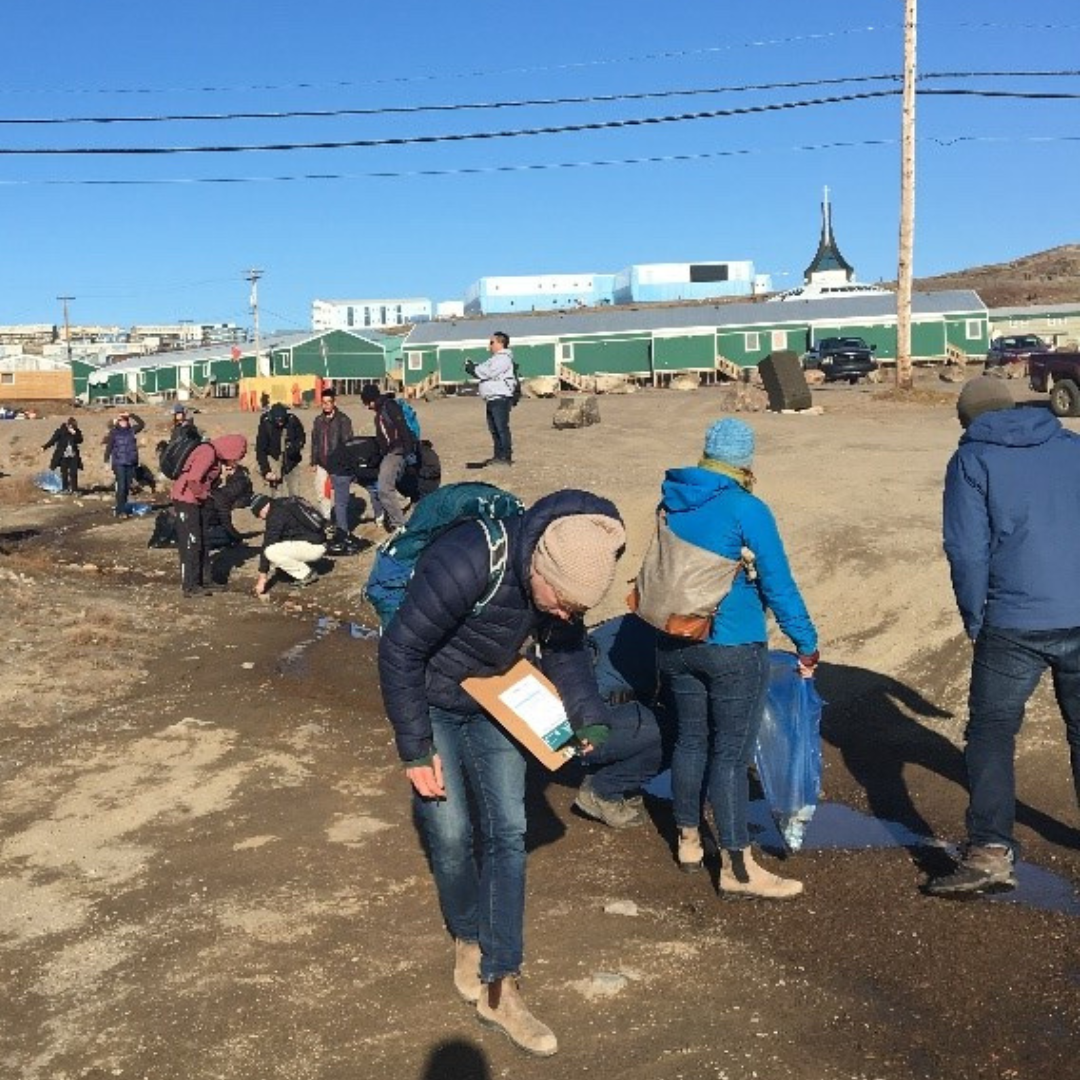 The students collected debris from two different types of shorelines – what differences do you think they found?
Storm drains connect to larger water bodies, making them an important inland shoreline to help clean. These two cleanups remind us that a shoreline is 'any place where land connects to water', whether it's a storm drain, stream, river, lake, wetland, ocean and important inland areas like public parks and walking trails. Compare the data from two shorelines near you, what differences will you find? The citizen science data from this cleanup – along with data from other shoreline cleanups – is used to highlight the issues of shoreline litter in order to help find solutions.
No matter where you are in Canada – or what type of shoreline you are nearest, you can help be part of the solution. at:.
The Great Canadian Shoreline Cleanup, presented by Loblaw Companies Limited and Coca-Cola Canada, is one of the largest direct action conservation programs in Canada. A conservation partnership of Ocean Wise and WWF-Canada, the Shoreline Cleanup aims to promote understanding of shoreline litter issues by engaging Canadians to rehabilitate shoreline areas through cleanups. www.ShorelineCleanup.ca.