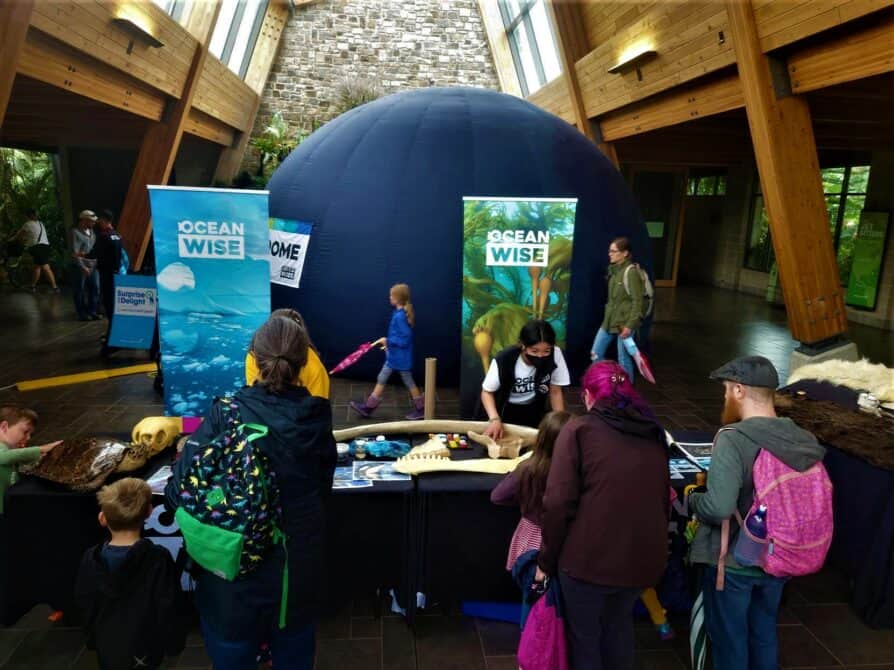 The Ocean Wise Sea Dome is back on the road delivering ocean education
The Sea Dome is on its 2023 summer tour of Manitoba and Ontario
(June 30, 2023) The Ocean Wise Sea Dome 2023 summer tour is underway, delivering ocean and climate change education to communities across Canada. After last year's inaugural tour of Alberta and Saskatchewan, the dome has headed further East to bring the ocean to schools, camps, and events across Manitoba and Ontario.
The Ocean Wise Sea Dome is an immersive, pop-up ocean adventure. The planetarium-style six-metre dome projects 360-degree 4K cinematic footage of the ocean and its creatures, transporting youth under the sea. Ocean Wise's Mobile team are on hand to teach kids (and big kids) about ocean conservation, climate change, and fascinating marine animals by giving Sea Dome tours, showcasing amazing marine artifacts and providing hands-on interactive activities.
Over 14 weeks, the team will be stopping in cities and towns including Winnipeg, Sault Ste. Marie, Ottawa, Thunder Bay, and will be celebrating the long weekend in Ottawa at the Canadian Museum of Nature from June 30 – July 4.
Last year's tour through Western Canada saw the Ocean Wise Sea Dome spend 16 weeks on the road, visiting 17 communities, reaching 6,000+ plus campers and students, and having 13,000+ community conversations.
"At COP15 in Montreal this past December, Canada joined the world in committing to halt and reverse biodiversity loss by 2030 and put nature on a path to recovery by 2050. The health of our three Oceans is vital to that mission, linked to the health of coastal communities and regional biodiversity. Wherever they live, Canadian youth have shown us, time and time again, that they care deeply for the environment. Climate change is the largest threat to ocean health. Projects like Waves of Change, and specifically the Sea Dome, engage and empower youth to take real climate and conservation action in their communities."
– The Honourable David McGuinty, Member of Parliament for Ottawa South
"The work of organizations like Ocean Wise to showcase the importance and interconnectedness of our marine ecosystems, global climate, and coastal communities is critical to our mission to halt and reverse biodiversity loss and reduce greenhouse gas emissions. Their efforts to create generational momentum on these key issues is already having an impact, and will continue to inspire climate and conservation action in all parts of society."
– The Honourable Steven Guilbeault, Minister of Environment and Climate Change
"We are thrilled to have the opportunity to bring the ocean across Canada for the second year in a row, this time expanding to Manitoba and Ontario. The health of the ocean impacts the health of the entire earth – and our waterways are profoundly interconnected. By visiting communities throughout Canada, Ocean Wise aims to create a lasting connecting to our ocean to encourage passion and care for the environment. Look out for the Ocean Wise Sea Dome in your community this summer!"
– Mercedes Bosch Toca, Mobile Programs Manager, Ocean Wise
For details on where and when the Ocean Wise Sea Dome is coming to your community or to book the Ocean Wise Sea Dome for your school or community event visit the Ocean Wise website.
The Ocean Wise Sea Dome is part of Ocean Wise's Mobile Programs as well as part of Waves of Change, a youth action and climate change initiative coalition between Ocean Wise, GreenLearning, TakingITGlobal, and the Centre for Global Education.
This initiative is being funded in part through the Government of Canada's Environmental Damages Fund under its Climate Action and Awareness Fund (CAAF). The CAAF is a federal government investment that will provide up to $206 million over five years to support Canadian-made projects that help to reduce Canada's greenhouse gas emissions. Funded projects such as Ocean Wise, inform and engage youth in science-based activities and learning opportunities to foster a connection with their natural environment and encourage real action to reduce greenhouse gas emissions and fight climate change.
About Ocean Wise
Ocean Wise is a globally focused conservation organization on a mission to restore and protect our ocean. Through research, education, public engagement, and international collaborations, we empower communities to fight three major ocean challenges: ocean pollution, overfishing and climate change. By equipping and empowering individuals, communities, industries, and governments, we can create a future where people and our oceans can thrive. Ocean Wise is headquartered in Vancouver, British Columbia with staff across Canada, Mexico, and Chile, and operates conservation projects that make national and international impact.  Learn more at ocean.org.
About Waves of Change
Waves of Change is a youth action and climate change initiative coalition between Ocean Wise, GreenLearning, TakingITGlobal, and the Centre for Global Education. This project was undertaken with the financial support of the Government of Canada.