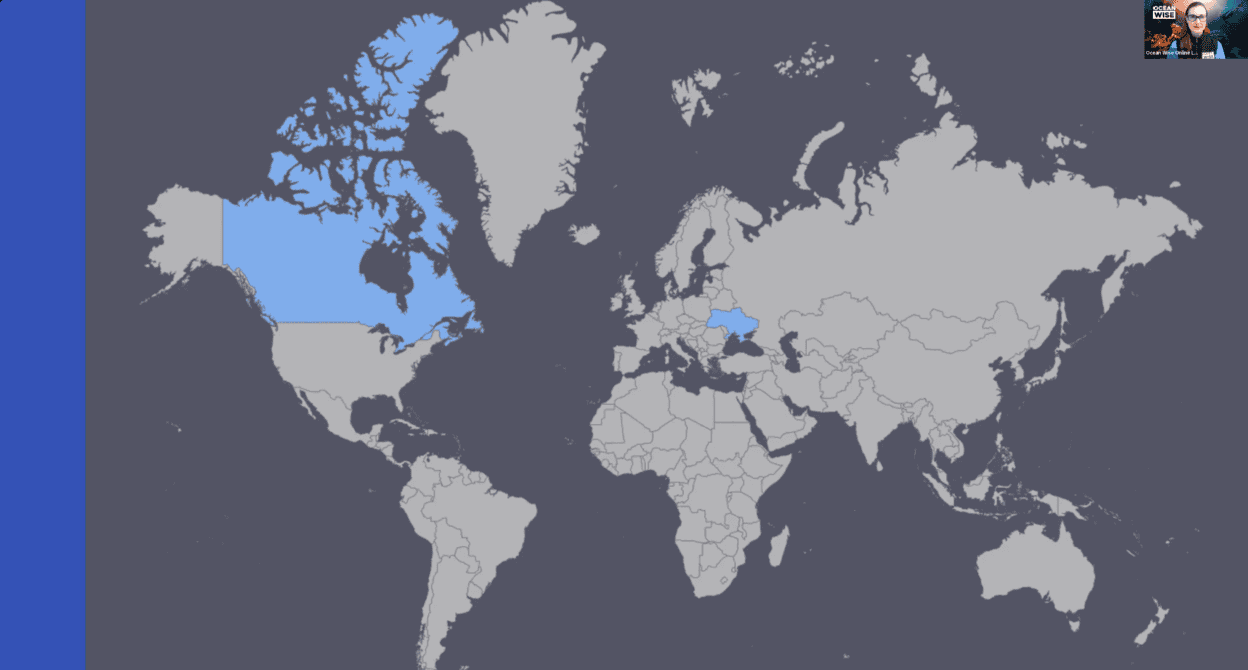 Ocean Wise partners with Classrooms Without Walls to deliver ocean education
From the relative safety of Canada, it can be hard to find ways to help the people affected by climate change and war around the globe. That's why Ocean Wise's Education team jumped at the chance to collaborate with Classrooms Without Walls to deliver free online schooling to students living in conflict zones. Thanks to this partnership the team has been providing fun and engaging educational programs for children impacted by the war in Ukraine and other countries.
Since the first session in May 2022, Ocean Wise's Online team has held fifteen 60-minute sessions covering everything from whales to baby animals to the deep sea. Students typically range in age from 10-18, but some as young as six have joined.
Ocean Wise Educator Daphne Austin, who leads the sessions, says she's blown away by the level of interest from students.
"I am constantly running out of time to answer all the questions students have. It is great to see so much love and curiosity of the ocean!" she says. "I love connecting with the students and hearing what they want to know and what they already know because they're all super smart."
While new faces frequently join, there are lots of returning students. So many, that the sessions have become what Austin dubs an "ocean club," where students can request new topics (sharks, killer whales, and turtles are popular), practice English, share information about their favourite marine creatures, and ask lots of questions. She also learns from them, she says, like Ukrainian words for some of her favourite animals.
"It's really great that even though I'm far away I can still try and help even in a small way, leading a program for students to have something else on their mind for a bit," Austin says. "They definitely brighten my day. The kids are so amazing and so strong and I just hope that I can be any little bit of that myself."
In March, Ocean Wise began delivering programs to students in Myanmar with Classrooms Without Walls and has delivered four so far.
"The youth around the world are incredibly passionate and curious about the oceans of the world," says Ocean Wise Educator Mala Sharma, who leads the Myanmar sessions. "Being able to teach them and keep their curiosity alive through these virtual programs and inspiring them to continue pursuing careers and hobbies in ocean conservation is very meaningful and impactful."
Before there was a Classrooms Without Walls, David Falconer volunteered to support a Ukrainian nonprofit organization known as Smart Osvita NGO shortly after Russia invaded Ukraine. At the time, he was a principal in Nunavut and felt a strong urge to help students affected by the conflict.
He began by volunteering to teach displaced students online. Soon, he invited others to join the effort, including Canadian astronaut Chris Hadfield, the Smithsonian Institution, and the Royal Tyrrell Museum.
Just over a year on, thousands of students have accessed classes through Classrooms Without Walls, and the organization has formed strong relationships in Canada and abroad with partners like Smart Osvita NGO, OverDrive, Monash University, the Edmonton Public Library, Canadian Women 4 Women in Afghanistan, and of course, Ocean Wise.
"Together, we can help provide education and hope to students in conflict zones and make a positive impact on their lives," says Falconer. "The most important thing is that these students know that the world cares, that they are not alone, and that they have not been forgotten."
Falconer, who currently works as a Head of School in Calgary, expanded the organization to offer programs to students in Myanmar and Afghanistan.
"These sessions are life changing for those students, but they are also life changing for teachers," said Falconer. "We are not able to stop the violence they are experiencing, but we are able, for one hour, take them to a world of wonder, a world of hope."
In Ukraine, Classrooms Without Walls' partner Smart Osvita, NGO provides Ukrainian children with English-speaking practice while distracting them from war.
Olena Zhupanova, Project Coordinator at Smart Osvita, says that sessions with groups like Ocean Wise is about a lot more than education.
"I believe we do precious things and give the kids support in these challenging times that they will remember for the whole of their life," she says, citing examples of children joining from bomb shelters with educational programming as a welcome distraction.
Since March 2022, the Ukrainian program has reached over 30,000 children and works with volunteer teachers from Canada, Australia, Japan, the USA, Portugal, Spain, and others.
"We are happy to have Ocean Wise on our project. These meetings are among the most popular and the most visited. Children love Daphne Austin! Her interactive lessons help them learn more about the ocean and animals," she says, and shares recent feedback from a parent:
"My daughter is six years old, and she likes the lessons about the ocean the most because she is interested in this topic, and the teacher always tells exciting facts. She loves the tasks that the teacher gives. She always looks forward to these lessons."
Ocean Wise plans on continuing programming with Classrooms Without Walls to deliver virtual ocean education sessions to students in Ukraine, Afghanistan, and Myanmar regularly.
Classrooms Without Walls is currently looking for teachers and non-teachers alike to volunteer to teach lessons on elementary, secondary, and university subjects or to teach hobbies or other skills. To volunteer with Classrooms Without Walls or to support their mission, contact [email protected] or [email protected].