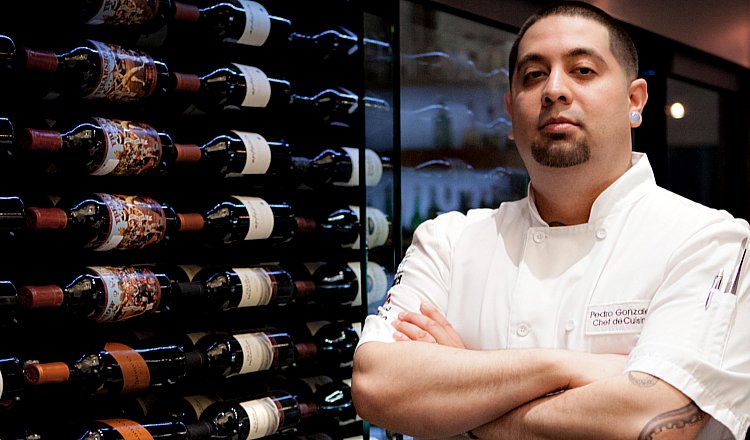 Ocean Wise Chef Revels in Creating Magic in the Kitchen
Growing up in the hustle and bustle of his mother's kitchen, surrounded by the intoxicating scent of delicious home cooking, executive chef Pedro Gonzalez was inspired to work with food from a young age.
"I would be the only male in the kitchen," says the chef. "I would wash dishes, clean vegetables, help chop – anything to be in the kitchen (mostly to taste test and get a first look) – and study my mom's Spanish rice and her mole, and my grandmother's secret picante and carne con chile."
Pedro officially started his career at a country club in California, after honing his skills in a culinary program. When he turned 20, he packed his car with as many things as he could take and drove to Las Vegas, with the dream of working at the Bellagio. Dreams quickly came true for Pedro as he joined Aqua at the Bellagio a year later.
"The food, the integrity, the culture, the burns, the cuts, the lacings, the sleepless hours, the long shifts … I was in heaven," he says, describing his first few years at Aqua. "This is where I met my mentor, [executive chef] Mark LoRusso – I learned something new every day working with him."
Having helped open Tableau at Wynn in Las Vegas (at the time, it was the world's most expensive resort), he later joined Botero as executive sous chef, before being invited to join the Glowbal Group as chef de cuisine at Coast Restaurant in Vancouver.
When asked about his passion for conserving our oceans, he says that it is his responsibility to consciously select and procure product. And that it's important to make small efforts when you can to give back to the earth, at home and at work.
Since moving to Vancouver, Pedro has discovered his love of B.C. spot prawns, captivated by its simplicity. Sounds like West Coast living is rubbing off on him. Pedro is now executive chef at Coast Restaurant, a proud Ocean Wise partner.
You too can consciously select sustainable seafood by looking for the Ocean Wise symbol next to a seafood item. Ocean Wise is Vancouver Aquarium's nation-wide sustainable seafood initiative.