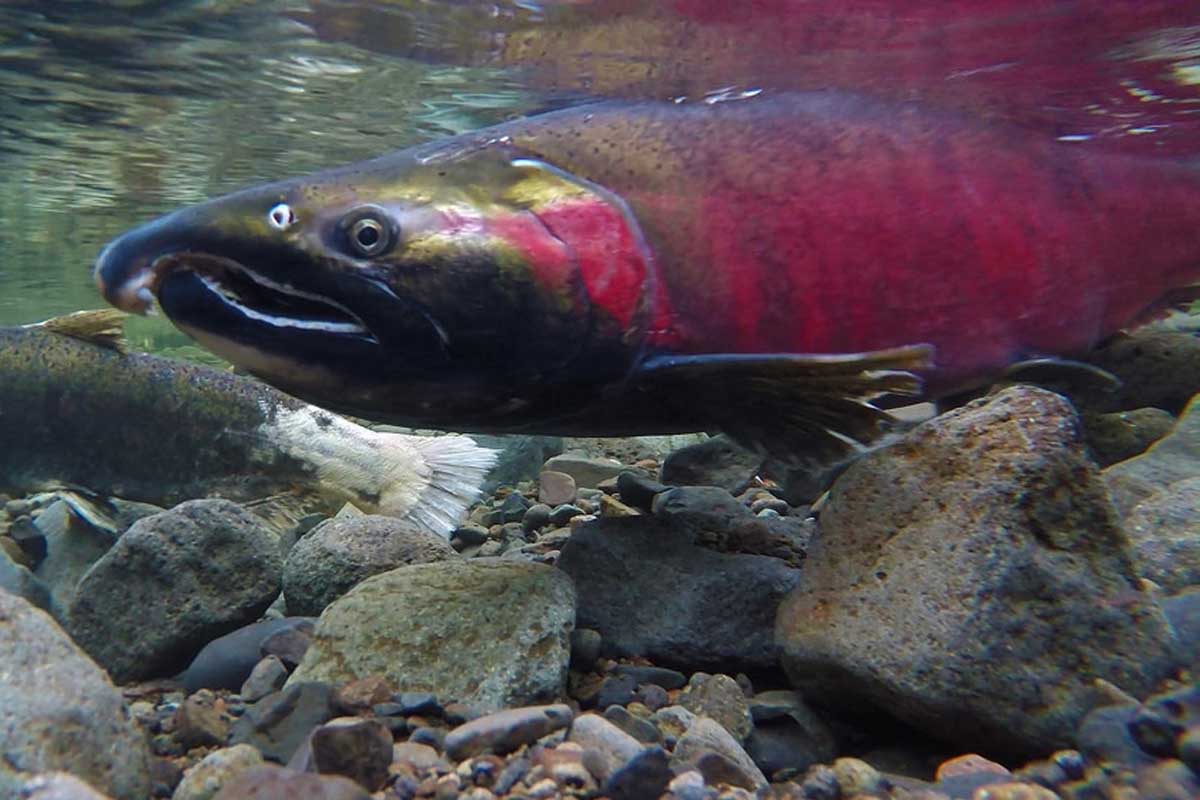 Reflections from Adams River – October, 2022
Low water levels observed at Adams River are part of more and more frequent climate change impacts affecting BC salmon 
Written by Mike McDermid, Director of Fisheries and Seafood at Ocean Wise
I must admit I always get a charge out of seeing salmon returning en masse upriver to spawn. The shear volume of bodies cramming into a space that was mostly only flowing water mere days before. Especially after considering the extent of their journey – hundreds of kilometers – and endless hurdles only to end up at the place they were born a few years earlier. Their bodies beaten down by the journey, the battle of going from isosmotic to hypoosmotic conditions yet the fight to pass along their genes keeps them going.
Most salmon return to their native streams to spawn, but some don't. These outliers represent important genetic diversity that is integral to the survival of the species especially in inclement conditions like we see under climate change. With B.C. experiencing a historic drought through October, with record-breaking temperatures and low water levels, the salmon returning to spawn faced an even tougher journey than usual. Low water levels exposed spawning beds and created barriers to upstream migration, in addition to high water temperatures. In the Adams River, we were observing water temperatures of 17-18 degrees Celsius causing stress and increased levels of pre-spawning mortality in the fish.
Being an anadromous species, Pacific salmon represent a critical link between the marine and terrestrial environments. This also means that they are susceptible to changes in climate and associated inclement weather conditions in both realms. This year's Salute to the Sockeye festival at the Adams River was lead for the first time by the local Secwepemc communities, which is only fitting as these are people that have celebrated the returning salmon as important components of their cultural identify and food security for many thousands of years. I felt fortunate to have the opportunity to talk to members of the Little Shuswap Lake Band about some of the changes that they have observed over time in the Adams River.
It was clear how the low water levels and warm temperatures of October's drought was affecting the ability of the salmon to successfully spawn this year, however, the Secwepemc speak of other changes. Freshets from Spring thaws have been larger and more sudden as of late causing increased scour in the main channel of the river. The result has been a reduction in the meander of the river and the drying of side channels and critical spawning beds. It has also increased the flow of the river which is not ideal for salmon looking for slower water to lay their eggs. The result has seen an overall reduction in the length of the river from 17km to 12km and a loss of 2.5km2 of spawning habitat in the last few years.
All of this has the local communities concerned. And it should. Climate change and its associated impacts, habitat degradation and overfishing are all serious threats to BC's iconic salmon species. BC's October drought is not a one-off occurrence. It is likely extreme weather events like this will continue, and worsen, over time. Now, more than ever, we need to ensure that we are supporting fishers and fishing communities that are committed to conducting operations in a responsible manner, ensuring the long-term sustainability of the species and environment. But perhaps merely sustaining isn't enough. We have to start building climate resiliency into our fisheries and begin to manage to a level where we are improving the environment and allowing stocks to rebuild. Not only for the long-term health and survival of species in our oceans, but also for the communities that rely on them.