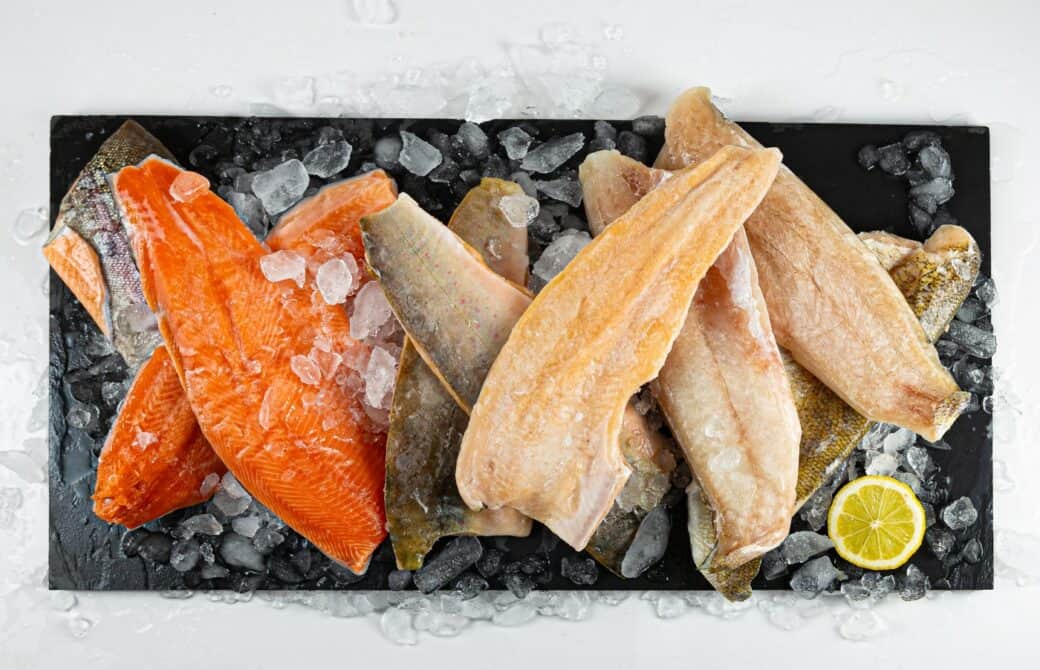 Partner Spotlight: Springhills Fish – delivering sustainable fish throughout Ontario  
Meet Ocean Wise Seafood partner Springhills Fish!
Based in Grey County, Ontario, Springhills Fish raises rainbow trout, coho salmon and Arctic char at its eco-friendly farms. The company also partners with fishers and farmers for more variety, like wild-caught pickerel, barramundi, smoked trout, nuggets, shrimp and more, for delivery across Ontario.
We chatted with owner RJ Taylor about running a family-owned business, sustainable aquaculture, and how pivoting their business model during the pandemic opened new doors.
An interview with RJ Taylor, Owner of Cedar Crest Trout Farms and Managing Director of the Ontario Aquaculture Association. Answers have been edited for clarity and length.
Ocean WIse: You're a family-run farm, founded in 1995. Can you tell us the story of how Springhills came to be?
RJ Taylor: Our parents bought an old fly-fishing club in the 1980s with a dream to build their own fish farm. It took nine years to get the permits and designs together, but eventually they did it! Those early years weren't easy for a small land-based farm, but after a decade or so they were able to expand and start investing in new farms.
About five years ago, my sister Arlen and I took over the business with the intention of continuing to grow more for the Canadian market. Arlen returned from a decade in international development in post-conflict areas like Angola and Iraq. While I moved back after spending most of my twenties in science education with several leading research centres.
Today we run four land-based farms growing rainbow trout, Arctic char and coho salmon, as well as most of the trout fingerlings for all Ontario farms. Our team has expanded to over 25, including Arlen's husband Mike and their son Ivo. We opened our own processing plant with the pandemic, and now deliver fish directly to 1,800+ doorsteps every month. And recently we've begun a partnership with Sheshegwaning First Nation to raise fish sustainably on Manitoulin Island.
OW: How can rainbow trout pens help the surrounding freshwater ecosystems thrive?
RJ: Net-pen fish farms can get a bad reputation. But here in Ontario, we've been raising fish in pens for 40 years and they are an incredible good news story.
A 12-year study from Lakehead University and Fisheries and Oceans Canada showed that floating farms can increase wild lake trout in Lake Huron. Scientists at the University of Guelph are also confirming this with their own tests
The fish manure that many think is bad actually feeds the critters at the bottom of the food chain… and those nutrients are desperately needed in Lake Huron.
The lake is "ultra-oligotrophic", meaning there isn't enough in the food chain to support a thriving ecosystem. That's why biologists call Lake Huron a "biological desert" owing to a century of invasive species and human activity.
That DFO study showed that lake trout populations doubled after five years of a farm operating in an experimental lake similar to Lake Huron. With additional nutrients, first the macroinvertebrates and zooplankton thrived, then eventually the smaller and bigger fish too. More critters at the bottom of the food chain meant there are more food for those at the top!
In the last two years scientists at the University of Guelph have analyzed stable isotope and fatty acid signatures (referred to as biotracers) in the wild fish to look for evidence that these fish ultimately benefit from aquaculture inputs around farms in Lake Huron. They came to similar conclusions that fish farms could have a positive effect on local fish communities.
Sometimes folks point to viruses or sea lice transferring to wild fish, but we're fortunate in the Great Lakes that we don't have many of these things to worry about, in part because they don't live in fresh water and also because it gets so cold nothing survives.
That doesn't mean we should put fish farms everywhere or put as much nutrients as we can into the lake. It's very important that we don't overload nutrients in one place that can cause nuisance algae, like a bay with very little water exchange.
That's why we do such rigorous water testing and ecological studies, and why regulators ensure we do plenty of environmental testing before a new farm goes in. If a farm is located strategically in freshwater lakes like Huron, they can be a tool for regenerating ecosystems. So, if we want more wild fish, let's get more fish farms!
OW: How did your business pivot during the pandemic?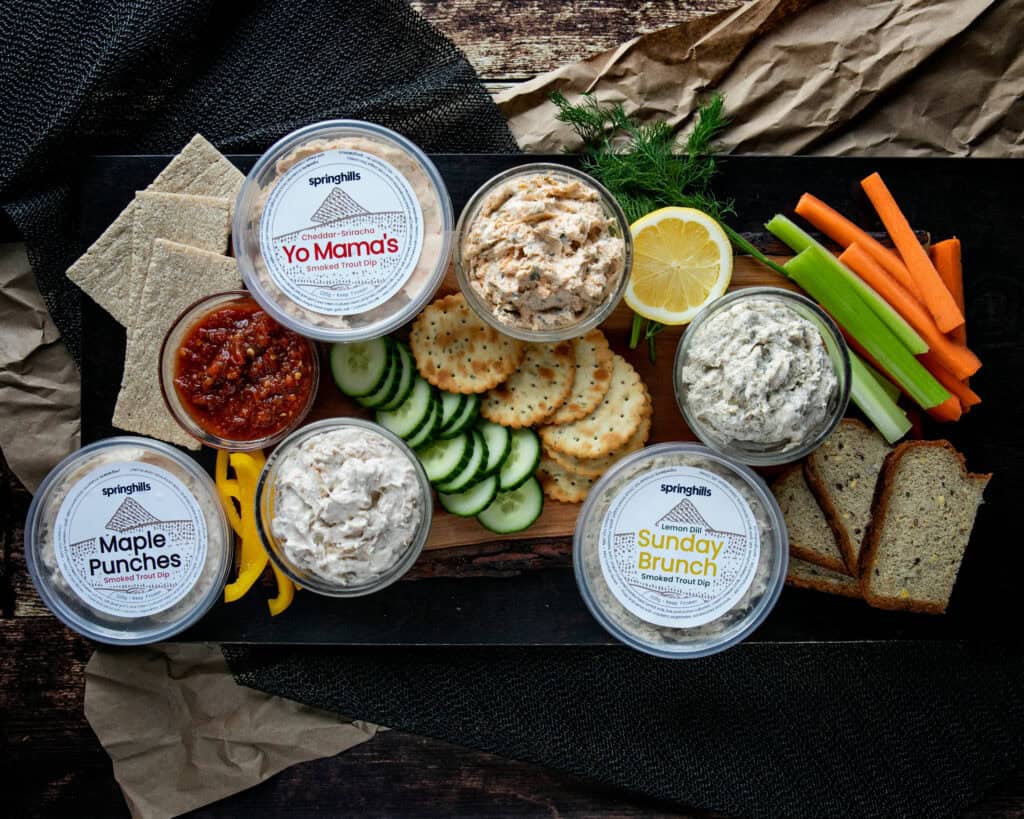 RJ: Prior to the pandemic, our two largest markets were private lake stocking for recreational fishing and hatching juvenile fish and selling them to other farms to grow out to market size. Both markets dried up overnight with so much uncertainty in the world, so we had to get creative.
We started cutting rainbow trout fillets by hand, and posted to local Facebook groups that we'd drop off 10lb boxes of fish. Between our staff, their families and our neighbours, we had a lot of people out of work who were willing to help. And we needed it, because the orders kept coming. First, more and more towns were asking for fish. Then soon after, they started asking for more types of fish, so we started growing char and salmon, and partnered with other farmers and wild fishers for even more variety. We opened a new processing plant and built a smokehouse soon after.
Today we deliver Springhills Fish to over 1800 homes every month across Ontario, as well as a hundred or so smaller mom and pop stores.
OW: How has this pivot impacted the way you operate today?
RJ: The pandemic taught Arlen and I an important lesson on the importance of diversification. It can be tempting to focus on revenue streams that are the most lucrative, but it can leave you very vulnerable if changes happen in the market.
Not only did we launch a direct-to-home business, but we leveraged that to keep growing and keep diversifying. We are now supplying fish to every one of the big Canadian retailers.
Recently we started a new joint-equity partnership with Sheshegwaning First Nation on Manitoulin Island to raise fish sustainably in net-pens. We don't want to let too many secrets out of the net, but stay tuned for even more from us!
OW:Why is it important to you to provide options for consumers from local farms and fishers?
RJ: It can be so hard in Ontario to find local fish and seafood, even though we are growing and catching millions of pounds every year. Fish and seafood is an incredible globalized system. On the supply side, there may be lots of options at the grocery store or fish monger, but so often that fish or seafood is from far away. On the demand side, the US is such a lucrative market that a lot of our fish, especially wild, gets exported. That leaves you standing at the seafood counter unable to eat fish that's from right here in Ontario, or even Canada. At Springhills we are so honoured at the opportunity to connect people with fish and seafood from right here in their backyard.
To learn more about Springhills Fish and to order seafood to your door in Ontario, visit Springhillsfish.ca.