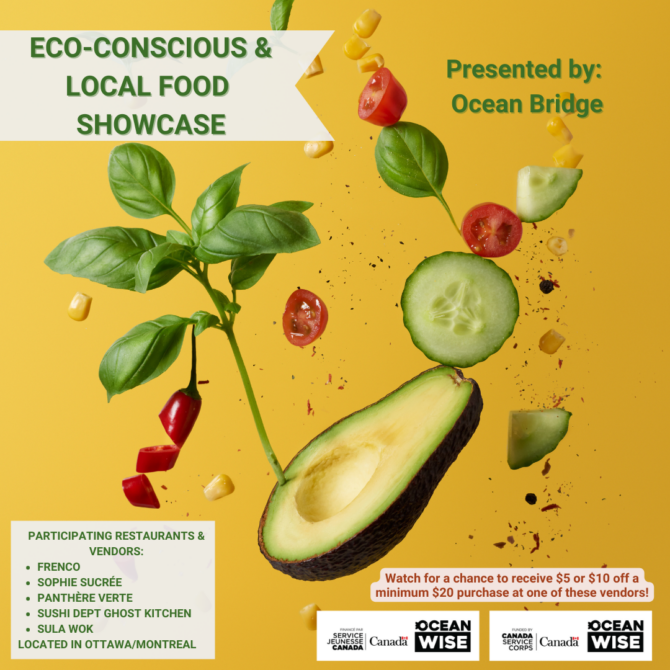 Ocean Bridge Presents: Eco-Conscious and Local Food Showcase
Despite countless lockdowns, restrictions, and supply chain issues that have taken a toll on local businesses, some eco-enterprises have not only managed to survive, but are also making efforts to combat climate change, pollution, and overfishing.
This March, Ocean Bridge Ambassadors invite you to explore five incredible eco-food businesses and restaurants in Montreal and Ottawa that prioritize the health of our oceans while serving delicious foods.
Ocean Bridge is an immersive ambassadorship program that brings together a national team of young volunteers to put ocean conservation work into action in their communities. One team of volunteers came together around the idea of promoting local food businesses that have continued to strive for sustainability throughout the stop-and-start pandemic economy.
In the video below, the team showcases these restaurants and food markets through behind-the-scenes tours and talks with owners/managers as to how they embed eco-friendly practices in their businesses.
"Anyone can make small changes in their day to day life, and it still has a really great impact," – Milène Laoun, owner of Sophie Sucrée.
Each restaurant incorporates sustainability in its own way. Some focus on low waste packaging, while others prioritize creative plant-based alternatives or feature Ocean Wise recommended sustainable seafood.
The project features Montreal grocery store/cafe Frenco, vegan bakery Sophie Sucrée, restaurants Panthère Verte and Sushi Dept Ghost Kitchen, and Ottawa restaurant/mobile food cart Sula Wok.
"There's not enough resources in our finite planet to support our current lifestyles – it's time for us to wake up." – Chaim Shoham, owner of La Panthère Verte
Show your support by watching the following video and filling out a quick 1-minute survey for a gift voucher for $5 or $10 off a minimum $20 purchase at our partner vendors; our way of saying thank you to our local community spots who continue to serve and contribute to a more sustainable planet.
Fill out the survey here: Eco-Conscious & Local Food Showcase // Vouchers
Please note gift vouchers are on a first come first serve basis and are limited. While supplies last.