Meet Scott Bohachyk, new Director, Seaforestation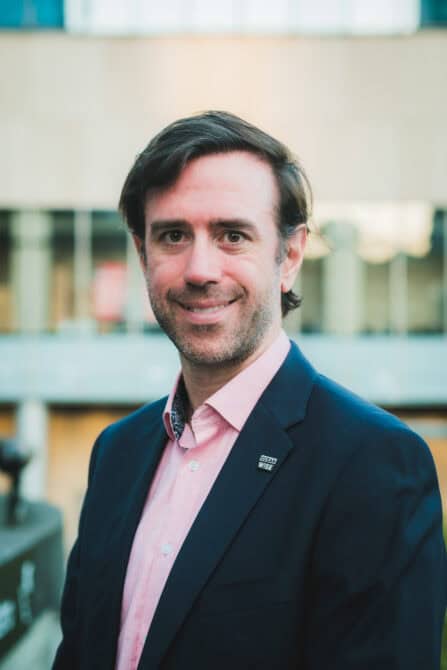 Ocean Wise is pleased to announce Scott Bohachyk as our new Director of Seaforestation. Scott will be working with a wide range of rightsholders and stakeholders to advance Ocean Wise's efforts to restore 5,000 ha of kelp forests in British Columbia and Chile by 2026. Protecting and restoring kelp forests is one of the best ways to halt and reverse biodiversity loss and fight climate change in our ocean.
Scott is delighted to start a new chapter at Ocean Wise as our new Director, Seaforestation.
Scott sees tremendous opportunity in nature-based solutions to address the climate and diversity crises and is excited to collaborate with Indigenous rightsholders, coastal communities, governments, and others to protect and restore kelp forests at a scale of planetary significance. After completing his Master of Business Administration from Queen's, Scott is well positioned to advance the innovative conservation finance models that will allow for the significant scaling of seaforestation projects around the world and the resulting biodiversity, climate, and social benefits.
Scott's interest and dedication to fighting climate change has spanned his entire career. His graduate work at the University of Waterloo explored the various impacts of climate change on international development efforts. And for five years before joining Ocean Wise, Scott worked with the United Nations Association in Canada, where he created and secured funding for national and international programs that provided over 1,000 young Canadians the opportunity to pursue careers in the green economy or international development. Through this work, Scott was twice elected to represent Canadian civil society at the United Nations Environment Assembly in Nairobi. Prior to his time in Ottawa, Scott collaborated with the United Nations Development Program in Bhutan to contribute to their national green jobs strategy and spent several years in Botswana, Saudi Arabia, and Indonesia.
Scott has been part of the Ocean Wise team for nearly four years, leading the Youth and Education team to expand our ocean and climate literacy programs across Canada and to over 70 other countries around the world. Scott has secured over $6 million for national climate change education programming and redesigned Ocean Wise's Education programs and resources that has resulted in our new Sea Dome, a suite of virtual programs and much more.
Scott holds a Bachelor of Secondary Education from the University of Alberta, a Master of Development Practice from the University of Waterloo, and a Master of Business Administration from Queen's University.