Direct Action Blog: Swamp Adventures Coming Full Circle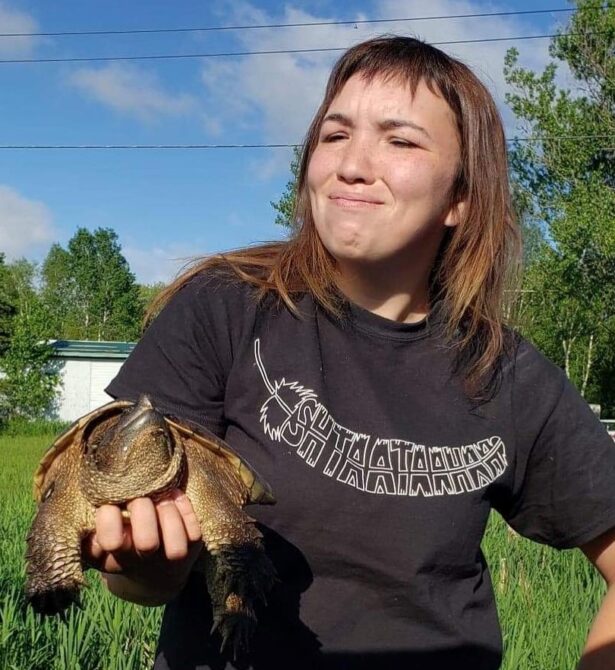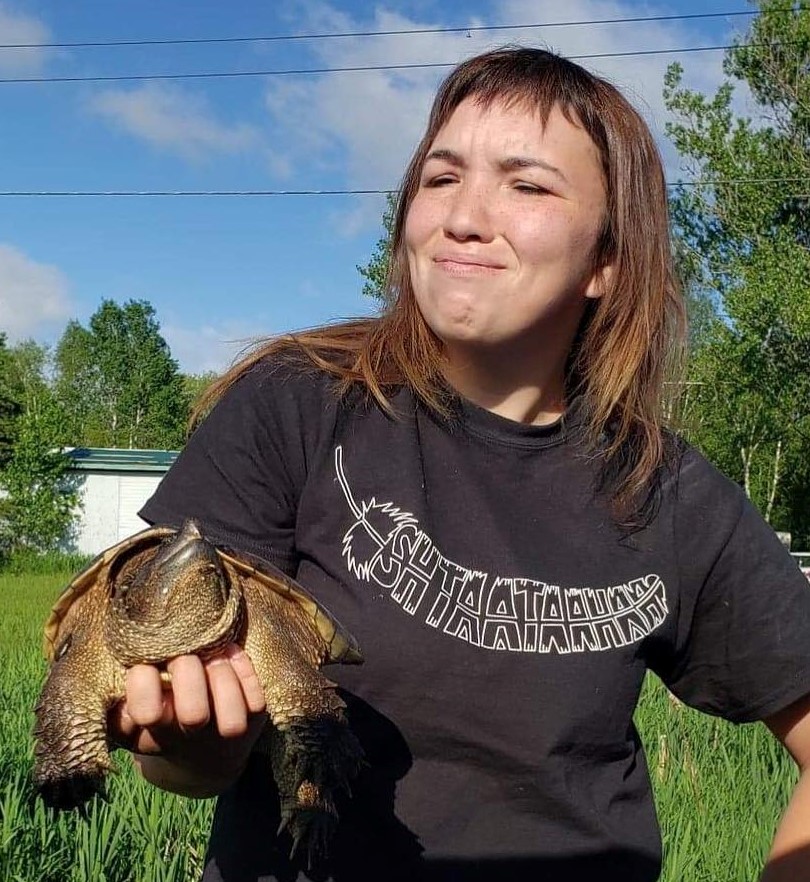 By Chevaun Toulouse
In 2021, 160 young people (ages 18-30) formed Ocean Wise's Ocean Bridge program, a national team engaged for eleven months in co-creating and delivering ocean and waterway service projects for their home communities.
Chevaun Toulouse is a Direct Action alum who completed her placement in Spring of 2022 with Oak Island Films. Chevaun was able to gain wildlife filmmaking experience, which complemented her extensive work with reptiles in the Great Lakes Watershed. 
---
Aanii! Chevaun Toulouse nindizhinikaaz. Sagamok nindonjibaa. Ginoozhe nindoodem.  
My name is Chevaun Toulouse, and I am a full time Biology and Indigenous Environmental Science student at Trent University from Sagamok Anishnawbek First Nation. Growing up on Sagamok Anishnawbek gave me an interest and respect for the environment as most of my youth was spent trying to catch turtles and snakes in the swamp.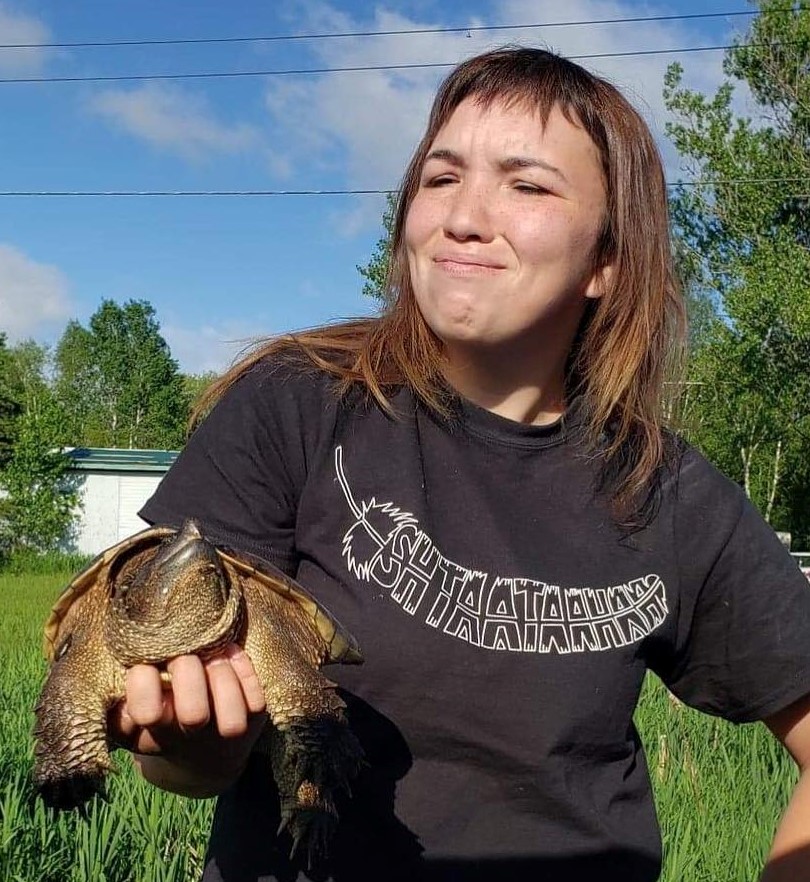 After graduating from the Fish and Wildlife Conservation program at Sault College, I worked for the Ministry of Natural Resources and Forestry (MNRF) as a Forest Technician at the Ontario Forest Research Institute. While working at MNRF, I travelled around Ontario with my team conducting forestry field work and compiling data for different forestry projects. In the Fall of 2016, I began working for Turtle Island Conservation at The Toronto Zoo as a Project Lead- First Nation Conservation Technician, working primarily with the at-risk Blanding's Turtle.
Blanding's Turtles are 1 of the 8 Species at Risk turtles found in Ontario and are currently listed as Threatened. With a population of only six individuals in Rouge National Urban Park (RNUP), the Toronto Zoo initiated a reintroduction program at their facility. This involved collecting nests from source populations, which are populations that are healthy and stable. Their eggs are collected from sites that are in danger of destruction and would otherwise not succeed and then added to a declining population. There they are hatched and raised for 2 years in order to provide them a size advantage or "head-start" to begin their life in the wild. These turtles are then released and monitored in the RNUP and more individuals are added each year. My position was assisting with the care, release, and monitoring of these turtles via radio-telemetry tracking. In that position I also monitored at-risk snake and frog species using bioacoustic monitoring technology and artificial cover board methods.
I recently worked for The Magnetawan First Nation Lands, Resources and Environment Department as the Lead Species at Risk Field Technician and Cultural Coordinator. I conducted daily road and habitat surveys, rattlesnake gestation surveys, as well as identified, captured and collected morphometric and spatial data on turtles, lizards and snakes. I recorded daily logs, managed data, created and delivered outreach and education to the community and surrounding area. The work I did there was very important to me because it gave me the opportunity to practice my culture and implement Western Science techniques learned in my academic education.
When I applied for Direct Action, I was incredibly fortunate to be invited to Oak Island where I also meet Ted Oakes! During my time with Oak Island, I was involved with work that has helped me gain valuable experience in many facets of film making. It is interesting to see the various stages of wildlife filmmaking from planning to editing. I have also had the opportunity to consult with other conservation/environmental professionals and to be a part of an amazing team of researchers, directors, camera crew, and more.
I think that environmental film projects are important in helping to build a better appreciation for nature while also having a call-to-action for wildlife conservation. The film we worked on at Oak Island showcased the incredible wildlife behaviour, landscapes, and some human stories within the Great Lakes Watershed. It has been a real pleasure to work with the Oak Island team and I look forward to gaining more valuable work experience with them in the future.
I love working in conservation, especially with my favorite taxa (reptiles and amphibians). It is important to me to be doing conservation work within my traditional territory and with our First Nations. When I was young, I loved playing in the swamp and catching snakes and turtles. Now it's what I do for a living, and I love it.
---
Oak Island Films Ltd. is a television production company based in Ottawa, Ontario and Bristol, England. It is owned and managed by Canadian Ted Oakes, an award-winning executive producer with over 20 years of experience making ground-breaking TV, mostly for BBC. They do free training for people wanting to get into natural history television. Check them out here: www.oakislandfilms.com 
What is Ocean Bridge?
Ocean Bridge brings together young Canadians with a wide range of backgrounds and experiences who are passionate about making a difference in their communities through the lens of oceans and waterway conservation. These Ocean Bridge Ambassadors from all across Canada work together, receive funding and learn from experts in marine conservation and education through an online platform and in-person learning journeys to develop service projects related to ocean health and ocean literacy in communities across the country. Ocean Bridge is an Ocean Wise initiative funded by the Government of Canada through the Canada Service Corps.
Direct Action is an exciting immersive program for in-depth learning and youth engagement with oceanic and aquatic conservation efforts across Canada. This national service-learning program will connect Canadian youth and young professionals with experts in marine and aquatic conservation organizations, empowering them with experiences in direct marine and aquatic conservation initiatives, adventurous opportunities for fieldwork, professional research projects, and educational and outreach programs.
Canada Service Corps
Canada Service Corps is designed to generate a culture of service among young Canadians; concrete results for communities; personal growth through participation in a diverse team of peers; and lasting impacts on participants. Visit www.canada.ca/CanadaServiceCorps to learn more and how to get involved in the way that works best for you.