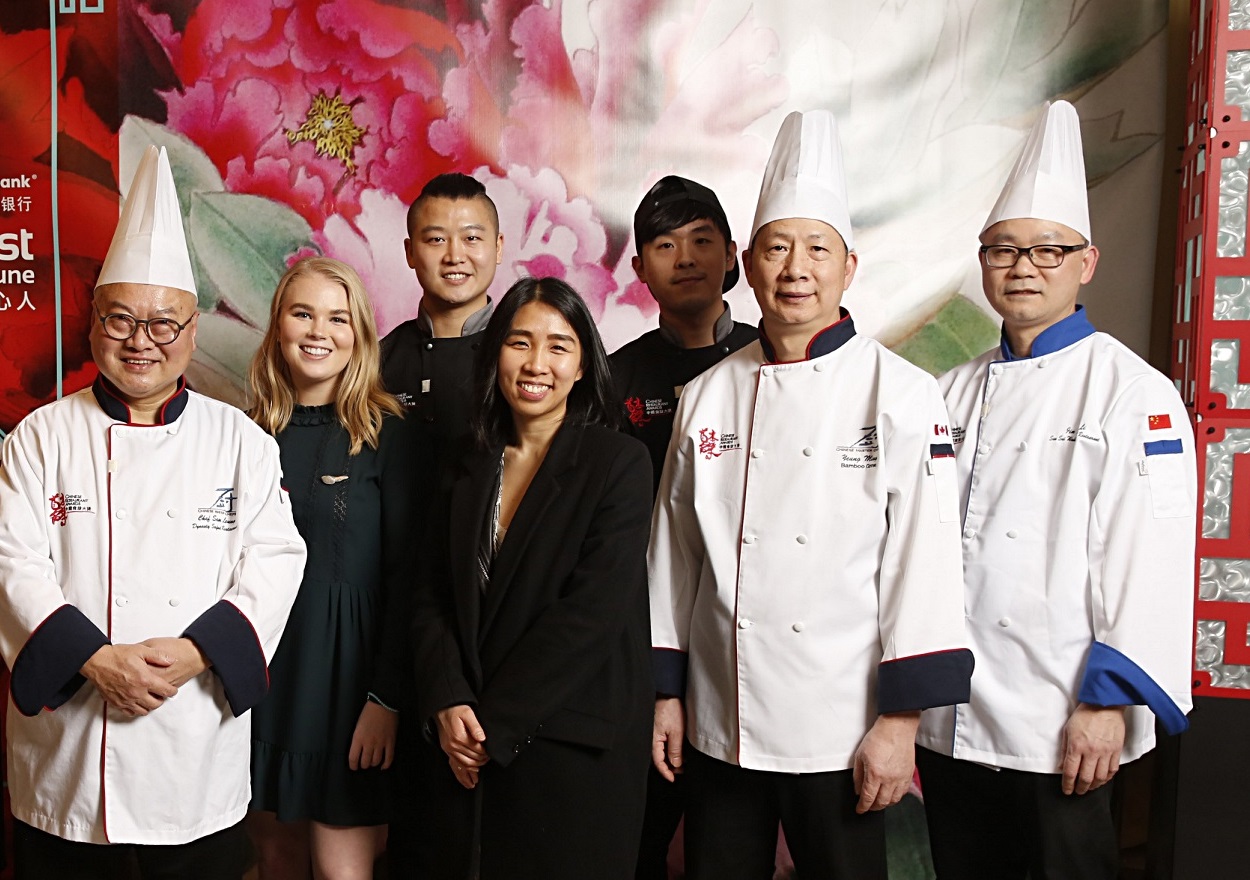 Celebrate Lunar New Year with Ocean Wise Seafood
新年快樂 ! (Happy New Year! Cantonese: san1 nin4 faai3 lok6, Mandarin: xīn nián kuài lè)
Lunar New Year celebrations are off to a delicious and sustainable start. On February 3, 2018  five award-winning chefs celebrated Feast of Fortune at the JW Marriott Parq Vancouver, an annual fundraising event in support of St. Paul's Foundation. With Ocean Wise-recommended geoduck and caviar on the menu, chefs served over 650 guests throughout the evening reception.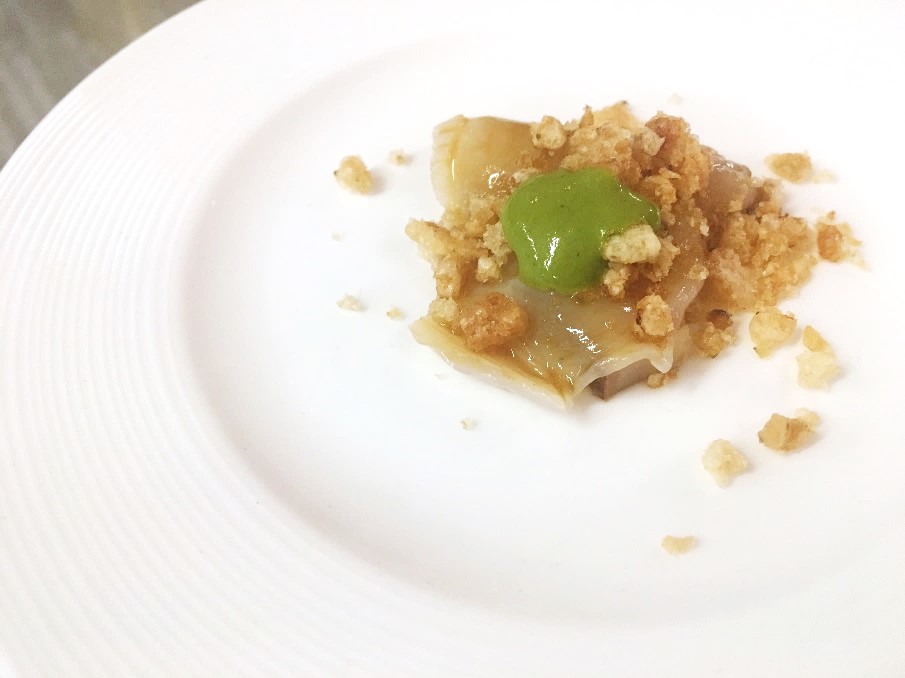 Chef Felix Zhou from Heritage Asian Eatery featured a smoked and raw geoduck with ginger scallion and crispy rice while Chinese Master Chef Sam Leung kept his recipe a secret, naming his dish simply BC Geoduck with Chef's Special.
Geoduck is a large saltwater clam, aptly named 象拔蚌 "elephant trunk clam" in Chinese for its long siphon(neck). In British Columbia, wild geoduck is harvested by divers using handheld water jets to retrieve the burrowing clam from its sandy habitat. Farmed geoduck in B.C. are grown on sandy beaches at shellfish farms and harvested similarly with water jets to loosen the sand.
As for sustainable caviar options, Ocean Wise sturgeon are grown in land-based, recirculating aquaculture systems where water is filtered and recirculated within the system. This method of closed-containment fish farming reduces many of the concerns associated with unsustainable fish farming techniques such as disease, waste, and other impacts on wildlife and the environment. Here, Dim Sum Chef Li Jin Lun from Sun Sui Wah garnished a decadent smoked duck breast with Ocean Wise recommended Acadian Gold caviar.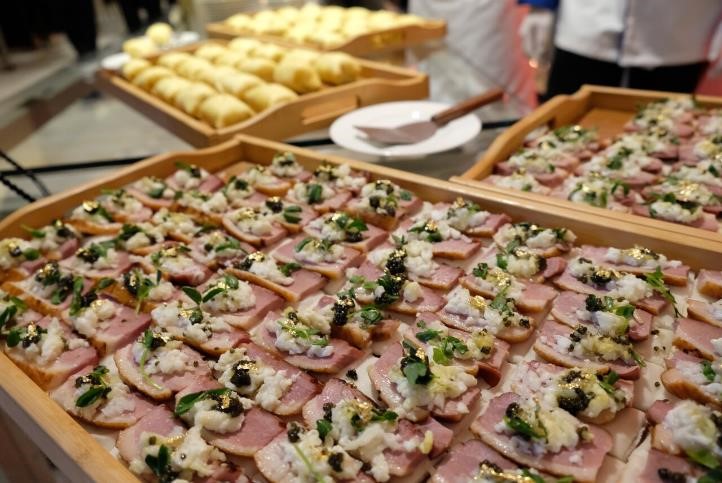 While these chefs highlighted geoduck and caviar this year, there are numerous seafood options available for your big feast. Looking to select sustainable and delicious banquet favourites for your Lunar New Year celebrations? Here are five options that are sure to impress your family and guests.
Alaskan King Crab | 阿拉斯加皇帝蟹
Trap caught
With strikingly long legs, king crab is a showstopping centrepiece at the table. Often served in two or three courses, you may see your king crab order appear out of the kitchen steamed, fried and/or served tossed in longevity noodles.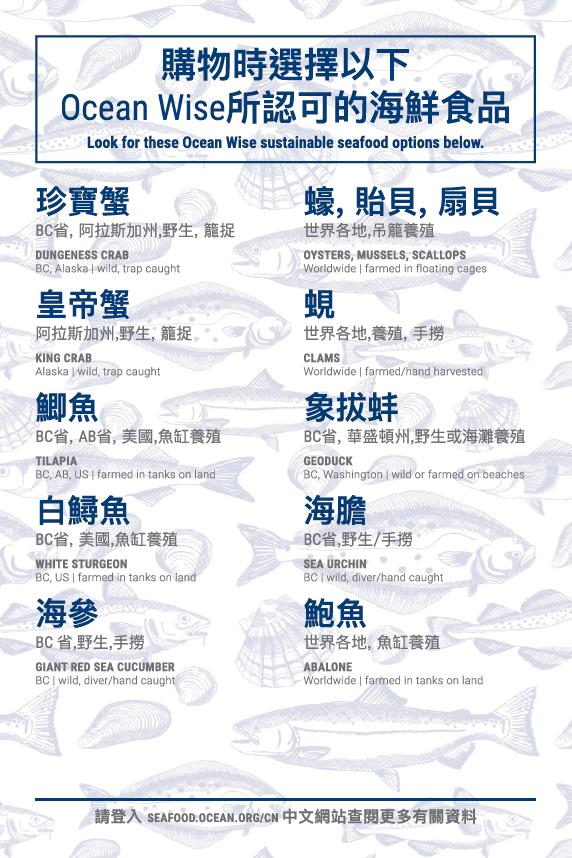 BC Dungeness Crab | BC珍宝蟹
Trap caught
Versatile, tender and sweet, Dungeness crab can be prepared a number of different ways. From savoury and peppery spices to creamy sauces, each family has their favourite style.
BC Sea Cucumber (Giant Red) | BC海參
Diver caught
A delicacy for special occasions, sea cucumber is traditionally thought to provide health benefits and is considered an aphrodisiac. While it has very little taste on its own, sea cucumber has a semi-soft gelatinous texture that lends well to braising to impart a deeper flavour.
BC, AB, US Tilapia | BC, AB, US 鯽魚
Farmed in land-based recirculating systems
The perfect size for a whole fish dish to celebrate the New Year, live tilapia can be cooked whole and served to represent abundance and wholeness in the family. In Cantonese cuisine, it is often steamed and flavoured with ginger, scallion, and soy sauce.
BC Geoduck | BC 象拔蚌
Diver caught or beach farmed
Highly-prized, this burrowing clam from the Pacific coast of British Columbia and Washington is a popular delicacy and aphrodisiac in several Asian cultures. It can be served cooked or raw, and has a delicate crunchy texture when sliced thinly.
Curious about ocean-friendly seafood options and where to find them? Check out the Ocean Wise Seafood website for seafood recommendations and our list of Ocean Wise partners: http://seafood.ocean.org/. Chinese resources are available at http://seafood.ocean.org/cn/.