Youth to Sea
A hands-on learning program that endeavours to unite youth to make a difference towards ocean conservation.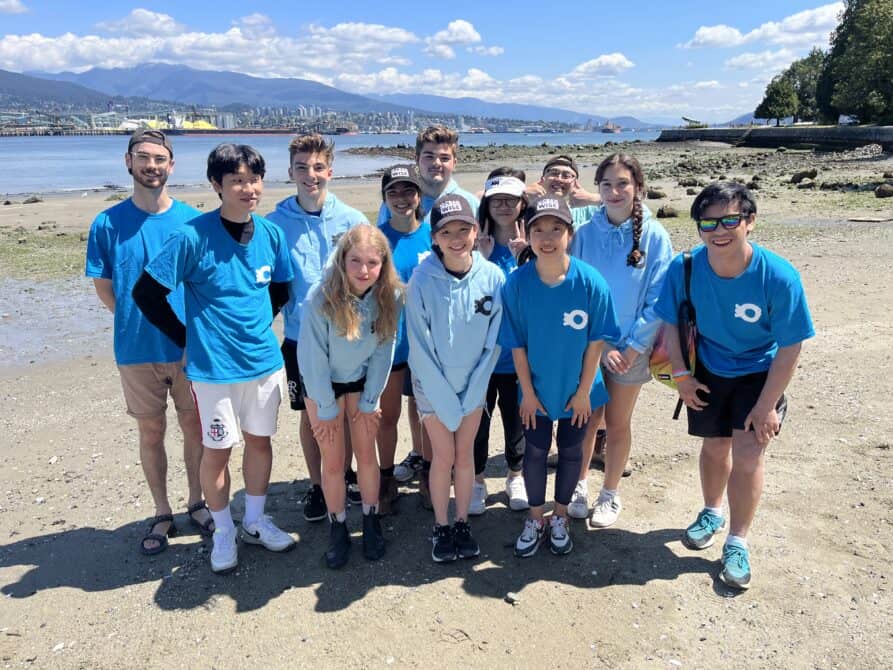 A note to guardians and teachers
As the Youth to Sea program is focused on reaching youth under the age of majority (15-18) we often work closely with guardians and teachers to ensure youth are thriving in the program. For general program information please review our "How it works" page and FAQs. Below are Frequently Asked Questions from guardians and teachers, if you would like to discuss an individual student's situation, please contact us by email at [email protected]
Guardian (Blue) & Teacher (Purple) FAQs

We try to have all excursions and workshops occur in the downtown core of each city. We work to ensure that all programming can be accessed by public transit to reduce transportation stress on parents. On the occasion we venture further out, we organize bus transportation from an accessible city's downtown location.

We have an application process that includes students providing written responses to 4 prompts in an online form. For students who do not wish to write their application we offer the option to create a video or do an in-person interview. Other options are available on a case-by-case basis.

A panel of Ocean Wise staff select students based on their responses to the application questions. At least 60% of students selected come from underrepresented groups and we also try to ensure we are reaching the broader community by selecting students from a variety of backgrounds and schools.

Yes, staff can provide signatures for volunteer hours as well as official documents outlining hours completed by the student for their use in post-secondary applications, scholarship applications or graduation requirements.

Program specialists can work with participants to provide support and resources to have this count as a school credit. For example, the program is designed to meet the BC Curriculum's requirements for the Work Experience (WEX) program and our staff have experience working with Career Teachers to mentor students and complete the necessary evaluations and paperwork. That said, students do not need to be using the program for school credit to be involved.

We do not allow parents or guardians to accompany us on our excursions or workshops. As a leadership program we encourage the students to take agency over their own program, develop the skills necessary to manage themselves and step out of their comfort zones.

Youth to Sea has a robust policies and procedures manual that outlines safety procedures and policies related to student behaviour. Students that are selected for the program will be sent the safety manual and behaviour expectations when they decide whether to accept their position in the program. Parents can review safety policies then and staff are always happy to share risk management plans for individual excursions.

Youth to Sea national staff includes a Manager in the Vancouver region, Assistant Manager in the Eastern Region, 2 program specialists per region including Halifax, Ottawa, Montreal, and Victoria and 3 program specialists in Vancouver (for more participants). These staff all have at minimum a bachelor's degree in a relevant field and at least 4 years' experience working with youth.

No, following the Canadian Government's current protocols, proof of vaccination is not required.

We aspire to make the program as adaptable and personalized as possible. Each student is assigned a staff member as their personalized mentor. This staff works one on one with the student to ensure they are realizing their full potential in the program, providing support for program goals but also on a personal and academic level as needed.

We provide excursions to teach hard-skills and explore future career paths as well as soft-skill workshops that focus on key skills employers are looking for. We also provide university application, resume writing workshops, and reference letters for a variety of applications students complete.

Ocean Wise does not offer scholarships, but we work with other community organizations to provide scholarship options for students. We also support students by sending out biweekly communication that includes upcoming scholarship applications and helping them submit applications.

All staff have First Aid Training, Mental Health First Aid Training, and Suicide Prevention Training, and Abuse Awareness Training. Some staff have leadership/mentorship training, certifications with a variety of outdoor education organizations and interpretation training.

We require students to complete 120 service hours over the 10-month program. Attendance for any individual event is optional as we understand students have other commitments and life has a knack for unpredictability.

One of our program specialists that is working closely with the student will complete the student evaluations.

The student must be between the ages of 15-18. They are required to apply to the program and must be accepted based on a variety of questions an interest. They will have to complete 120-service hours by the end of the program.

Yes, Youth to Sea Programming can count towards both WEX and Capstone projects. Youth to Sea offers a variety of options for the students to be a part of for the completion of these projects. Students will receive support and guidance for their Capstone projects by one of our program specialists.

Since we encourage students to be active on their own and to take agency over their own learning, we try to lessen parent and teacher involvement. We coordinate with teachers to arrange check-ins and evaluations.

Yes, any number of hours accumulated during Youth to Sea excursions and workshops can be used towards any relevant school service hour requirements.

Students are offered one-on-one support with our program specialists. We work closely with the students to check in, encourage, and support each student in whatever they need to make the program successful for them. We understand that students have other obligations and are very adaptable to a variety of schedules and offer solutions to each student lifestyle and learning abilities.

Working closely with a program specialist, students will have the opportunity to design an Ocean Service Project, and choose how they want to implement their learning. This program specialist works one-on-one with the student to provide support for program goals but also on a personal and academic level as needed. Coaching and guidance will be offered to all members of Youth to Sea.

Contact at us by email at [email protected] if you would like support for a specific program or student. We will do our best to support teachers in whatever capacity we can.