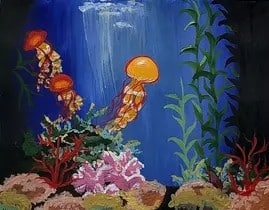 Ocean Wise's Earth Day Art Challenge: Gallery
In celebration of Earth Day, Ocean Wise asked children and youth 18 years and under from around the globe to draw what they love most about Earth in our first-ever Earth Day Art Challenge.
The Art Challenge received an overwhelming number of responses, totalling over 2000 entries! A majority of entries came from children and youth in Ukraine through our partnership with international education non-profit Classrooms Without Walls. Read more about our partnership and work delivering online ocean education to students around the world in our blog post here.
Browse through the incredible shortlisted entries below!
View all of the submitted artwork on our Padlet here. Teachers and parents of children who sent in their brilliant art are encouraged to download and fill out the certificate below: