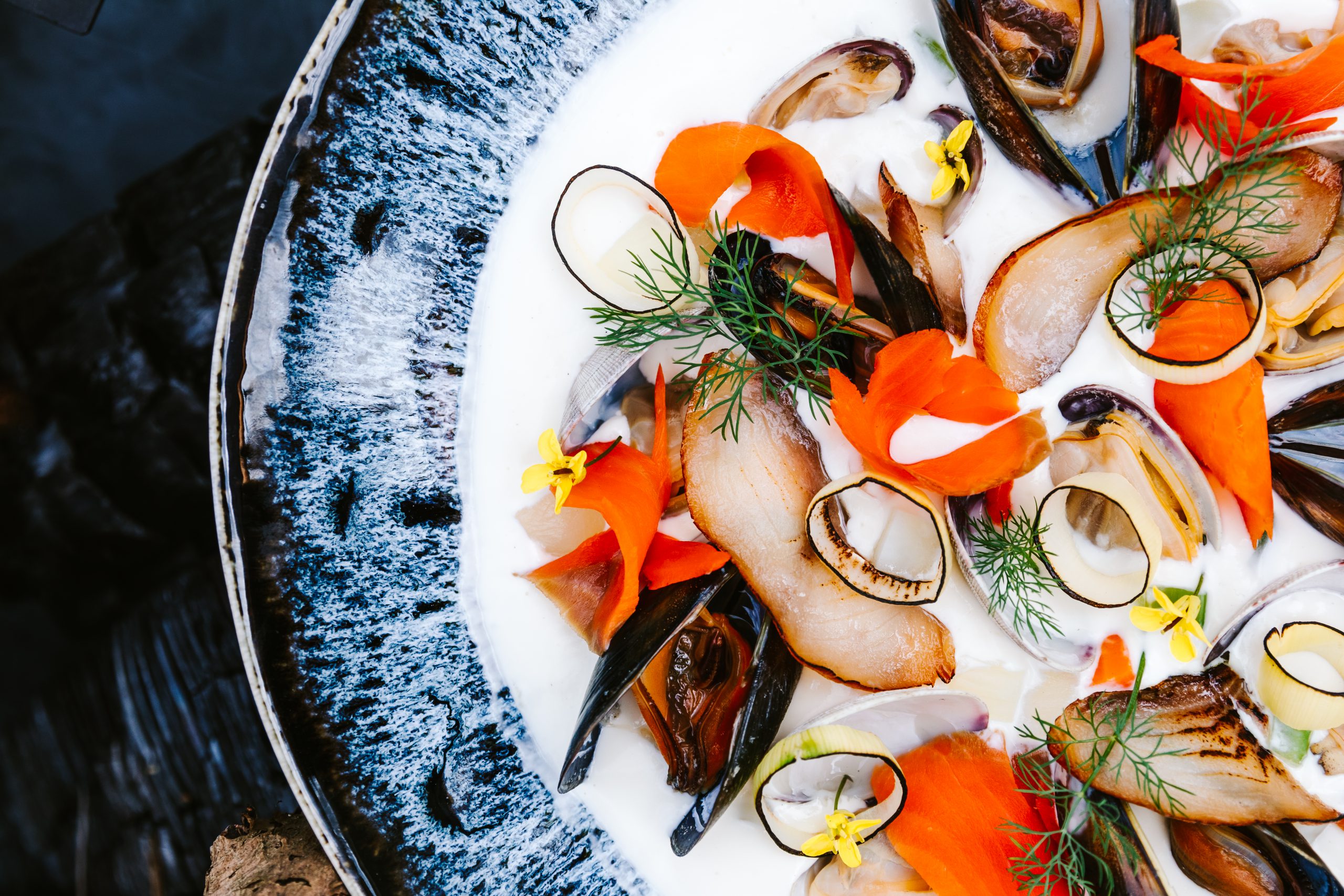 Countdown to National Chowder Chowdown Festival

Monthlong National Chowder Chowdown Festival kicks off February 1 in support of Ocean Wise's sustainable seafood program
The countdown is on! In less than two weeks, some 36 Ocean Wise partners across Canada will be serving up delicious seafood chowders with part-proceeds supporting Ocean Wise's not-for-profit sustainable seafood program.
The inaugural National Chowder Chowdown Festival runs February 1 to 28 with chowders available for dine-in, delivery or take out at restaurants across Canada – from Prince Rupert, BC to Summerville, Nova Scotia. Full details can be found at ocean.org/chowder.
"For more than 15 years, the Ocean Wise Seafood program has inspired a nation of chefs and diners to be champions for our oceans," said Chef Poyan Danesh, culinary director at Ocean Mama Seafood and competition chair and treasurer of the Chefs' Table Society of BC. "The science behind sustainable fisheries is complex but thankfully chefs and consumers can rely on Ocean Wise to help us make positive choices. National Chowder Chowdown Festival is an opportunity for Canadians to support this critical program all while enjoying delicious seafood."
Ocean Wise Seafood is a not-for-profit program consisting of nine scientists and account managers across Canada who analyse the most current data on thousands of seafood options and work with restaurants, seafood suppliers and grocery stores to communicate recommendations and monthly updates on the changing science. Ocean Wise's recommendations are not only based on assessment of the species itself, but also the fishery's impact on the surrounding environment, other species, and how well it is managed.
The COVID pandemic meant Ocean Wise Seafood needed to re-think their annual fundraising events in Vancouver and Toronto which previously brought in more than $70,000 annually for the not-for-profit program.
"COVID-19 has impacted so many people and businesses, including the Ocean Wise Seafood program and our partners" said Sophika Kostyniuk, director of Fisheries and Seafood at Ocean Wise Conservation Association. "With the new National Chowder Chowdown Festival format we hope to be able to support our partners while also generating the much-needed funds to keep the Ocean Wise Seafood program going strong."
Overfishing is one of the greatest threats to our world's oceans with grave impacts on the food web and the livelihoods of millions of people worldwide. But by simply changing the seafoods we eat, we can stop overfishing and help the oceans recover.
National Chowder Chowdown Festival
Participating Restaurants & Retailers

*Restaurant registration is still open! Check ocean.org/chowder for the most up-to-date participant list or to join the program.

1931 Gallery Bistro (Vancouver, BC)
AquaTerra (Kingston, ON)
Big Feast Bistro (Maple Ridge, BC)
Bistro 67 (Whitby, ON)
Bruce Wine Bar (Thornbury, ON)
COAST by Matt Dean Pettit (Toronto, ON)
Coast Cafe Car (Toronto, ON)
De La Mer Fresh Fish Market (four locations in Toronto, ON)
Dressed by an Olive (Windsor, ON)
Edge Catering (Vancouver, BC)
Fairmont Chateau Whistler – Portobello (Whistler, BC)
Fanny Bay Oyster Bar (Vancouver, BC)
Flying Apron Inn and Cookery (Summerville, Nova Scotia)
Fresh City Farms- online and in store through The Healthy Butcher, Mabel's Bakery and Fresh City locations (Toronto, ON)
Intercity Packers (Vancouver, BC)
Fukasaku of Prince Rupert (Prince Rupert, BC)
Hart House Restaurant (Burnaby, BC)
Holt's Café Yorkdale (North York, ON)
Holts Café Bloor street (Toronto, ON)
Holts Café Vancouver (Vancouver, BC)
Little Mexico Cantina (Richmond, BC)
Locals Restaurant (Courtenay, BC)
Naramata Inn (Naramata, BC)
North 42 Degrees Estate Winery (Colchester, ON)
Organic Ocean (Vancouver, BC)
Pajo's Fish and Chips (Richmond and Port Moody, BC)
Pearl Diver (Toronto, ON)
Pier 87 (Mississauga & Toronto, ON)
Redstone Winery (Beamsville, ON)
Showcase Restaurant at the Vancouver Marriott Downtown (Vancouver, BC)
ShuckShuck (Vancouver, BC)
Spinnakers Gastro Brewpub (Victoria, BC)
Stanley Park Brewing Restaurant and Brewpub (Vancouver, BC)
The Vancouver Fish Co. (Vancouver, BC)
The Wooden Boat (Kitchener, ON)
Union Market Square (Arkell, ON)
Ocean Wise Seafood is grateful to the following partners for supporting the National Chowder Chowdown Festival: Daily Hive, Global BC, CKNW, Tito's Handmade Vodka, Centennial Food Service, Fresh Prep, Ontareau, Red Racer Brewing, Red Stone Winery, Walter Craft Caesar and North 42 Degrees Estate Winery.