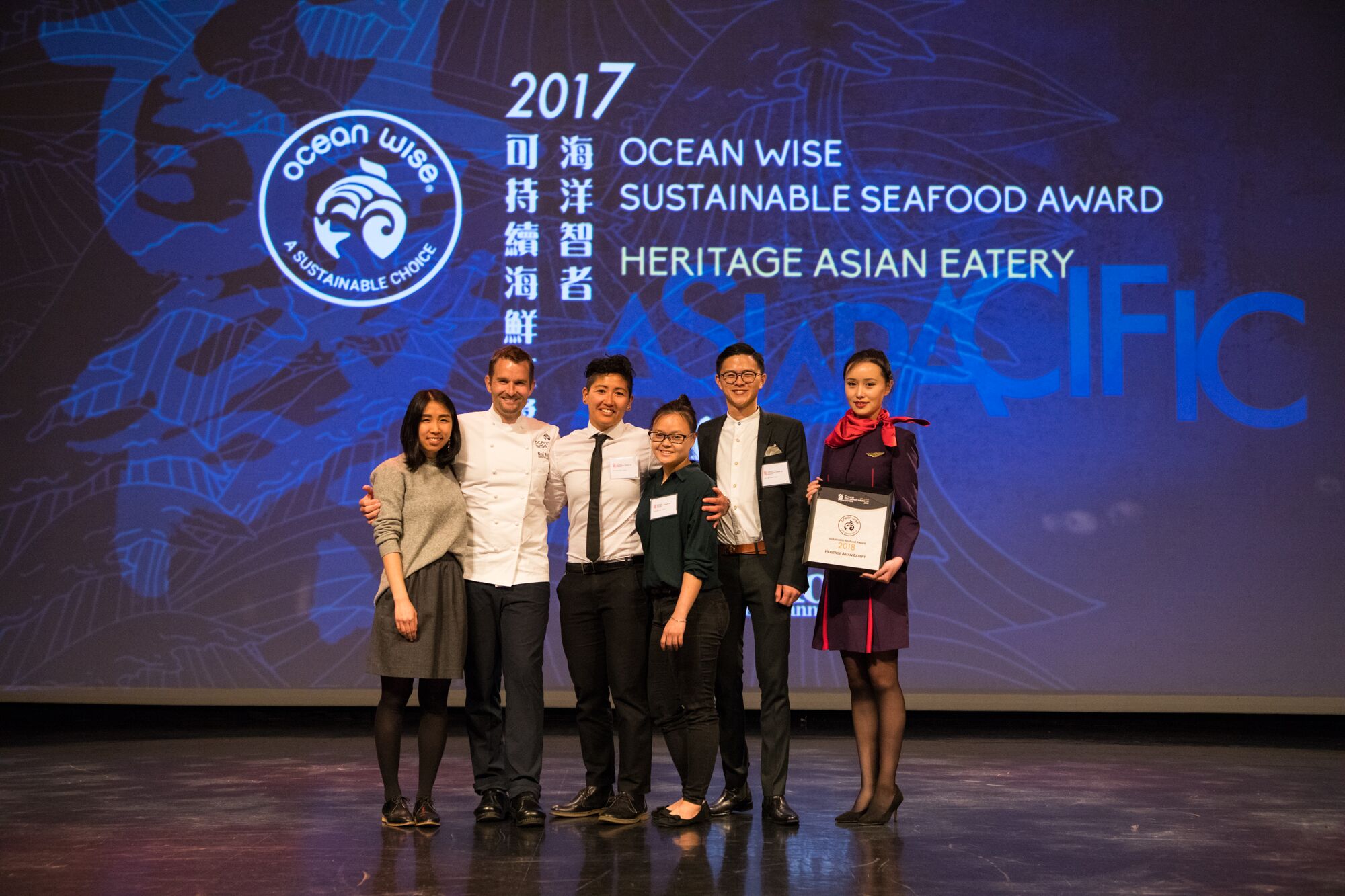 Ocean Wise Seafood Celebrates 10 Years of Chinese Restaurant Awards
Seafood has always been a highly celebrated mainstay in many Chinese cuisines, and the Ocean Wise Seafood program has turned to underscoring a number of sustainable seafood options that are familiar within the Chinese culinary community to inspire chefs and diners to choose and favour more seafood options that help support the health and resiliency of our oceans.
Over the past two years, the Ocean Wise Seafood team has partnered with the Chinese Restaurant Awards to identify and support restaurants ready and willing to jump on board with the sustainable seafood movement. For those unfamiliar, the Chinese Restaurant Awards has celebrated and recommended Vancouver and Richmond's best Chinese and Taiwanese restaurants, food outlets, and signature must-try dishes as voted by critics and diners across the region for the past ten years. This year marks our second year of awarding a Chinese restaurant with the Ocean Wise Sustainable Seafood Award at the Chinese Restaurant Awards' annual ceremony. On April 17th, Heritage Asian Eatery was presented with the Ocean Wise Sustainable Seafood Award to recognize all their enthusiasm and commitment to serving 100% Ocean Wise seafood at Heritage.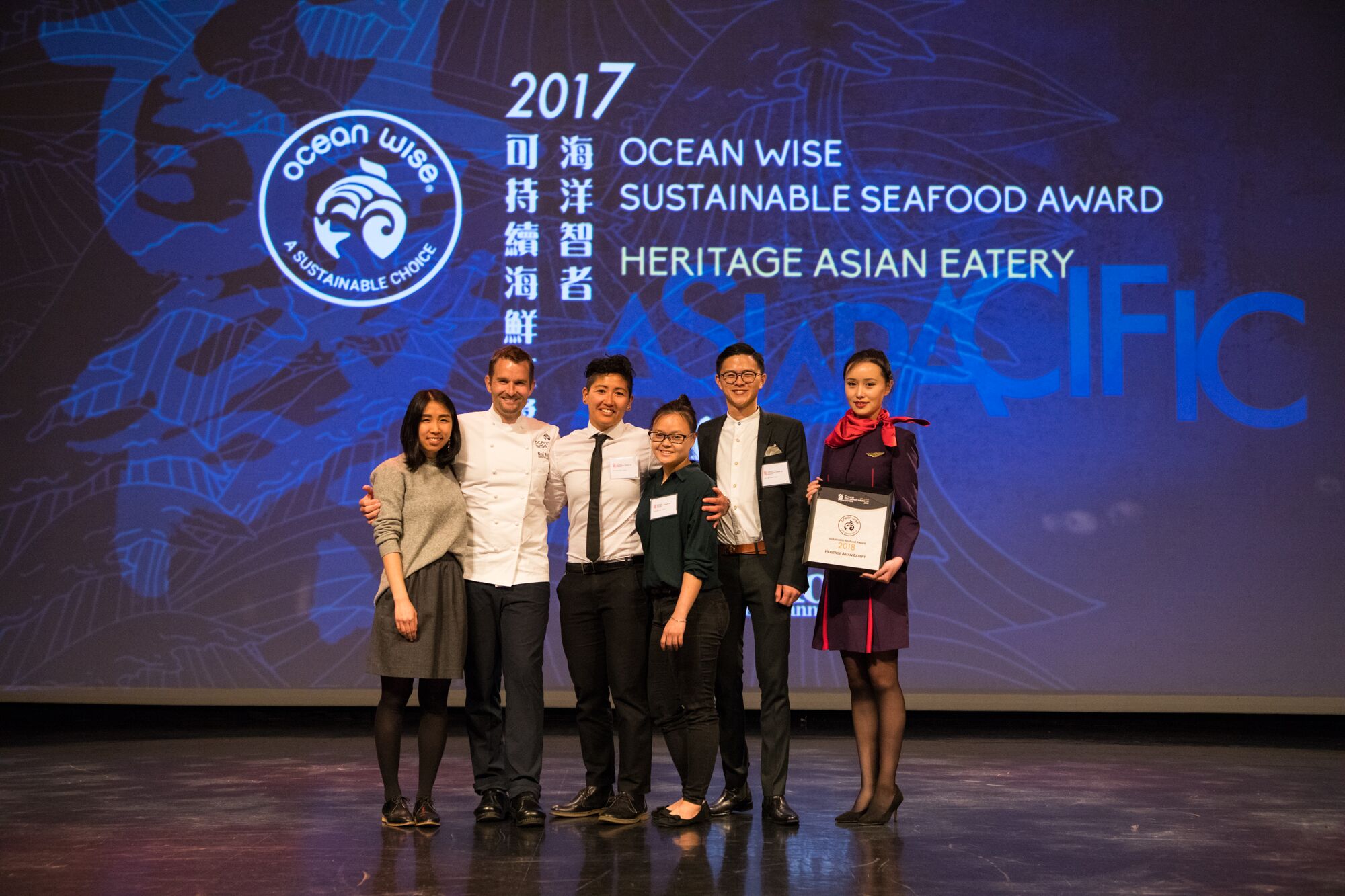 Heritage's Ocean Wise partnership officially kicked off earlier in March, with the Ocean Wise Seafood team and Chinese Restaurant Awards launching a collaborative media tasting event showcasing new Ocean Wise dishes to be released as weekly specials on their menu. Heritage Chef Felix Zhou worked alongside our own Ocean Wise Executive Chef Ned Bell in the kitchen to deliver crowd pleasing dishes including an ebi mayo inspired chilled prawns with light crispy vermicelli noodles and yuzu mayo, crispy oyster spring rolls, smoked uni charcoal ramen, a buttery steam black cod dish, and a cured sturgeon pancake – Peking duck style.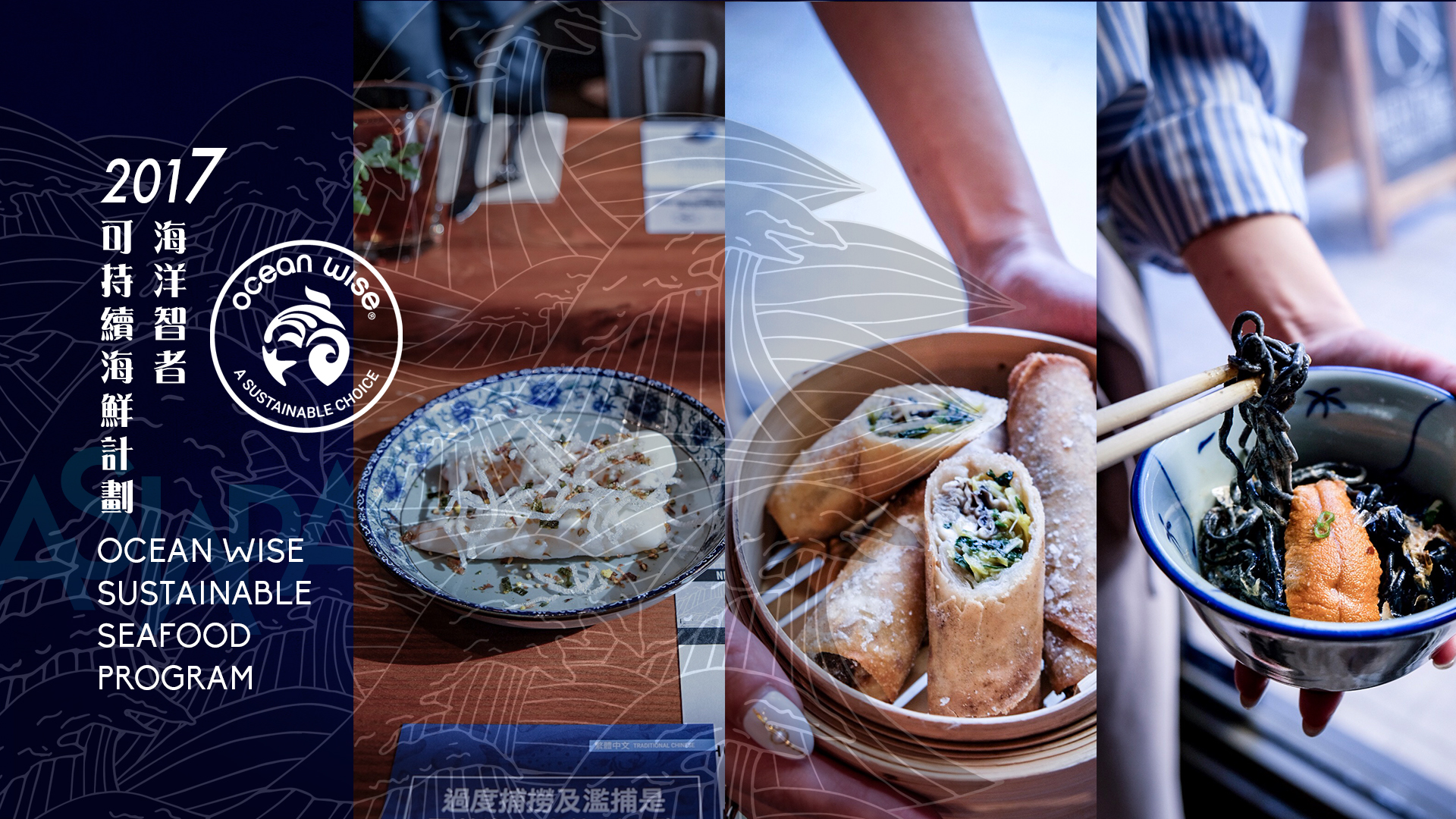 These rotating weekly Ocean Wise specials are now available at Heritage, and you can stay up to date with their social media posts and fresh sheets in house.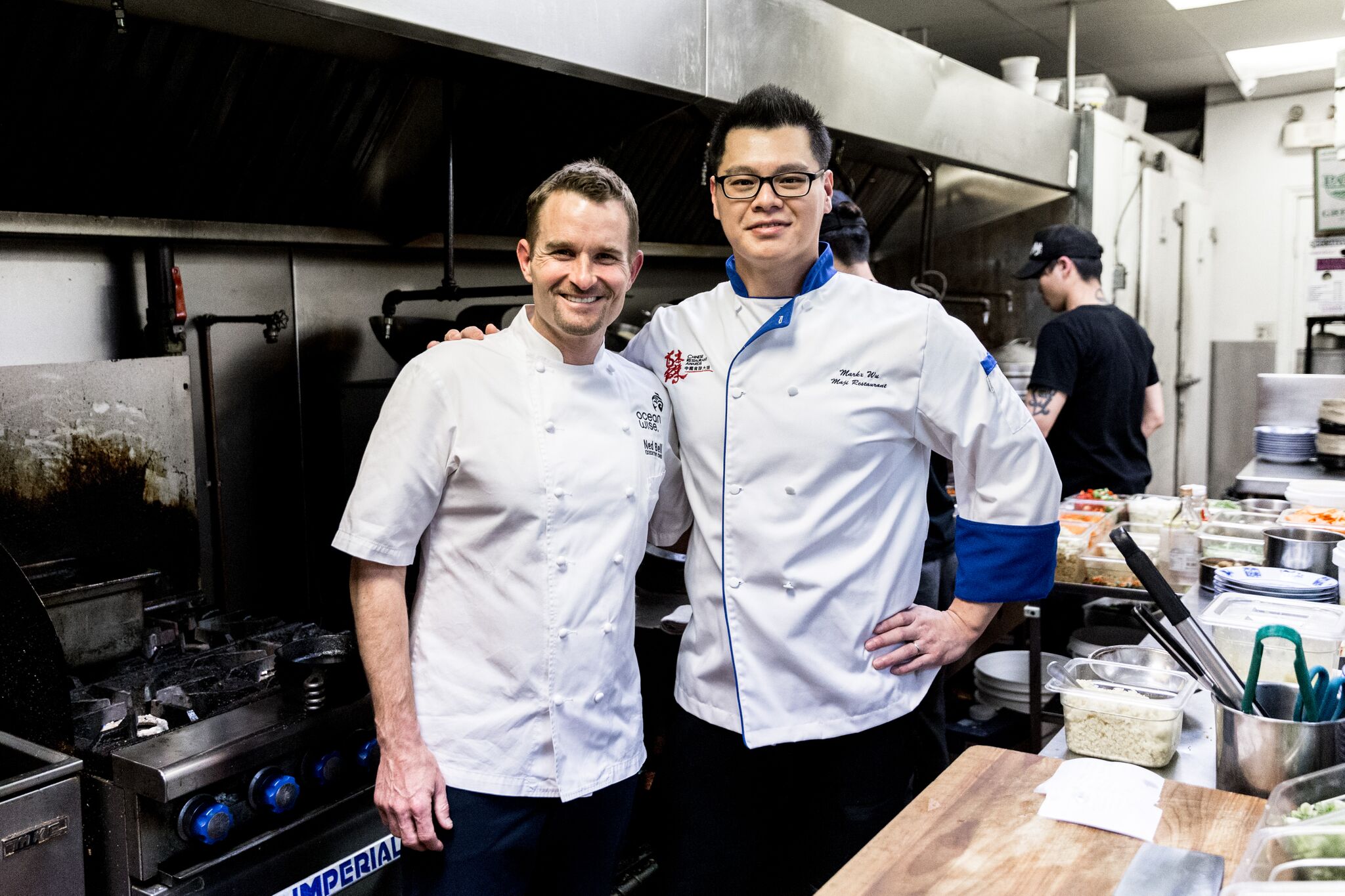 In celebration of the Chinese Restaurant Awards' 10th Anniversary, Chef Ned Bell visited our past winner of the Ocean Wise Sustainable Seafood Award, Maji Taiwanese Stir Fry on Richmond's beloved "Food Street" on Alexandra Road. Bell highlighted several of the team's favourite Ocean Wise dishes, including the deliciously aromatic stir-fried Basil Clams, while sharing and learning about culinary inspirations with Maji Chef and co-owner Markx Wu.
Back at the Chinese Restaurant Awards ceremony, Chef Ned Bell delivered a speech, akin to a callout to all chefs and restaurateurs in the room, to consider choosing and supporting sustainable seafood so that future generations can continue to enjoy much of the seafood we cherish today.
Enduring favourites such as locally trap-caught Dungeness crab pan-fried in a multitude of ways – tossed with ginger and green onions or a creamy butter sauce – exemplify how Chinese cuisines have historically and successfully adapted to what local food systems could offer. At banquet restaurants where there are live tanks of local and sustainable seafood, the potential is waiting for restaurateurs to jump on board and identify these Ocean Wise options on their menus so that consumers can truly appreciate how significant and pervasive sustainable seafood can be in Chinese cuisines.
Look for the Ocean Wise symbol wherever you enjoy your seafood.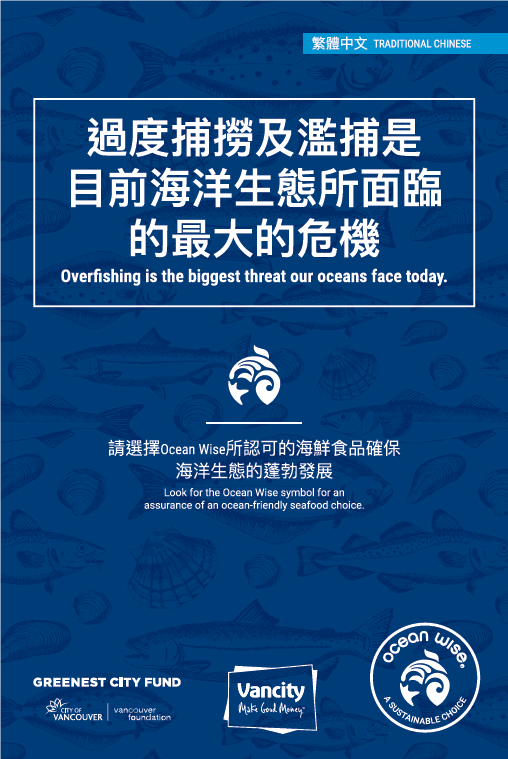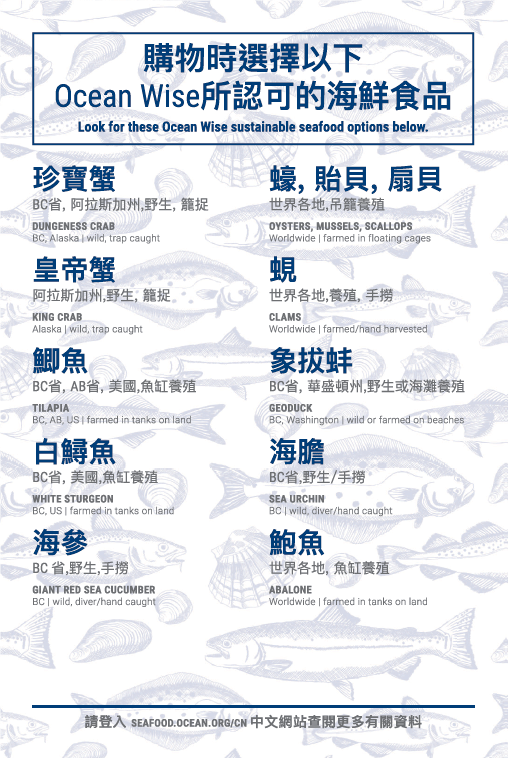 Many people don't realize there are many Ocean Wise recommended seafood options in Chinese restaurants, including BC trap caught Dungeness crab or BC geoduck. Ocean Wise Bilingual Chinese Seafood Guides are available at: http://seafood.ocean.org/cn/
Ocean Wise is kindly supported by a Vancity EnviroFund in an effort to continue raising awareness, enabling action, and increasing the accessibility of sustainable seafood across a diverse range of cuisines, cultures and price points.