15 Places to See Whales from the Land in BC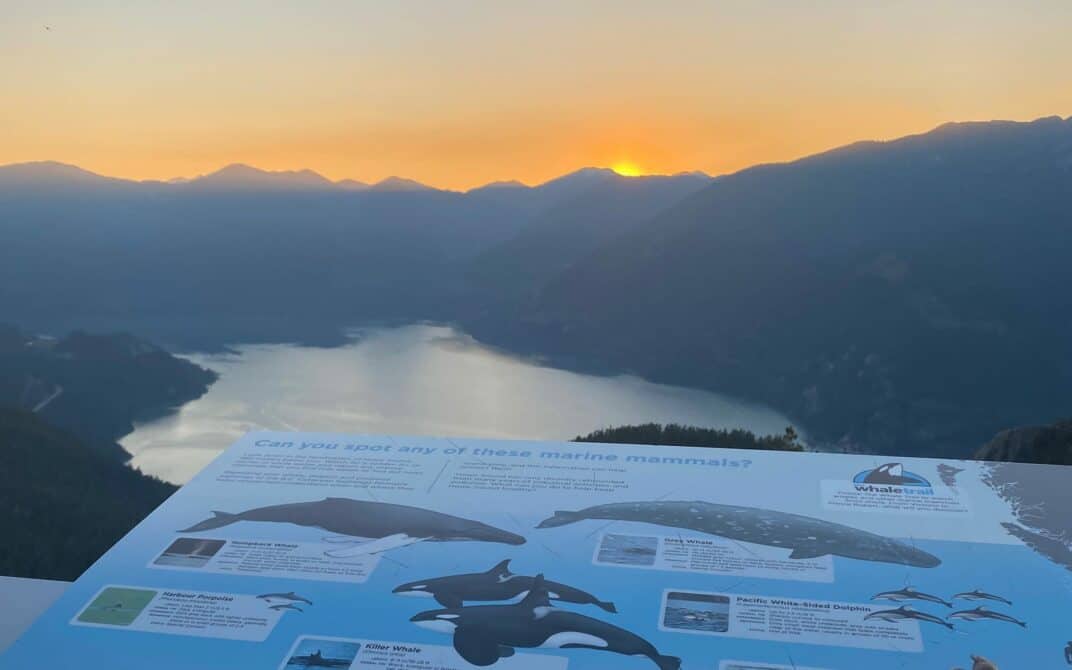 When thinking of whale watching, you might picture yourself hopping on a boat. But did you know that here in British Columbia (BC), you have a high chance of seeing whales from land? Keep reading to discover 15 places to see whales from the land in BC.
There are many places to see whales from land in British Columbia. If you're as big of a whale fan as we are, then you'll be excited to know that there are 35 locations (and counting) up and down the coast where you may be able to catch a glimpse of these magnificent creatures! This past summer, Sally Best, who was working as an Outreach and Research Assistant for Ocean Wise's Whales Initiative, took us from the North to South end of the #BCWhaleTrail to showcase 15 places to see whales from the land in BC.  
Beginning in Haida Gwaii and ending in Campbell River, Sally provided tips and tricks on how you can best experience these marine mammals in their natural habitat – and maybe even get a better look than your friends on boats! She also shared how to get to each location, what species can be spotted and things to do at each of the 15 Whale Trail stops she visited.
This campaign was part of Sally's placement at Ocean Wise's North Coast Cetacean Research Initiative (NCCRI) with Ocean Wise's Youth program, Direct Action. The goal was to create a social media campaign sharing incredible sites with the public and encouraging them to check out these free locations in person. Now we hope that this blog inspires you to get out and explore the BC Whale Trail!
The Whale Trail
The BC Whale Trail is a network of land-based sites based along the Pacific Coast and the Salish Sea where you can view marine mammals up close. This unique trail has interpretive signs which include information about each location and the species that can be found there.
When visiting these sites, you can watch for whales, porpoises, dolphins, sea lions and seals. Vancouver Island and the North Coast offer excellent opportunities to view humpback whales during their seasonal migrations, as well as our resident and transient (Bigg's) orcas (killer whales). In addition to whales, several other types of cetaceans (cetaceans include all species of whales, dolphins and porpoises) can also be observed in our waters including; pacific white-sided dolphins, Dall's porpoises, harbour porpoise, Risso's dolphins and very occasionally, northern right whale dolphins!
Watch the series of Instagram Reels linked below that showcase the 15 beautiful locations Sally visited:
Northern BC Whale Trail
Southern BC Whale Trail
Send a sighting. Save a whale!
If you see a whale, dolphin or porpoise while visiting the BC Whale Trail, remember to report it! When you report your sighting in real time, you can be helping that animal by reducing the risk of collision and disturbance from large commercial vessels. It is an easy way that you can help to protect whales. All you have to do is go on your phone and submit a quick sighting (which takes less than minute). By doing this you're not only contributing to research, but also the protection of these at-risk species.
So, what are you waiting for? Go out and see some whales! The BC Whale Trail website will tell you where to spot marine mammals, what species you can expect to see and how to get there. The BC Cetacean Sightings Network and the WhaleReport app (available on iOS and android) have a wealth of information about the species you can see along our coast, as well as allowing you to be a citizen scientist! We hope to see you become part of our citizen science network and contribute your sightings to help a whale or two. If you see a marine mammal in distress, there's even an alert built into the app so the right people are notified and can come to its assistance! Just remember to keep your eyes open as you never know when a whale might surface!
If you have a special spot for watching whales, we would love to know about it! We may be able to install a Whale Trail sign so you can share the love with others and help contribute to science and protecting the cetaceans we care so much about.