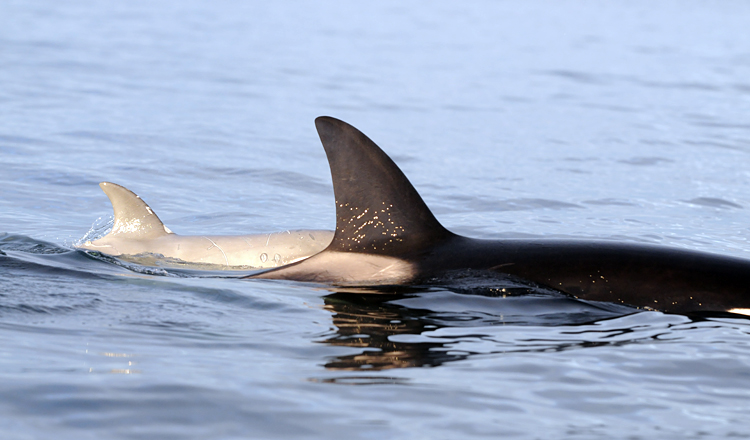 Killer Whales Aren't Always Black and White
In April, researchers with the Far East Russia Orca Project revealed that, in 2010, they had successfully sighted "Iceberg," the all-white, mature male killer whale, off the east coast of the Kamchatka Peninsula.
According to researchers, Iceberg is believed to be at least 16 years old and was seen travelling with a group of 12 other whales. He appears to be healthy and socially adjusted within his pod, but also appears to have unusual pigmentation. Scientists are unsure of the cause of Iceberg's unique appearance, but if he can be located again this summer they may be able to find out. A good look at his eye colour would reveal if he is in fact a true albino (albinism produces pink eyes), or whether his unusual pigmentation is due to other genetic causes.
While this is indeed exciting news, it is by no means the first time a white killer whale has been spotted in the wild. Unfortunately, most do not survive very long due to a genetic defect that causes the white coloration in the first place. Here's a brief  description of other white killer whales that have been sighted:
In March of 1970, a female white killer whale was spotted, along with five other whales, in Pedder Bay at the south end of Vancouver Island. "Chimo" was moved to Sealand, an Aquarium in Oak Bay, where she lived a little over two years before she died of pneumonia in October 1972. Chimo suffered from Chediak-Higashi syndrome, a recessively-inherited trait causing recurring infection and fevers that also affects mice, mink, Hereford cattle, and humans.
In March of 2008, an all-white resident-type male killer whale was spotted off western Alaska's Aleutian Islands.  This whale was not a true albino because it had signs of darker pigmentation on his body, but similarly to Iceberg, the whale appeared to be healthy and mature.
In December of 2009, a grey-white transient calf was spotted near the Victoria, BC waterfront along with its mother T68C (see photo above).
Killer whales may be the only known cetacean species to suffer from Chediak-Higashi syndrome; however, other species have been observed in the wild with striking white colouration, including humpback whales, harbor porpoises, and Franciscana (or La Plata) dolphins.
Your sightings of whales and other cetaceans are important, and can help aid research efforts! Whether you spot the next "Iceberg" or more likely a standard-coloured cetacean, our B.C. Cetacean Sightings Network would like to hear about it.
Give us a call at 1-866-I-SAW-ONE, send us an email at [email protected], or fill out our online sightings form here.