Schooling Fish
Circulating ocean literacy using practical impact while equipping others with the skillset to do the same.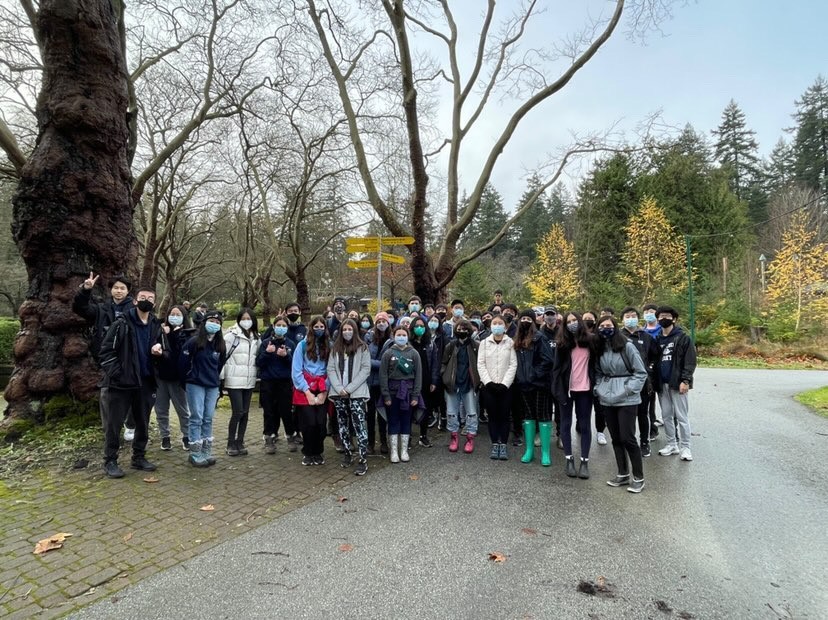 Kassy, Sam, Michelle, Caio, Reign, Ronald and Yi Jia are all extremely passionate about the oceans and environment and strive to expand ocean awareness and conservation to fellow youth. This shared passion helped them launch the Schooling Fish initiative:
Project Description
Hello everyone! Our names are Kassy, Michelle, Sam, Ronald, Caio, Reign, and Yi Jia! We all met as part of the 2021/22 YouthToSea cohort where we had an amazing time with the educational events the YouthToSea team planned and put on for us. We wanted to share those experiences to the people around us and we did so by creating Schooling Fish, which is a club established at five different secondary schools (Burnaby Mountain, Burnaby North, Moscrop, Killarney and Sir Winston Churchill) where we gather monthly with a variety of themes and activities intertwined with environmental education. Our amazing team created this project to enrich students all across greater Vancouver on ocean conservation, while also giving them the opportunity to meet new people who shares common interests as them. So far, we've organized two club wide events!
For our first event, we went to the Stanley Park seawall and Beaver Lake to go on a nature walk, and conduct fresh and salt water testing. There, we talked about the different species residing in Stanley Park and the significance of the measurements taken during water testing. We also had the chance to go to the Vancouver Aquarium, where we visited all the different marine species and learned about the marine rescue program. Watching youth come to our events curious and engaged has made all our work worth it :D. Throughout our time at YouthToSea and during our club planning, we saw how important it was to talk to youth about the environment and get them involved in the community, and hope to do more for Schooling Fish soon!
What was your biggest challenge?
For a lot of us, it was the first time we had worked on a project like this and so there were a lot of learning curves and new experiences. One of our biggest challenges when working on Schooling Fish was organization between ourselves and our project. Some of those organizational challenges included balancing school work, events in our lives, other responsibilities, and still finding time to put into the project. As our team worked together and were there to support each other, we learned to adapt and became better at keeping up with our tasks. We also learned that event planning came with a lot of different moving parts and how crucial organization between us leaders was to make sure things ran smoothly. Another challenge we would face was issues during our events, whether it was keeping track of everyone to make sure people didn't get lost, making changes to the schedule when we were running out of time, or adjusting our activities to keep everyone engaged. Coming together to use each others strengths to solve these problems was fun to do and strengthened our friendships when we knew we could count on each other.
What was your most valuable takeaway?
As we've been working on our project, many of us have taken leadership roles and were pushed out of our comfort zones whether it was taking up important responsibilities we haven't had before, or public speaking. We've all grown immensely in our own ways and it has been amazing to do so together with all the Schooling Fish leaders. We've also had the chance to get to know each other really well and meet others from other schools! One of our most valuable take away is that when you do something you are passionate about and with people who have the same interests as you, there are no limitations to what is possible. It might sound cliche, but we've found it to be true! We've also learned how important it is to get other youth around us involved in person with the environment. Through YouthToSea, we saw first hand the negative effects of plastic and chemicals in the oceans through shoreline cleanups, water testing, or other activities, and we noticed how it drove us to do something about it in our own ways. We've also noticed how being involved in a variety of different activities has built community, connections, appreciation for the environment, and aspirations in ourselves, and we hope to continue to share that!
Follow us on Instagram for latest Schooling Fish updates!
Follow
This error message is only visible to WordPress admins
Error: No users set.