Ocean Wise Recommended
The Ocean Wise symbol next to a seafood item is our assurance to you that you are buying an ocean-friendly seafood choice. Using the best science available we only recommend options that can be harvested with limited impact on fish stocks and the ocean ecosystem. 
Our system is simple. An option is either Ocean Wise Recommended or its not. If it is Ocean Wise Recommended our partners can use our Ocean Wise Seafood symbol on their packaging, menu or display to indicate that it is a sustainable choice. If you don't see the symbol, it's not Ocean Wise Recommended.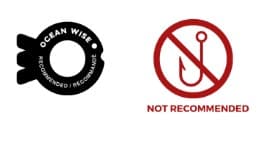 Our Standards and Assessment
Our science team relies on a large collection of data to determine which options will be recognized as Ocean Wise Recommended. Our assessments are always evolving and each month we share an update on which species and catch conditions meet our criteria.