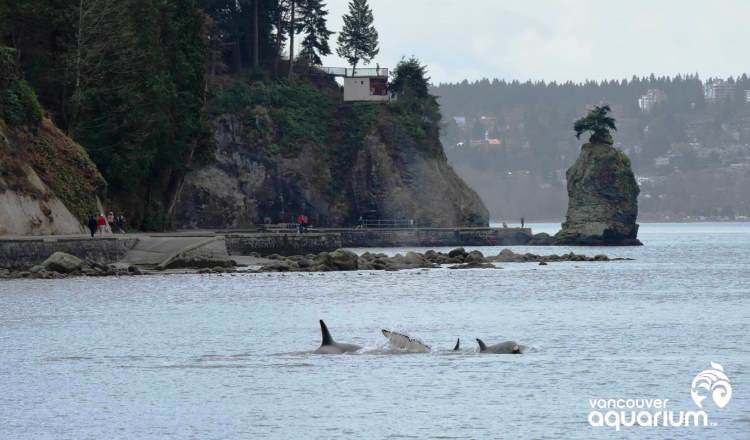 Whale Watching on The Whale Trail
Recently, the B.C. Cetacean Sightings Network received some very exciting reports of whales, including large groups of killer whales in Active Pass, a breaching humpback whale in Howe Sound, and a wandering grey whale that found its way along the Sunshine Coast into English Bay. Each of these sightings provided B.C. residents and visitors  incredible opportunities to view the magnificent animals that live right in our backyard. What's even more exciting is that in each of these cases, the whales were easily observed from shore.
Many people are surprised to learn they can experience a whale, dolphin, or porpoise sighting from land, as it's generally believed that one must venture by boat into deeper waters to see these animals. For many sightings, that isn't the case. In 2014, 15 per cent of sightings reports submitted to the B.C. Cetacean Sightings Network were from land. The stories of sightings from shore are always very similar: someone is picnicking, hiking, gardening, doing the dishes or sitting in their office when they see it — a blow or a dorsal fin. Whales are nearby!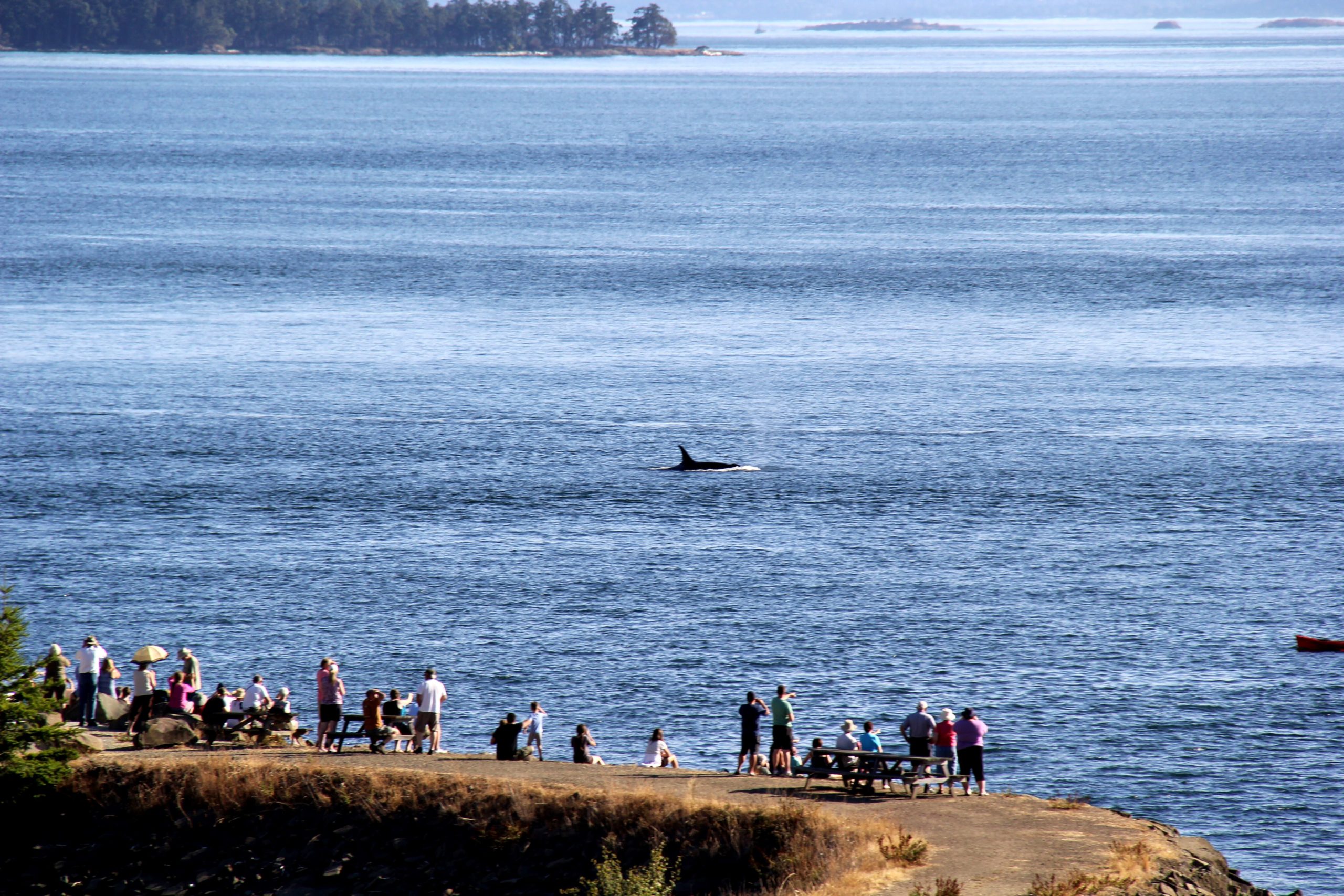 At the Sightings Network we receive regular phone calls from people wondering where they might get a chance to view one of these animals from shore. This sparked a connection with The Whale Trail, a Seattle-based organization dedicated to identifying sites across the Northwest where the public is most likely to view killer whales, and other marine mammals, from shore. The Whale Trail focuses on marine stewardship and conservation by identifying accessible areas where land-based marine mammal sightings are most likely to occur.
The Sightings Network is now collaborating with The Whale Trail, and many local partners, to identify prime land-based sites across B.C. where citizens can experience the wonder of seeing a marine mammal, and report their sightings to contribute toward conservation-based research.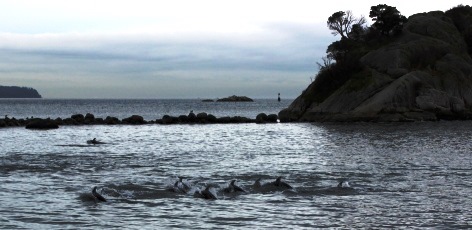 We are very lucky here in B.C. to have many mariners who practice responsible boating, whether they are recreational boaters or ecotourism companies. Responsible boating around marine mammals involves following the Be Whale Wise Guidelines, which are a set of boating etiquette guidelines put in place to minimize vessel disturbance to marine mammals and sea turtles. These guidelines include, but are not limited to, staying at least 100 metres away from marine mammals and decreasing speed to less than seven knots when they are in the area.
[youtube]https://youtu.be/npQfbW45EFA[/youtube]
When Be Whale Wise guidelines are not followed, cetaceans and sea turtles can be subjected to noise, pollution, ship strikes, and disturbance of natural behaviours. A study done on northern resident killer whales in B.C. found that when in the presence of vessels, whales spent 18 per cent less time foraging, which could potentially have negative effects on their threatened population.
Stay tuned as the B.C. Cetaceans Sightings Network continues to work with The Whale Trail to identify viewing sites across B.C., thanks to the generous support of Mountain Equipment Co-op. Do you have a site suggestion to add to The Whale Trail B.C.? Let us know! In the meantime, keep your eyes peeled while on the water and let us know what you see by visiting www.wildwhales.org, calling 1-866-I-SAW-ONE, or downloading our new WhaleReport app available on the iTunes app store or from the Google Android store.
Reference
Williams, R., Lusseauc, D., and P.S. Hammonda. 2006. Estimating relative energetic costs of human disturbance to killer whales (Orcinus orca). Biological Conservation. 133 (3) pp. 301-311.