Turning the tide on meal kit plastic waste
A more sustainable future is dependent on businesses making the first move
Increasingly popular meal kit companies are changing the way people share meals around the world, but like so many others in the food industry, they are not immune to the widespread plastic packaging crisis.
Typically wrapping individual ingredients in multiple, tiny single-use plastic packets, and delivering kits in insulated cardboard boxes with non-recyclable plastic ice packs, meal kit companies are contributing to a food packaging industry that comprises almost 30% of household waste. Less than 10% of that waste gets recycled.
BC-based meal kit company Fresh Prep is on a mission to change this. Since co-founding Fresh Prep in 2015, childhoold friends Dhruv Sood, Becky Brauer, and Husein Rahemtulla have been determined to create a truly sustainable meal kit company. "We knew there had to be a better way," says Sood.
As an Ocean Wise Seafood partner since 2017 (the first meal kit company to commit to 100% of their menu's seafood options being recommended as sustainable), they are now doubling up their impact by joining Ocean Wise's new Plastic Reduction Program, which includes a commitment to measure their plastic footprint and set meaningful targets to reduce it.
For Fresh Prep, sustainability efforts are not new, and you don't have to look far to see how Sood, Brauer, Rahemtulla align their personal values into everything they do at their business. Since day 1, they have had a vision of eliminating all single-use packaging from the meal kit experience. Over the years, this has involved many different packaging iterations, as they experimented with multiple materials to store food conveniently and sustainably for customers.
But it wasn't as easy as they had hoped, and many of their experiments failed. "Mason jars seemed like an obvious choice at first," says Sood, "but we soon found our packaging sites overflowing with inventory, not to mention the cupboards of our customers."
Not easily deterred, Sood, Brauer, and Rahemtulla continued to iterate and brainstorm. Recognizing that millions of people doing zero waste imperfectly was better than a handful of people doing it perfectly, they came up with a temporary solution to diligently use plastic only on necessary items – but they never stopped working on their big idea. They hired a team of designers to make their vision a reality, and even managed to get B Corp certified along the way for their commitments to transparency and sustainability.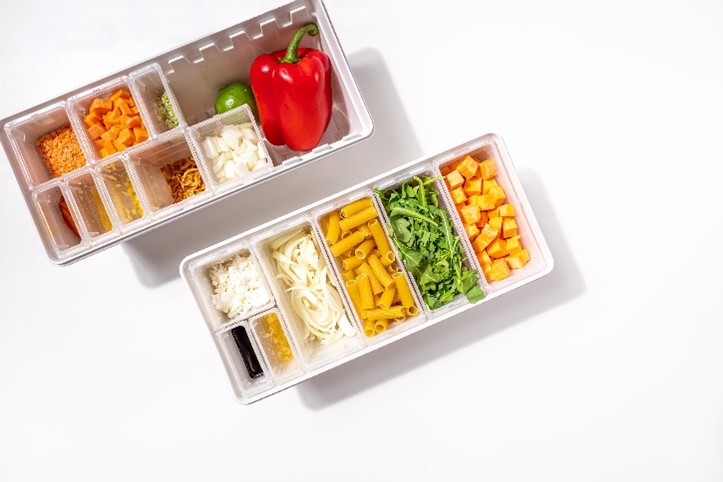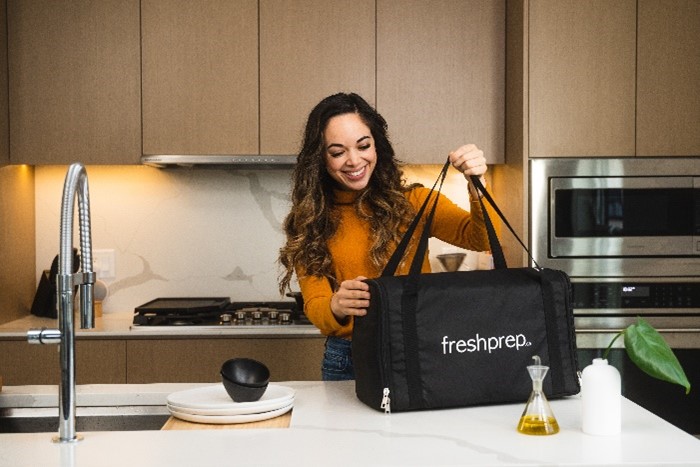 Finally, after three years of research, development, engineering, and investment to reduce barriers to sustainability in the meal kit industry, Fresh Prep launched its long sought after Zero Waste Kit packaging solution in 2021. Composed of dishwasher-safe, BPA-free, reusable plastic and silicon containers that are delivered in reusable, insulated cooler bags, Fresh Prep estimates each Kit will save around 19g of single-use plastic per meal.
Through their existing drop-off system, customers then conveniently return these containers to Fresh Prep for professional cleaning before reuse. At scale, if all Fresh Prep customers regularly order Zero Waste Kits each week, the company would divert 500kg of soft plastic waste per week — that's the same as the weight of a mini caravan.
"We believe that the onus to be sustainable should not fall on the consumer, and that businesses are now responsible for turning the tide on plastic waste. There is a better way to do business," says Sood. "It's not about promising an unattainable vision or trying to offset your own emissions by making grand commitments, but offering practical solutions that provide an easier cooking experience and sustainable solution for customers, without the added cost of time or money."
Fresh Prep is passionate about the idea that now is the time to shake up systems that have created wasteful practices, and support new innovations that will be essential on our path to a more sustainable world. Ocean Wise couldn't agree more.
"We've heard time and time again about how individuals need to do more, but the reality is that we need systems level change to enable the solutions that consumers are increasingly demanding. Fresh Prep is an inspiring example of how businesses are leading the charge for this type of change." says Ocean Wise Plastics Coordinator, Melanie Chanona. "Their Zero Waste Kits make it easier for individuals to make sustainable choices and support the transition to a circular economy. We're excited to support the next steps to come in their plastic reduction journey."
How to enjoy your next meal kit – zero waste:
Zero Waste recipes will be denoted with a badge on the Fresh Prep website, and customers will be able to select these recipes up to four weeks in advance. Fresh Prep currently delivers to over 20 municipalities across British Columbia and continues to add new locations. Learn more here.
Inspired by Fresh Prep's commitments? You can be part of our growing Ocean Wise community too.
Dhruv Sood is a UBC alumnus in Finance and Logistics. Previously an equity research associate, Dhruv is now Co-Founder and Co-CEO of Fresh Prep, Western Canada's most sustainable meal kit. He loves building things, and oversees the engineering and technology teams at Fresh Prep, and has a keen interest in the never-ending construction projects as the meal kit company expands into new markets.