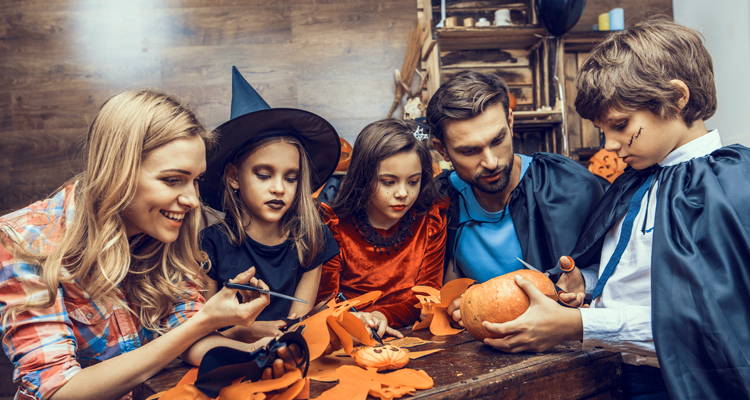 Top Tips to #BeOceanWise This Halloween
What's the scariest part about Halloween? The ghoulish costumes? The frightening films? The impending sugar crash? For us – it's the waste.
At Halloween, everything seems to be covered in single-use plastic – from bite-sized chocolate bars to throwaway costumes. This puts the ocean at risk.
Plastic that is not recycled or disposed of properly ends up in waterways. And sadly, plastic can cause grave injury, malnutrition or death to ocean animals who ingest it, thinking it is food. Animals like whales, sea lions and birds can also get tangled in plastic and suffocate.
What's more, once plastic is in the ocean it breaks into smaller and smaller pieces called microplastics. We now know the ocean is drowning in microplastics. Scientists have found microplastic particles almost everywhere they have looked, from local shorelines to the Arctic, from shellfish to beluga whales – even in our own bodies.
So how can you make this Halloween less plastic and more fantastic? From costumes to decorations, we're sharing our top tips to #BeOceanWise this Halloween.
Costumes
The problem is that most costumes are designed to be worn once and then thrown away. Worse still, they are all too often made from synthetic materials (like polyester, acrylic and nylon) that shed plastic fibers into the environment. We recommend:
Re-purpose an old costume, or make your costume from old clothes. It is amazing what you can find at the back of your closet that can be altered or repurposed with a little imagination!
Hold a costume swap with friends. Swapping Halloween costumes with friends is a great way to reduce waste and save money. After all, what are friends for?
Check out your local thrift shop. Have you raided all possible closets in your household and still no great finds? Find a reference photo for the costume you want to achieve and venture down to your local secondhand store! Some of our favourite costumes have been vintage finds coupled with creative make-up.
Still buying a new costume? If all else fails and you choose to buy a new costume, look for something you would wear again and that is made from natural fibers. Avoid glitter – sparkles are fun, but these tiny bits of plastic escape into waterways leading many scientists to call for a full-blown glitter ban.
Decorations & Hosting
Whether you are hosting a Halloween gathering or decorating your home in anticipation of little trick-or-treaters, here are a few things to keep in mind:
Forgo fake cobwebs. That cobwebbing that often gets draped around trees, bushes and porches? It may look creepy but it can be seriously harmful for insects, birds and other wildlife that can easily get stuck. As well, these webs are normally made of plastic-based fibers which we want to avoid putting into the environment in general.
Reusable, vintage and natural décor: Choose decorations that you can reuse year-after-year – bonus points for turning to a secondhand store for your decor! Or opt for natural items (think pumpkins and autumn leaves). Get crafty using recycled household items to make decorations the kids will love (hello toilet-roll mummies).
Be careful with balloons. If they escape, they can land anywhere – including in the ocean. Balloons and other plastics are dangerous for animals that are looking for food and ingest them.
Avoid disposable cutlery and serving ware. Single-use options are often difficult to recycle and unsuitable for composting (yes, even the biodegradable plastics).
For Treats
It simply would not be Halloween without a sweet fix. Chew on this when planning your Halloween menu:
Homemade goodies: Homemade treats, rather than individually wrapped ones, are the easiest way to reduce packaging waste. There are a wealth of recipes to try and your creations can be packaged in reusable bags, jars, or paper wrapping. These are great if you are hosting a party or looking for treats for your family.
Buy bulk: Head to the bulk aisle in your local supermarket to get your sweet fix without the packaging – don't forget to bring your glass jar!
Think recycling: When planning beverages, note that aluminum cans of pop or juice are most commonly recyclable, and better than plastic bottles.
Cardboard over plastic: Still need prepacked sweets to hand out? Look out for candy options boxed in cardboard (like Smarties), or sweet treats wrapped in foil. These wrappers stand a slightly better chance of being recycled (depending on your local facilities and the level of contamination).
For Trick-or-Treating
Lighting your path: Use flashlights (or a bike light) rather than one-time-use glow sticks to light your trick-or-treating path.
Candy bags: Instead of buying another single use bag for collecting candy, encourage your kids to repurpose that stash of reusable bags, or go old school and carry a pillowcase. Decorating your bags can be a ton of fun (but please avoid the glitter!)
Don't be scared. Protecting the ocean from plastic waste is not about going zero-waste, it's all about doing the best we can and choosing low-waste options where possible. Just remember: the decisions you make – at Halloween and any time of year – can have a positive impact for our planet!
Inspired to do more to reduce plastic pollution? Why not host your own Trick or Trash Cleanup with the Ocean Wise Shoreline Cleanup or reduce your impact at home with the Ocean Wise Lunch Box Challenge!
Happy Halloween!