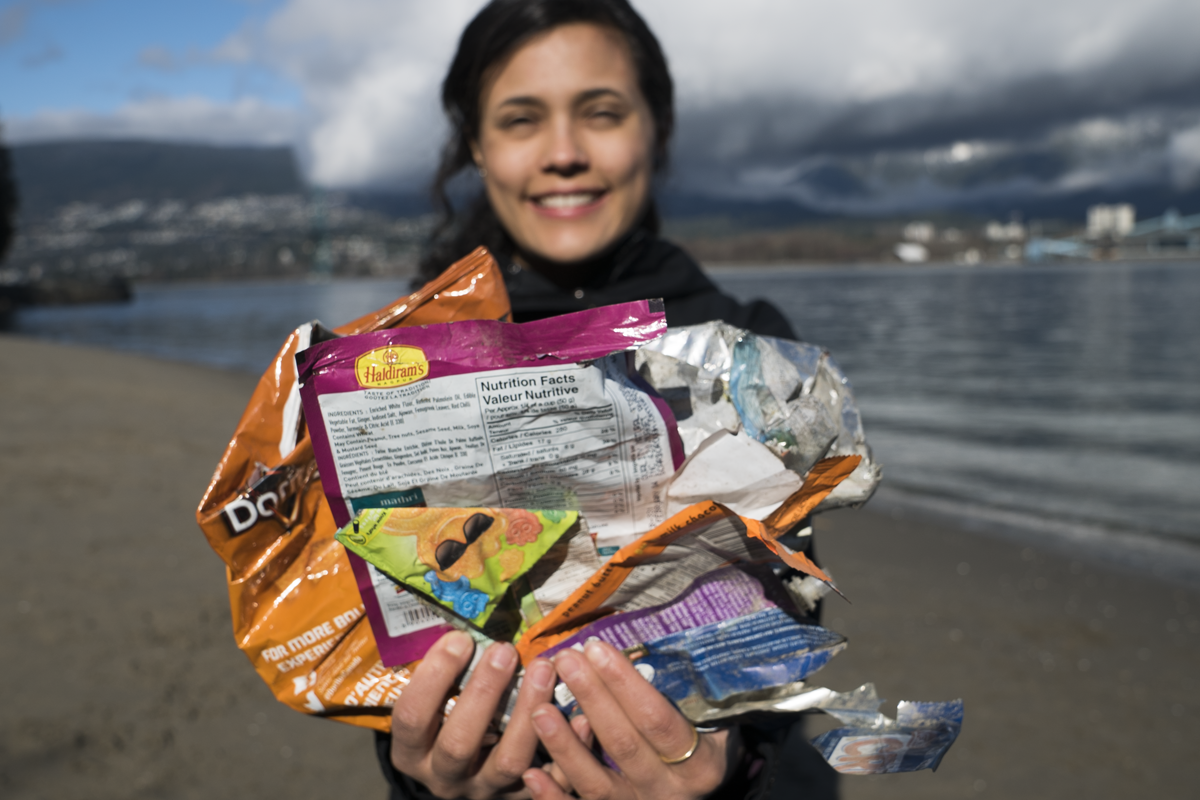 Plastics Top Our Shoreline Litter List
Tiny plastic and foam fragments topped the Great Canadian Shoreline Cleanup's annual "Dirty Dozen" list, which reports on the types of litter most commonly found on Canada's marine and freshwater shores. More than 330,000 tiny pieces of plastic and foam debris were collected by Shoreline Cleanup volunteers – from 1,849 cleanups that covered nearly 3,000 kilometres of shoreline in 2017.
Plastic bottles, caps and bags were also high on the list of offenders. Around the world, the equivalent of one dump truck load of plastic enters the oceans every minute, impacting hundreds of marine species.
"Once in the water, plastic never goes away. It breaks up into increasingly smaller pieces known as microplastics that are next to impossible to remove, and are found throughout the food chain, from tiny zooplankton to marine mammals," says Rachel Schoeler, Great Canadian Shoreline Cleanup (GCSC) manager. "That's why we're working to keep shorelines clean, in order to stop plastic from entering the water in the first place."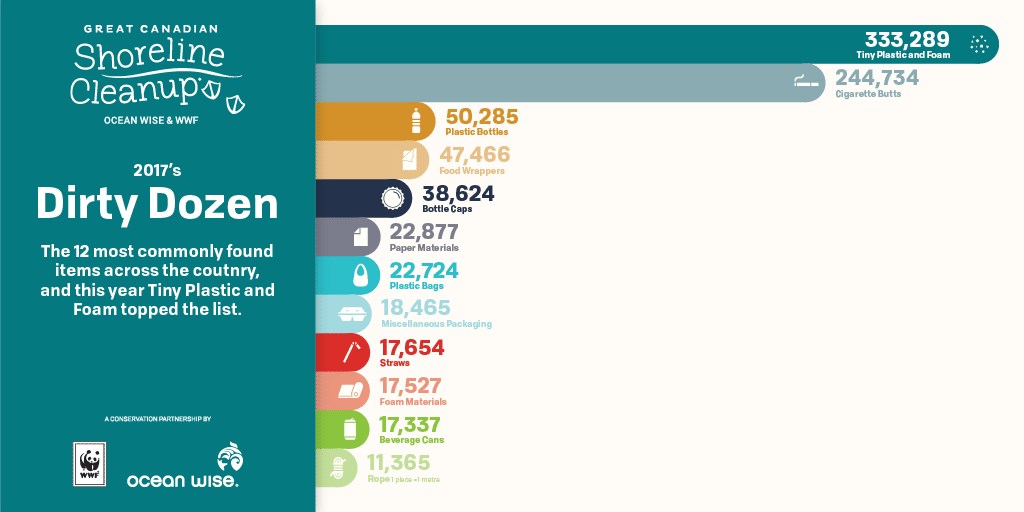 Year after year, GCSC volunteers play a critical role in helping reduce plastic pollution in coastal and freshwater bodies. Last year alone more than 58,000 people removed 88,700 kilograms of garbage that otherwise would have entered the water, impacting wildlife and ecosystems. Citizen science data, collected by Shoreline Cleanup volunteers, is shared with the International Coastal Cleanup to help support scientific research on marine and coastal pollution.
"The data collected underscores just how prevalent plastic pollution is in Canada's own oceans, lakes, wetlands and rivers. What can be seen and cleaned from the shore is just the tip of the iceberg. Microplastics, the invisible remnants of things such as plastic bags, synthetic clothing and bottles, are found in our waters at an alarming rate," says Megan Leslie, World Wildlife Fund Canada president and CEO.
"Wildlife such as fish, birds and turtles mistake microplastics for food or become entangled in larger plastics. Every piece of garbage we remove from our shorelines is one less piece that can harm wildlife."
The Great Canadian Shoreline Cleanup, presented by Loblaw Companies Limited, is one of the largest direct action conservation programs in Canada. A conservation partnership by Ocean Wise and WWF-Canada, the Shoreline Cleanup aims to promote understanding of shoreline litter issues by engaging Canadians to rehabilitate shoreline areas through cleanups.  Join thousands of volunteers helping to keep our shorelines healthy. Register today and find out more at www.shorelinecleanup.ca.