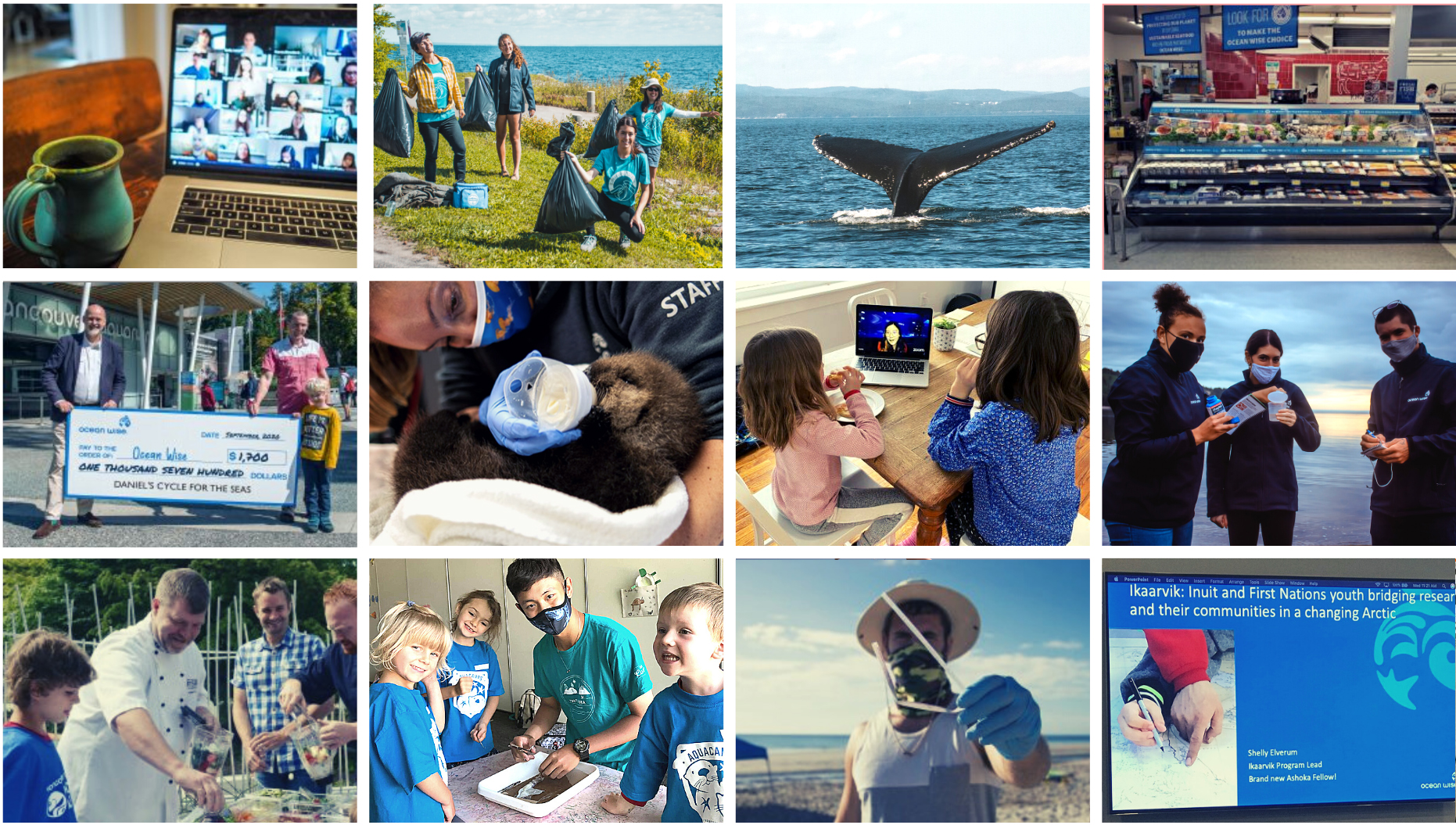 Ocean Wise's Top 10 Achievements of 2020
In a year chock full of unexpected challenges and surprises, Ocean Wise and its dedicated team of staff, volunteers and supporters found unique ways to adapt and rise to the surface in 2020. Below is a list of Ocean Wise's Top 10 achievements from the past year, in no particular order, proof that our mission to keep oceans healthy and flourishing for generations to come will continue to forge ahead – no matter what is thrown our way!
1. Online Learning steps up in a big way
The advent of a new school year forced everyone to scramble to adapt to a "new normal," and Ocean Wise helped ease the transition by successfully and creatively retooling its Online Learning platform to meet the needs of educators, students and parents. Through video courses, activities and virtual visits with ocean experts, we engaged a record 255,000 youth via our online platforms!
2. Joey steals the show
A new social media star was born in 2020 and his name is Joey! The rescued sea otter pup captured the hearts of Canadians and people around the globe, helping us all through tough times and raising much needed awareness and donations for Ocean Wise initiatives. Joey even got his own feature on Access Hollywood to cap off the year. Joey was one of 88 mammals rescued by the Marine Mammal Rescue team in 2020 – we just hope this brush with fame doesn't go to his head!
3. Galvanizing community support for the Vancouver Aquarium
As the true nature of the pandemic set in, the Vancouver Aquarium was graced with a truly incredible wave of community support. From individuals of all ages organizing their own fundraisers, to chefs cooking up a storm, to donors stepping up in a big way, our amazing community made it known through their actions and words just how important the Vancouver Aquarium is to the fabric of Canada's ocean conservation landscape, now and well into the future.
4. Award-winning year for Ikaarvik
An important study co-authored by young leaders with the Ikaarvik: Barriers to Bridges initiative administered by Ocean Wise was published in the highly regarded Arctic Science scientific journal. It was also part of the reason Ikaarvik, which empowers Arctic youth to be bridges between research and their communities, was recognized as 2020's Outstanding Youth Action Organization by EECOM (the Canadian Network for Environmental Education and Communication).
5. Ocean Bridge expands its reach
Ocean Wise's Ocean Bridge youth service initiative, funded by the Government of Canada's Canada Service Corps, expanded to include a new Direct Action program, providing 24 full-time, three-month placements for young professionals across Canada, both in-field and virtually, working with mentors from 20 national partners in ocean and freshwater research and conservation. In addition, Ocean Bridge's classic program grew to support, connect and inspire 160 young Canadians aged 18-30 in communities from coast-to-coast-to-coast. In all, they contributed a whopping 45,258 hours of ocean service and engaged more than 34,224 Canadians through their efforts in 2020. More.
6. Masking up with the Whitecaps
Ocean Wise teamed up with the Vancouver Whitecaps shortly after the pandemic hit to create locally produced masks in support of the Vancouver Aquarium. The community response was overwhelming: more than 100,000 masks sold in just over a week, along with countless messages of support and appreciation. And many agreed that not only do they keep you safe, but they look great too!
7. Ocean Wise Seafood celebrates 15 years in style
Ocean Wise Seafood marked its 15th anniversary with a cookbook of restorative recipes, cemented partnerships with the Toronto Zoo and the Calgary Co-op, among others, and saw its founder appointed to the Order of Canada "for establishing a world-renowned program to help businesses and customers identify and purchase sustainable seafood."
8. Whale of a year
Ocean Wise continued to solidify its position as a leader in whale research in 2020. In November, the Government of Canada announced important investments to improve the WhaleReport Alert System and expand it north to the waters surrounding Haida Gwaii, as well as to study the impacts of fisheries on the Resident Killer Whales' declining food supply in the area.
9. Great Canadian Shoreline Cleanup influences major change
Canadians picked up around 41,905 kg of litter from 1,491 km of shoreline through the Great Canadian Shoreline Cleanup in 2020, a remarkable feat given the circumstances. More than 15,000 participants led over 900 cleanups all across the country, with results helping inform Canada's upcoming ban of single-use plastics – a testament to the power of this initiative founded in 1994 that has blossomed into a national program in partnership with WWF-Canada.
10. Youth To Sea forms new generation of ocean protectors
Anyone needing a little moral boost in 2020 only needed to turn to Ocean Wise's brand new Youth To Sea program: 102 youth participants aged 15-18 contributed more than 11,000 service hours and engaged 4,560 people across the lower mainland and Vancouver Island. Among their accomplishments, Youth To Sea participants led 480 campers through AquaCamps programming, participated in outdoor learning journeys and removed more than 1,300 pounds of garbage from British-Columbia shorelines through 15 cleanups. Among the service projects created by these inspiring up-and-comers were a used toy drive, clothing swaps, recycling programs, podcasts and much more!