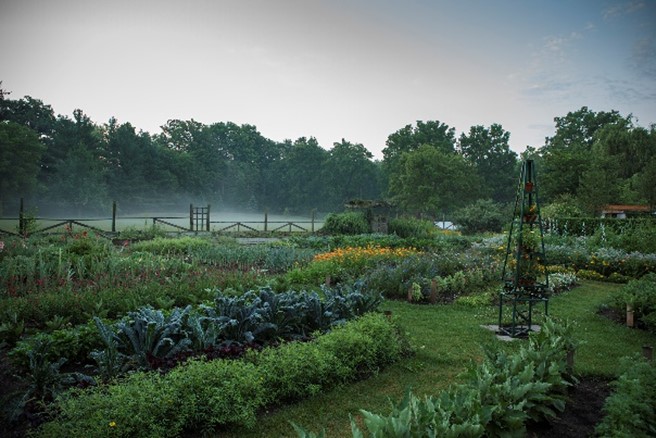 Langdon Hall: A decade and counting of protecting our oceans with creativity, compassion, and commitment
"How can we make this fun?" That's what renowned Canadian Chef Jason Bangerter had to say when presented with an opportunity to join the Ocean Wise Plastic Reduction Program and help tackle one of the ocean's greatest threats – plastic pollution.
Fun may not be the first word that jumps to mind for most people when they think about shifting our relationship with plastic in the food industry, but Chef Jason is not most people, and Langdon Hall (where Jason is the Culinary Leader and Executive Chef) is not most restaurants.
"I've always had a creative mind," says Jason. Over the years, his philosophies have grown by creating a 'taste of place'. Whether its harvesting from a kitchen garden full of vegetables, leaves, herbs, roots, flowers, and seeds, foraging for wild ingredients, or building relationships with local farmers, Jason is always thinking about how to work towards healthier offerings that also improve the planet and biodiversity within their region in Southwestern Ontario. "Every year the garden changes and I have learned to follow the seasons more closely and respect each ingredient and the land it comes from."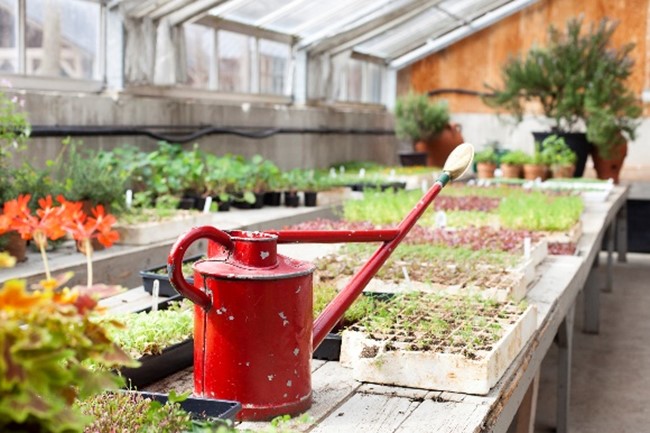 This focus on cleaner cuisine, lifestyle, and planet has naturally moved Langdon Hall to consider every ethical practice they initiate on the property, including their relationship with the Ocean and how their choices impact its ability to regenerate and thrive.
Despite being several hundred kilometers from the nearest coastline, Jason is no stranger to ocean conservation through Langdon Hall's long-standing partnership with the Ocean Wise Seafood program. Jason was one of the first non-coastal Canadian chefs to move to a 100% Ocean Wise menu in 2010.  Since then, he has worked closely with the Ocean Wise team as an ambassador and advocate for sustainable fishing along with fresh water and seafood sourcing practices.
Now, Jason and his team have committed to protecting the ocean not only from overfishing, but also from the growing ocean plastic crisis. By joining the Ocean Wise Plastic Reduction program this year, Langdon Hall is one of 22 founding partners that are leading the food industry in the shift to eliminate unnecessary and harmful plastic waste.
While Langdon Hall has already taken many steps to minimize landfill waste (for example through a very successful composting system, as well as established goals to transition to zero plastic in all food & beverage service), they are constantly striving to do better than before. And often the right choice is not always straightforward.
"Reversing your plastic footprint is harder to reverse than it looks. Plastic is everywhere, especially in the food service industry," says Jason. "To be a champion of change, we must work harder to source and establish sustainably-sourced options. While we've continued to evolve and improve our plastic waste, our partnership with Ocean Wise will help us find more avenues to support our zero-waste ethos moving forward."
This sentiment is something the Plastics team at Ocean Wise is familiar with. "For sustainable leaders who have already eliminated unnecessary plastics with easy and readily available alternatives, the most challenging sources of plastic are often found in the supply chain," says Ocean Wise Plastics Coordinator, Melanie Chanona. "By prioritizing strong community-based relationships with local farmers and suppliers, and by engaging their team in their sustainability goals, Langdon Hall is taking all the right steps. We're excited to be able to support their continued journey and facilitate collaborative industry solutions."
So – what does 'making plastic reduction fun' actually look like to Jason?
It all comes down to putting that creative energy to work. For instance – straws. Sure, in most cases you can just avoid them all together, but why not make it more interesting? For Jason, that meant being inspired by his garden and swapping single-use and hard-to-recycle plastic straws for ones made of home-grown vegetables that he can harvest himself.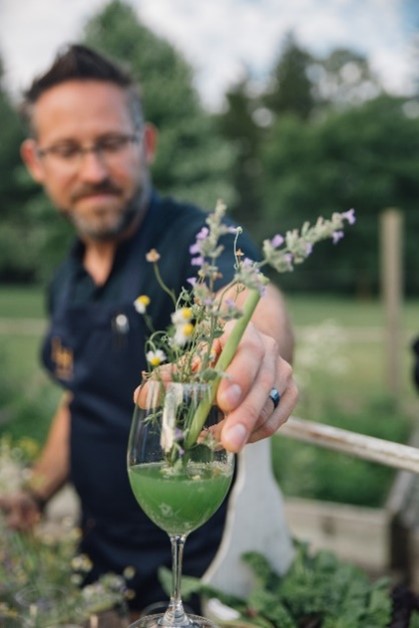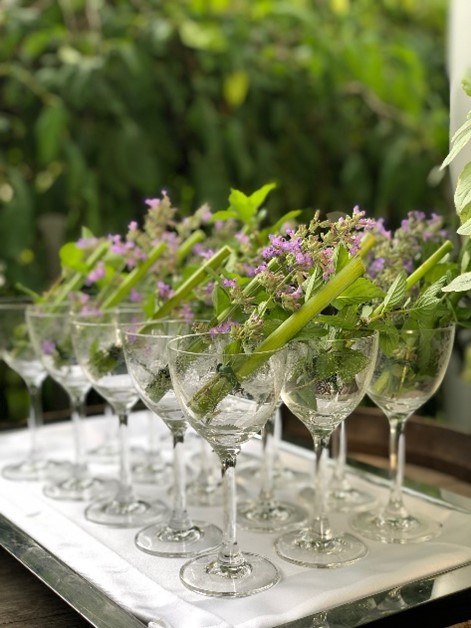 Jason believes small changes like this are important, but that's certainly not the limit of his creative expression. Another key element that is central to Jason's philosophy is his commitment to community-building and knowledge-sharing both locally and around the world. It's through open, honest (and yes, fun!) discussions and roundtables, such as through his role on the World Culinary Council for Relais & Chateaux, where ideas have been born to solve waste problems and contribute to improvements within the industry. "I've taken those learnings to be shared with Canadian delegations and implemented them in every way I can," says Jason.
"Plastic pollution on land and at sea poses a threat to the planet's ecosystems," shares Jason. "Soil, plants, sea life and all animals, including humans, are at risk of harm. We can make a difference by implementing change now to establish a healthier planet for all life forms, while preserving the joys of life we currently enjoy for our children and generations to come.
Inspired by Langdon Hall's commitments? You can be part of our growing Ocean Wise community too.