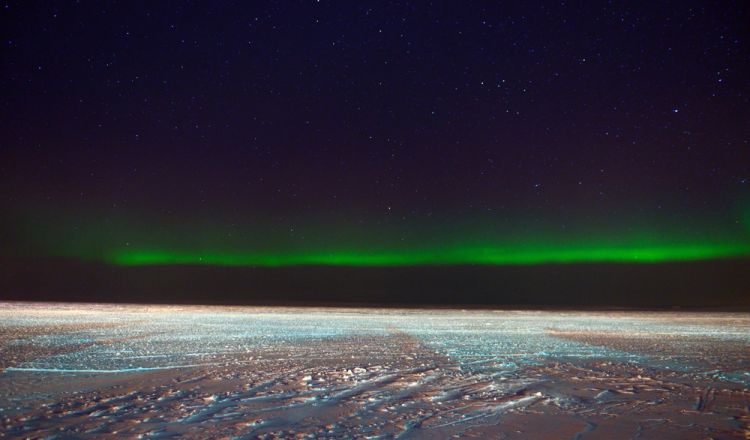 CROW Project: The Beluga and the Goose
People come from all over the world to see the aurora borealis in the Arctic. Photo: Neil Fisher/Vancouver Aquarium.
Written by Neil Fisher, videographer, Vancouver Aquarium
What is your favourite animal? Depending on who you ask at the Vancouver Aquarium, the answer may vary. Some might simply say, "You can't choose just one." Others, however, will go into great detail explaining why the hagfish or the anaconda or another strangely unique animal appeals to them.
Personally, my favourite animal is the beluga whale, Aurora. I'm lucky enough to have worked with Aurora at the Vancouver Aquarium for just over four years, during which time her personality quickly won me over. Tonight, I encountered Aurora's namesake – the aurora borealis. This amazing light show is caused by charged electrons from the sun's winds colliding with the Earth's atmosphere. One quick nerd moment here – the colour of the aurora borealis depends on which atom is hit at what altitude. For example, red auroras are oxygen atoms above 240 kilometres in altitude.
The aurora borealis is so popular in Yellowknife that they draw tourists from all over the world. This was evident on the flight from Edmonton to Yellowknife, which was almost completely full with passengers travelling north specifically to watch the aurora borealis.
To truly experience the auroras properly you have to escape light pollution. To do this we headed to the water's edge here in Cambridge Bay. Standing in one spot for just over an hour provided a good opportunity to try out our cold weather gear. One of the more critical pieces of our gear is something those who frequent downtown Vancouver will recognize, but may not be aware of: the Canada Goose parka – a huge jacket that does a great job of keeping you warm in the coldest of cold places. However, these big, puffy coats can also be seen on trendy Robson street in downtown Vancouver, although someone wearing one would likely be sweating profusely in the mild weather.
Today's stop in Cambridge Bay was a great opportunity to compare seasons. Having spent a week here during the summer, it's really interesting to see how the landscape and community look so incredibly different – it's almost a completely different world. Tomorrow, or rather later today as it's already past midnight as I write this, we're flying to Gjoa Haven.
Two Aquarium staffers – Eric Solomon, director of Arctic Programs, and Neil Fisher, videographer and photographer, are accompanying scientists from Fisheries and Oceans Canada (DFO) and the Canadian Rangers on a unique data-gathering initiative known as the Canadian Rangers Ocean Watch program (CROW). The group is traveling to various areas in the Arctic, and plan to share updates throughout their journey.