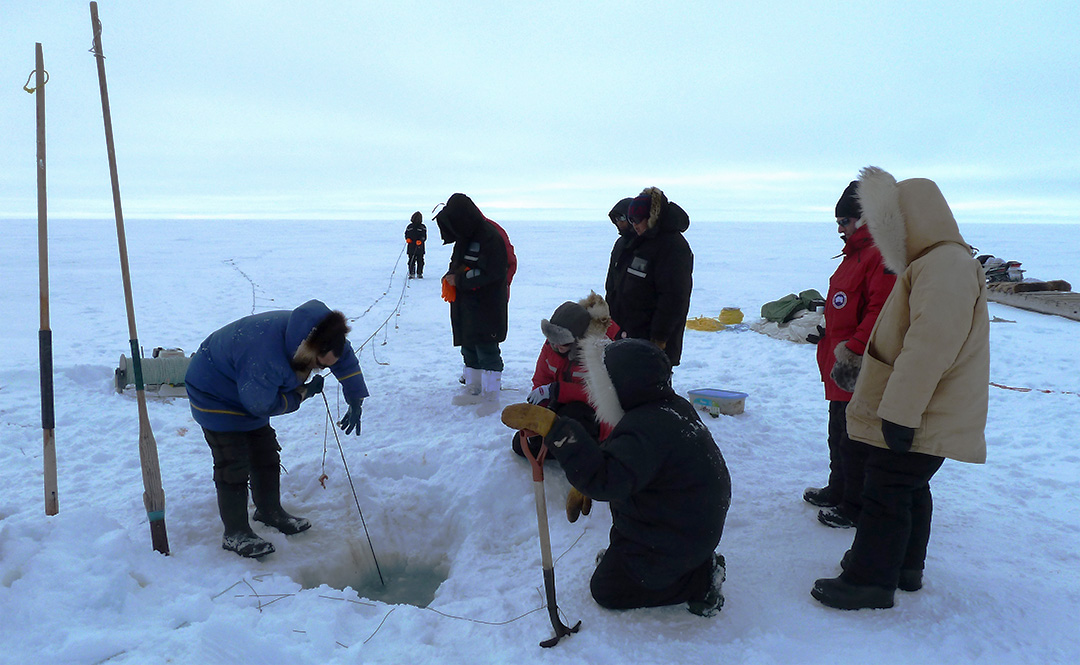 Ocean Wise and Northern fishers to co-develop and test a new framework for sustainable seafood assessments
Ocean Wise and Northern fishers to co-develop and test a new framework for sustainable seafood assessments
A new project from Ocean Wise aims to support community-based 'small-scale' Arctic fishers in becoming recognized for their sustainable fishing practices.
Building on existing partnerships with Nunavut-based fisheries organizations and Arctic communities through the Ikaarvik program (an Ocean Wise-administered program that empowers Northern Indigenous youth and their communities to identify and address their own local research priorities), Ocean Wise, Ikaarvik youth and Inuit fishers will together build a Northern network to co-develop and test a seafood sustainability assessment framework that relies on both Indigenous knowledge and scientific data.
The project also draws on Ocean Wise's 16 years of experience in the sustainable seafood ratings space through the Ocean Wise Seafood program, and has been made possible thanks to a $970,000 grant from the Future Skills Centre.
"Indigenous fisheries are likely some of the most sustainable in the country, if not the world, but global sustainability rating programs often exclude them because rating frameworks are based almost entirely on Western science data which is financially and logistically difficult to collect in the Arctic, or any remote community around the world," says Eric Solomon, Director of Arctic Programs at Ocean Wise.
"This project recognizes that Western science is not the only valid knowledge system to inform sustainability assessments. By ensuring that the needs, expertise and knowledge of our Northern partners are at the forefront of this project's goals, we hope to create a replicable model that includes multiple ways of knowing in how we assess the environmental performance of fisheries."
.
In addition to supporting the skills, confidence and capacity of communities as they develop their own locally and culturally relevant economies, the project will help Arctic small-scale fishers gain access to larger markets through Ocean Wise's network of over 750 business partners. If successful, the framework has the potential to be adopted by other small-scale fisheries around the world.
"When seafood is rated as sustainable, fishers can command a higher price in various markets" says Sophika Kostyniuk, Director of Fisheries and Seafood at Ocean Wise. "We're looking forward to working with Northern collaborators including Project Nunavut and First Fish as well as Indigenous advisors including River Select Fisheries Cooperative, who have developed their own locally relevant sustainability criteria, to grow a network that will co-develop this framework and ultimately introduce and promote these locally harvested products to Canadian and international markets."
"Ocean Wise's 2030 Conservation Strategy is focused on addressing the three most significant threats facing our ocean – overfishing, pollution and climate change. Our aim is to develop solutions that can be implemented on a global scale," says Lasse Gustavsson, President and CEO of Ocean Wise. "Lessons learned in Nunavut can create important solutions for small-scale fishers around the world."
Small scale fishers account for more than 50% of the global catch and play a critical role for local economies, domestic food security and the social and cultural fabric of their communities.
Pedro Barata, Executive Director of the Future Skills Centre, says that building this Northern network of fishing communities and fisheries organizations is a perfect example of Future Skills Centre's investment to support holistic and innovative approaches to training and building capacity to fill future skills gaps.
"Supporting Arctic small-scale fisheries ensures that their locally harvested seafood products are widely available across Canada, while keeping Northern businesses resilient and culturally relevant. This is just one of the exciting shock-proofing projects that FSC is investing in to build a future playbook for shared prosperity and help Canadian workers and businesses seize opportunities in our future economy," notes Barata.
Ocean Wise's Securing Sustainable Northern Fisheries project is funded by the Government of Canada's Future Skills Centre.
Le projet Securing Sustainable Northern Fisheries d'Ocean Wise est financé par le Centre des Compétences futures du gouvernement du Canada.