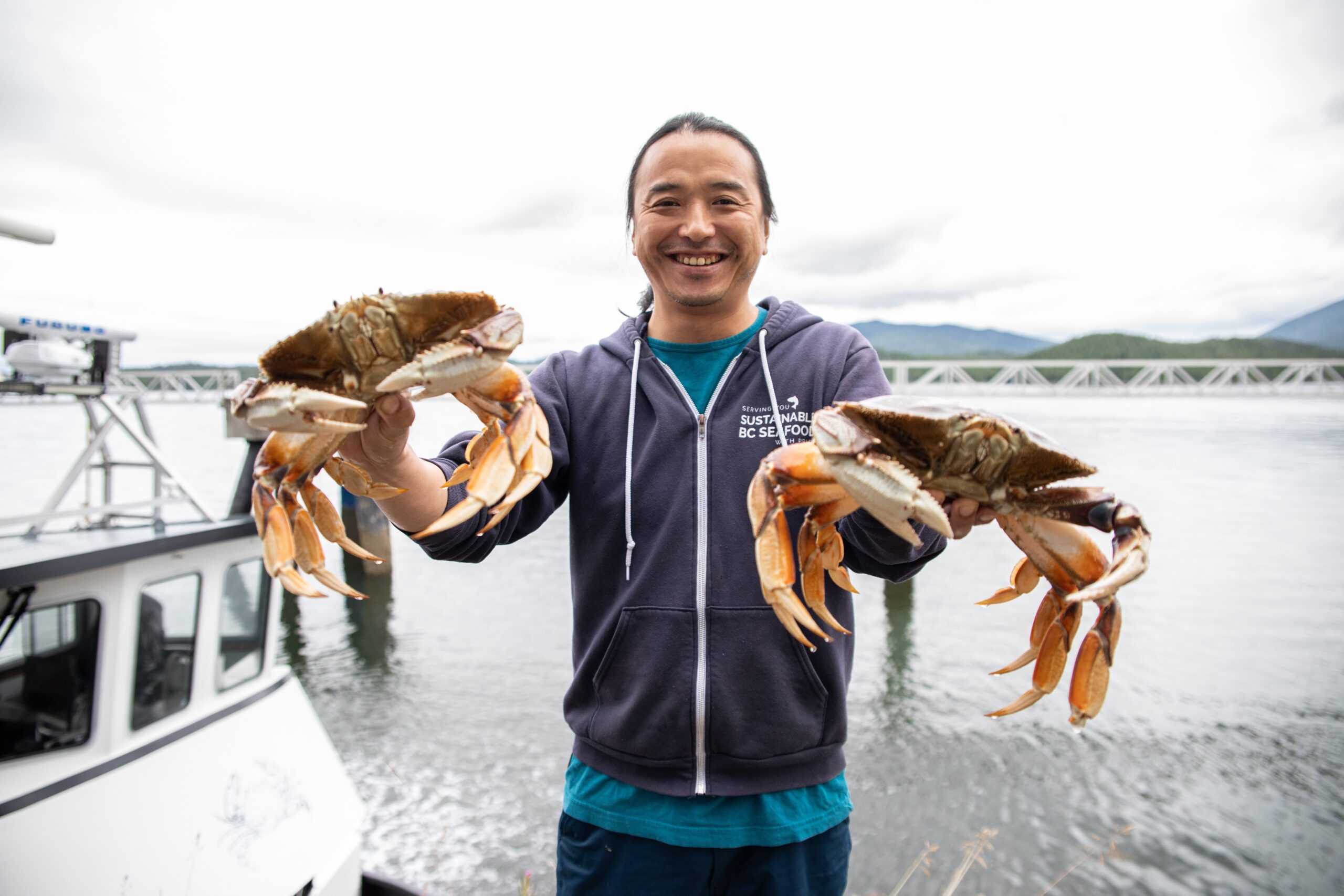 Chef Dai Fukasaku on local ingredients, sustainability, and Ocean Wise Seafood 
Ocean Wise Seafood Partner Chef Dai Fukasaku owns and runs Fukasaku Restaurant and Marketplace in Prince Rupert, BC.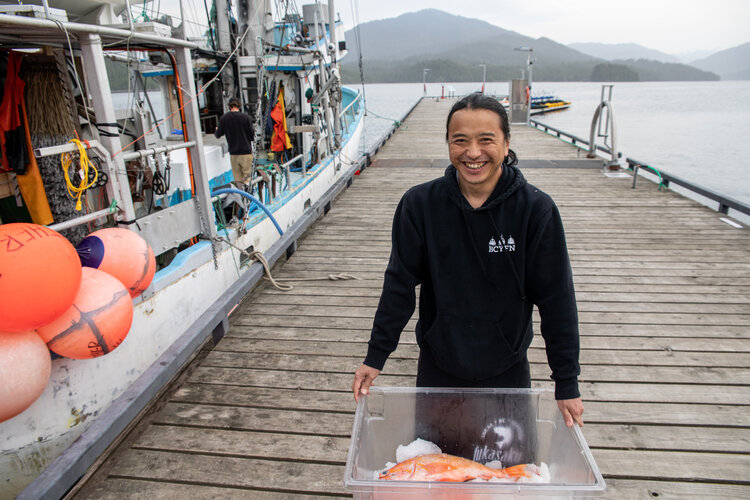 Born and raised in Tokyo, Japan, Dai traveled throughout the US and Canada before finding home in the coastal fishing town of Prince Rupert, BC.
It was here, in 2013, that he opened Fukasaku, the first completely Ocean Wise sushi restaurant. Eight years later he has built a loyal clientele, strong relationships with local fishers, and with his sights set on expanding a local food network for Northwest British Columbia, his commitment to sustainability is stronger than ever.
We spoke with Chef Dai about life as a chef, paying respect to ingredients, and Ocean Wise seafood.
Ocean Wise: Can you tell us about Fukasaku restaurant and marketplace?
Chef Dai Fukasaku: Fukasaku restaurant was established in 2013. Its original goal was to create and serve authentic, unique sushi and other dishes featuring nothing but Ocean Wise recommended local BC seafood. We are located in the fishing hub of Northwest BC, Prince Rupert. We have a very close relationship with local fishermen and fisheries. Not only is the seafood we serve traceable, it also hasn't traveled far and has pristine quality. Our dining area is relatively small (14 seats). This enables me to touch every single plate going out to the dining room. Our most popular menu item is Omakase – a multi course chef's choice tasting menu that lets diners enjoy a 5-7 course meal created with local ingredients. Each ingredient is celebrated with love and respect.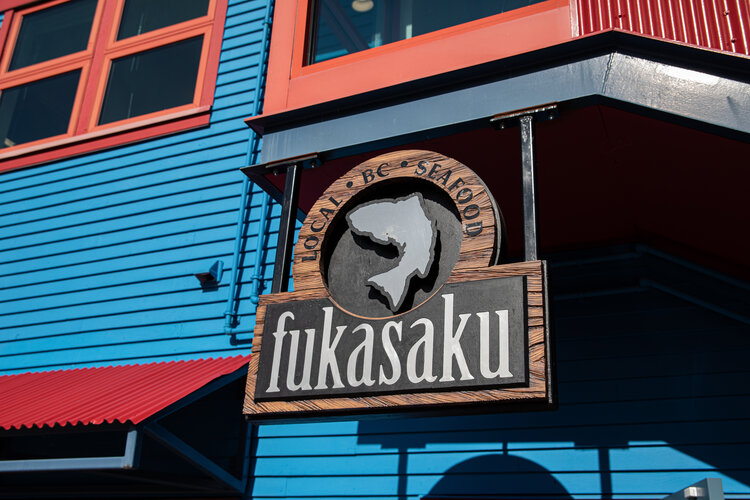 Fukasaku Marketplace is an add on to the restaurant and was established in 2021. Its main purpose is to connect local seafood, produce, and artisan products to locals and visitors to town. The quality of products we have is 100% guaranteed as we offer only seafood and produce we would serve at the restaurant. Though this diversification project started before COVID, it helped us to adopt post COVID and made us stronger as a business while raising awareness of local food consumption and the importance of local food security.
OW: I know eating and sourcing local is very important to you. Can you tell us a bit about your plans to expand a buy-local program in BC?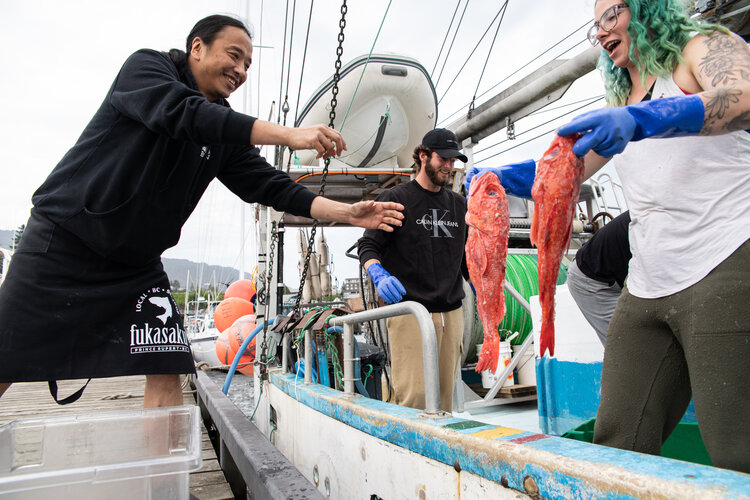 DF: Yes! I'm working on what I call the "10-traffic light diet" covering Northwest BC from Prince Rupert to Smithers/Telkwa. Though Prince Rupert and Smithers are 350km apart, there are about 10 traffic lights between the two, which is how we came up with the name.
My plan is to deliver sustainable local seafood from Prince Rupert to our neighbouring communities of Terrace, Hazelton/Kispiox and Smithers/Telkwa. In return, they will provide us with their community staples including produce, foraged mushroom, meat products, and dairy, which we will bring back with us. The vehicle is filled on each trip, and we can contribute to our own food security system within our Northwest BC communities.
OW: What is important to you as a chef?
DF: The single most important thing is to know where my ingredients are from. I can put more love and respect into the dish I create when I know its source. To me, having close relationships with fishermen and farmers is a hugely important asset to my work.
OW: What has your journey been like as a chef?
DF: As a chef, my journey has been all about raising my own standards higher and higher, while making things simpler and simpler.
OW: What is your favorite ingredient to cook with right now?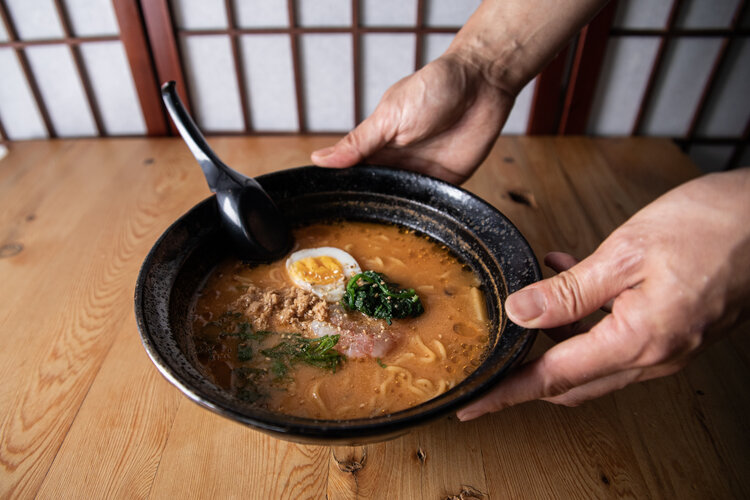 DF: There are so many! But right now, Dungeness crab.
We are located just a few blocks away from a crab plant. Whenever our partner boats are back in town from their trip and offloading at the plant, we can get live crabs directly from them.
To me, the best way to enjoy Dungeness crab is to eat cooked whole crab without any seasoning – while shucking it on your own. It can be a little messy but you taste the pristine flavour of crab, including the rich, umami juice inside the shell. I do also enjoy eating crab butter as well.
Lately, I've been working and finishing up creating Dungeness crab ramen featuring a very flavourful broth made with crab shells, Haida Gwaii kombu, Vancouver Island smoked sea salt, topped with crab leg meat, local mizuna, garlic, green onion, and a half boiled egg.
We have Your Nation's Table, an upcoming TV series featuring BC's sustainable seafood industry, coming to Prince Rupert in a month. They will feature Dungeness crab on the episode. Legendary Chef Rob Clark and I are working in my kitchen to create an ultimate Dungeness crab meal as part of the show. I am so excited to have my mentor chef visiting my joint, collaborating with him, and showing him what I have been up to in Prince Rupert. 
OW: What is a trend or element of cooking that excites you most today?
DF: Whether it is Dungeness crab, or other seafood or produce, I love utilizing every part of the ingredients I'm given. 
For example, when we cook whole crab, we shuck the crab meat to use in sushi rolls, nigiri, and crab cakes. We keep shells in the freezer to use when we make fish stock, and I enjoy eating crab butter while shucking.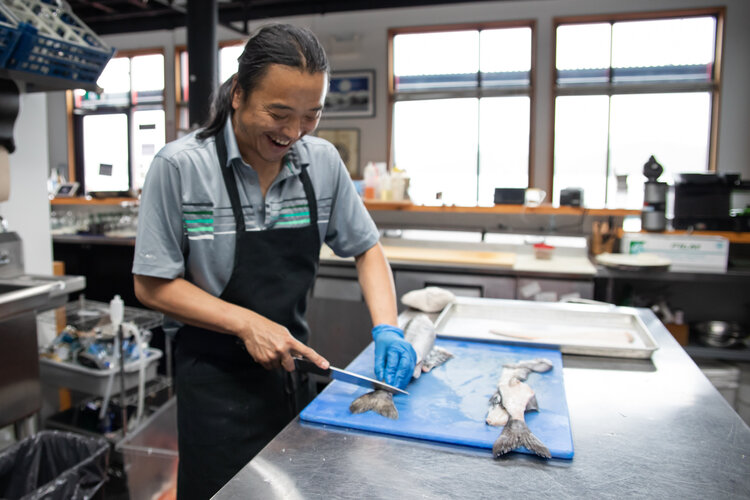 Another example is Chinook salmon. We have line caught frozen at sea Chinook salmon from the boat Heather Rae. After dressing it and portioning out flesh, I keep the bones and trims in the freezer to use when we make fish broth.  Collars and bellies are chopped into small portions, marinated into our maple miso glaze for a week, and then broiled.
These are absolutely one of my favourite things to eat. I always hope I can eat these myself – but they usually end up being served as one of courses in our omakase meal. Skins are also cut into smaller portions and marinated in a soy mix for two days – we use it to make our salmon skin roll. 
I'm very happy my restaurant is supported by genuine foodies who appreciate my efforts to utilize every part of the ingredient, enjoy eating a variety of dishes and want to learn more about my cooking process.
OW: Why is being an Ocean Wise partner important to you?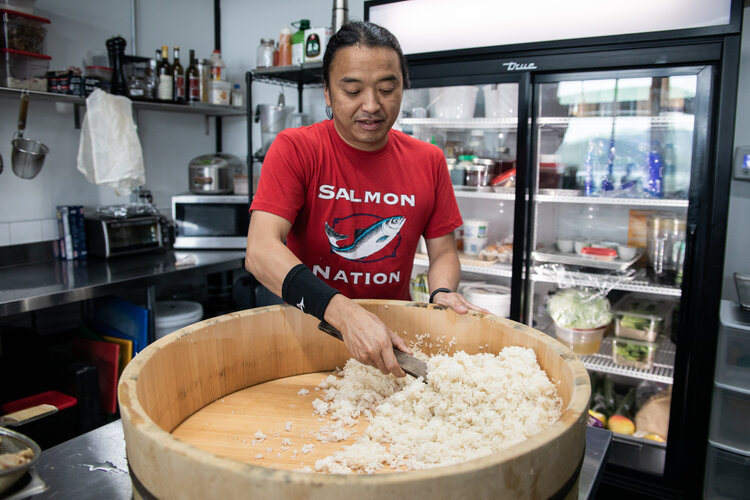 DF: I believe one of my responsibilities as a chef and as a human being is to pass on our beautiful seafood and culture associated with it, which we inherited from our great ancestors to the generations to come. Being an Ocean Wise partner assures me that the seafood I'm serving to customers has the least impact on our ocean, environment, and coast and that I'm contributing to shared traditions and a healthy ocean for generations to come.
Learn more about Fukasaku at www.fukasaku.ca
To find an Ocean Wise Seafood partner near you visit seafood.ocean.org.