Jesse's Experience with Strawberry Isle Marine Research Society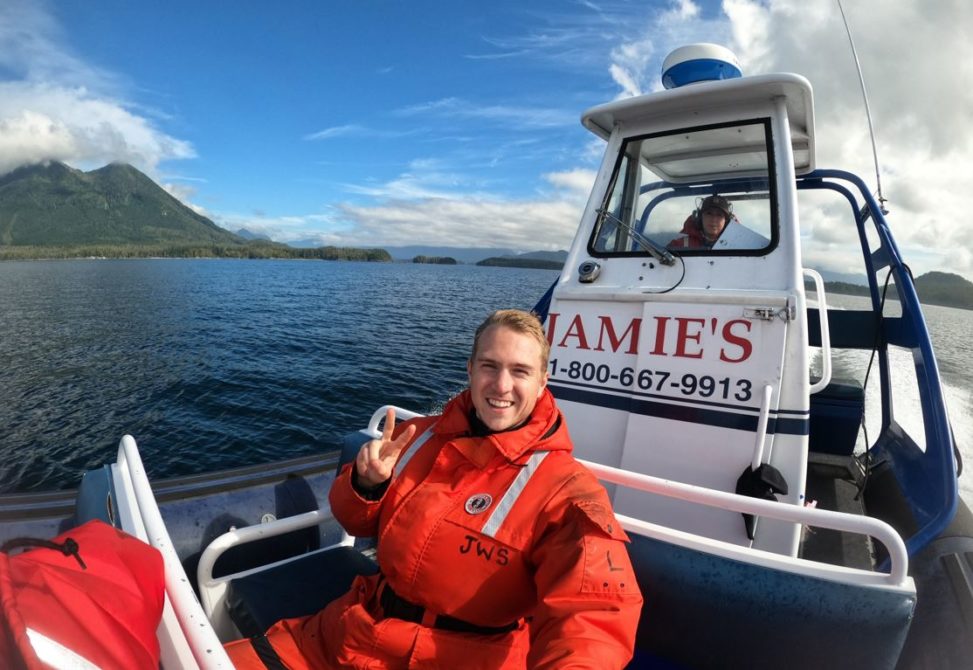 Jesse's placement with Strawberry Isle Marine Research Society (SIMRS) had a direct impact on ocean health and literacy.
Project Description
Strawberry Isle Marine Research Society (SIMRS) is a not-for-profit organization dedicated to research, monitoring, and education since 1991. SIMRS is based on the West coast of Vancouver Island, British Columbia and conducts work within and between Barkley and Clayoquot Sounds. 
SIMRS achieves these goals through several different initiatives, including Bigg's Killer Whale Monitoring, Build-A-Whale, the Sea Star Stewardship Program, the Ocean Literacy Program, the BC Marine Mammal Response Network, and Pelagic Marine Species Surveys.  
Direct Action Ambassadors assist in both field research and office work, contributing to many or all SIMRS initiatives. Duties include anything from data collection and database management for both the whale monitoring and sea star monitoring programs; providing education and outreach both in-person and virtually, such as social media, blogs, website development, video creation, ArcGIS Storymaps, and public events. Ambassadors may also travel within BC as part of the Build-A-Whale Program. 
Jesse's placement had a direct impact on ocean health and literacy. The media and educational materials he created reached many members of the public and taught them about different aspects of local marine conservation initiatives. He also made lasting contributions to the many research projects that SIMRS is engaged in, including participating in the first pelagic survey in the area since 2002. 
What was your biggest challenge?
One of Jesse's biggest challenges was living and working in an isolated environment, especially during a winter placement. He overcame this by making time to attend social events and continuing to make connections with new people, as well as by keeping regular calls with his Direct Action Program Specialist. He was also able to have visitors at several points throughout his placement, so made sure to show them around Tofino and Ucluelet. 
What was your most valuable takeaway?
A big highlight for Jesse was the ability to tailor his own learning experience; he was able to choose how to use his professional development funding based on interests, got to focus on certain aspects of the work SIMRS does, and was able to engage with the Direct Action online space on his own schedule.