IUCN World Conservation Congress Newsletter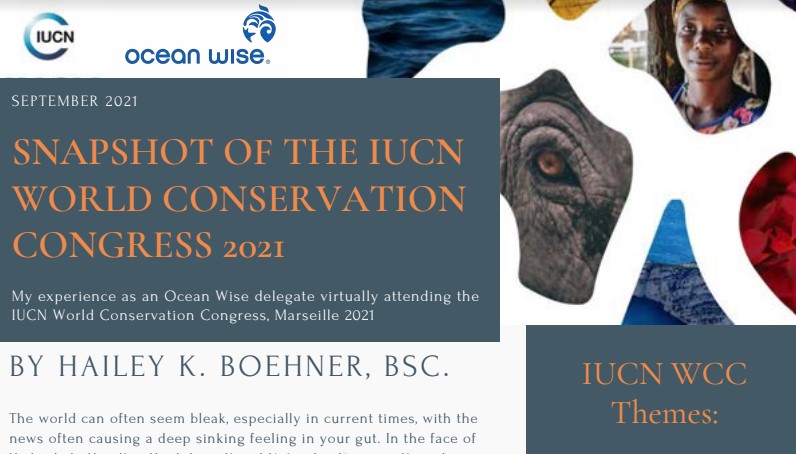 A newsletter summarizing the experience of an Ocean Wise delegate virtually attending the IUCN World Conservation Congress, Marseille France, 2021.
Project Description
The world can often seem bleak, especially in current times, with the news often causing a deep sinking feeling in your gut. In the face of that, what attending the International Union for Conservation of Nature World Conservation Congress (IUCN WCC) gave me was hope. Sometimes your own efforts can seem so small in the midst of a hurricane, but seeing all of the diverse local communities around the world that are seemingly disconnected, get together and talk about how to create a positive change was awe-inspiring. The refreshing aspect of the IUCN WCC was the emphasis on the importance of community, and that the only way to get through this climate crisis is not individually, but using many different tools, innovations, and cultural experiences to come together as a global team.
In this newsletter I will give you a sneak peak behind the curtain at some of the amazing seminars, innovations, discoveries, and plans that were discussed at the IUCN WCC to create positive change around the world. I have chosen one to two seminars from each of the IUCN WCC's themes to highlight, but there were so many other amazing topics that couldn't be covered. Additionally, my small one to two
sentence descriptions cannot accurately convey the depth of the knowledge and passion of the many talented experts presenting these topics. However, I encourage everyone to dive deep into any topic they find interesting, research some of these amazing experts and organizations that are making real positive changes worldwide, get involved in local community citizen science projects, and maybe even attend the next IUCN WCC in 2024!
Access the IUCN World Conservation Congress Newsletter by Hailey Boehner at https://bit.ly/3CTvYIb
What was your biggest challenge?
My biggest challenge was distributing the newsletter to peers after the conference.
What was your most valuable takeaway?
My most valuable takeaway was motivation from seeing how many different communities across the world are collaborating in different areas to combat climate change.
This error message is only visible to WordPress admins
Error: No users set.