Invasive Plant Removal
Educating youth about the importance of having a healthy ecosystem and the effects of invasive species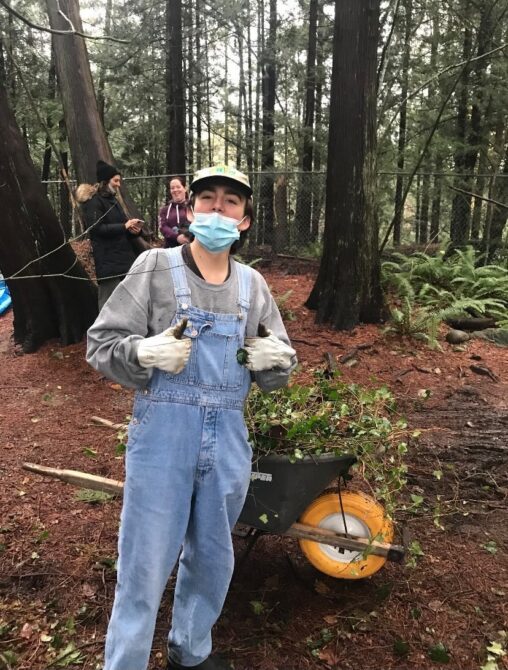 Project Details
Location
Loutet Park, Rufus Avenue, North Vancouver, BC, Canada
Send a message
Lauren and Lucas are grade 11 students from Sutherland Secondary School and most recently concluded their Ocean Service Project as part of the 2021-2022 cohort of YouthToSea. Together they wanted to inspire the next generation of environmentalists by doing an invasive plant removal with their old elementary school.
Project Description
Lauren and Lucas are super passionate about the environment and love being outdoors. This passion for environmentalism prompted them to undertake this Ocean Service Project. The inspiration for this project came when they both attended YouthToSea's Riparian Restoration Learning Journey in September of 2021 in which they learned about the importance of riparian zones and the effects of invasive plant species like English Ivy and Himalayan Blackberry have on the native plants and the environment.
The original planning of this project started out as a school outreach program where they hoped to do garbage clean ups at various schools but due to COVID they had to rethink their plans. They eventually settled on doing an invasive species removal with their old elementary school Brooksbank Elementary. Collectively they taught and made a presentation for a grade 7 class about the consequences and effects invasive plants have on environments and in collaboration with the City of North Vancouver held an invasive plant removal at Loutet Park. In conclusion, Lauren and Lucas were happy that they were able to educate youth about ocean conservation in which they hopefully created a domino effect within their community. They were also happy to reconnect with their old elementary school while also inspiring the next generation of environmentalists.
What was your biggest challenge?
The biggest challenge of our project was finding a day that worked with everyone. We needed to adjust to three peoples schedules including ours, the city workers, and the teachers. We finally scheduled a date for the end of November. Two days before the event the weather forecast predicted an atmospheric river. This was not going to work because we were outside and some of the kids may not have had proper rain gear. We needed to think fast and reschedule to the earliest date possible because snowfall was soon. We ended up rescheduling the following week and it was a success. Overall, the biggest challenge was the communication aspect. We did overcome this obstacle by being very detailed in our emails and being flexible in our availability.
What was your most valuable takeaway?
The biggest takeaway from our service project was gaining confidence in our public speaking skills. We practiced our presentation frequently before we presented to the grade 7 class. This made both of us very confident before we presented it in person. We also gained knowledge and some tips from the YouthToSea Communication Workshops and applied it to the presentation. This helped because we learned how to make our presentation more effective. Near the end of our YouthToSea cohort it became apparent that we grew in confidence and in our public speaking skills when we were not nervous at the final showcase presentation. Overall, the service project and YouthToSea greatly helped in improving our public speaking abilities and helped us step out of our comfort zone.
This error message is only visible to WordPress admins
Error: No users set.