Circular Economy Shoreline Cleanup
Promoting the concept of a circular economy by cleaning our beaches of polyethylene plastics and repurposing them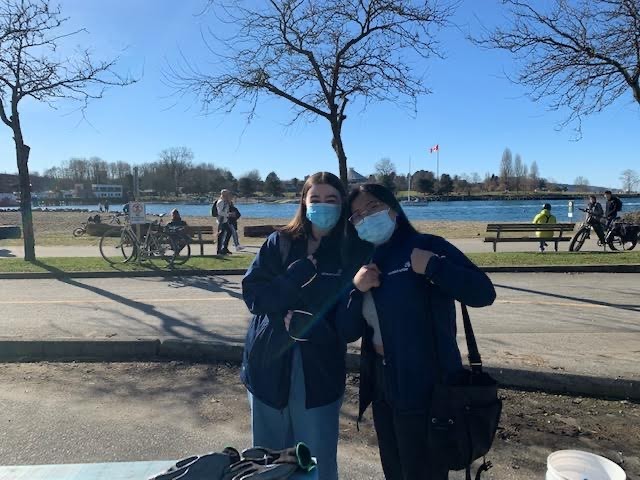 Hello there! Our names are Eva and Joanna and we're participants from the 2021-2022 cohort of YouthToSea! Our project was to compare the types and amounts of plastics we collected on our shoreline clean ups and to help promote a circular economy
Project Description
We got the opportunity through YouthToSea to collaborate with Plastic Oceans Foundation Canada and their circular economy team. A circular economy is a model of production and consumption that involves sharing, reusing, recycling, and repairing existing materials for as long as possible. In this way the cycle of products is extended. This helps to reduce environmental pollution. We cleaned up shorelines, collected data, and learned about recycling, repurposing, and renewing products for a refurbished purpose. The data included all types of items, brands, materials, plastic types, and weight. This data will be tracked and utilized for future educational resources such as grant applications to influence policy change. The shoreline cleanup involved collecting polyethylene plastics such as plastic water bottles, bags, and soft plastics. We also sorted various amounts of garbage that we found, and after we sorted everything, we shipped the plastic to the Langley Recycling Center where they can repurpose the plastics into new consumer products. This will transform ocean waste into new and innovative products.
What was your biggest challenge?
Our biggest challenge was motivating our peers to participate in a shoreline cleanup and finding a day and time that worked for all our participants. It was important to us that we were able to find a day and time that worked for everyone as we wanted to give everyone the opportunity to make a difference. It required us planning the shoreline clean-ups far in advance, and by giving ourselves time to plan it made it easier to follow a set schedule.
What was your most valuable takeaway?
Our most valuable take away was observing the lack of concern people have especially during the pandemic regarding environmental pollution. By organizing two shoreline cleanups, months apart, there was about the same amount of waste along the beaches. However, by cleaning up our beaches we are still providing a small change in the consumption of ocean waste. One of the major benefits of organizing beach clean-ups is that it brought a lot of people face-to-face with the reality of plastic pollution. By organizing these shoreline clean-ups, our participants can physically see the quantity of plastic littering the beach and have a greater understanding of the effort required to remove plastic from the marine system – having had to pick up the trash themselves.
This error message is only visible to WordPress admins
Error: No users set.