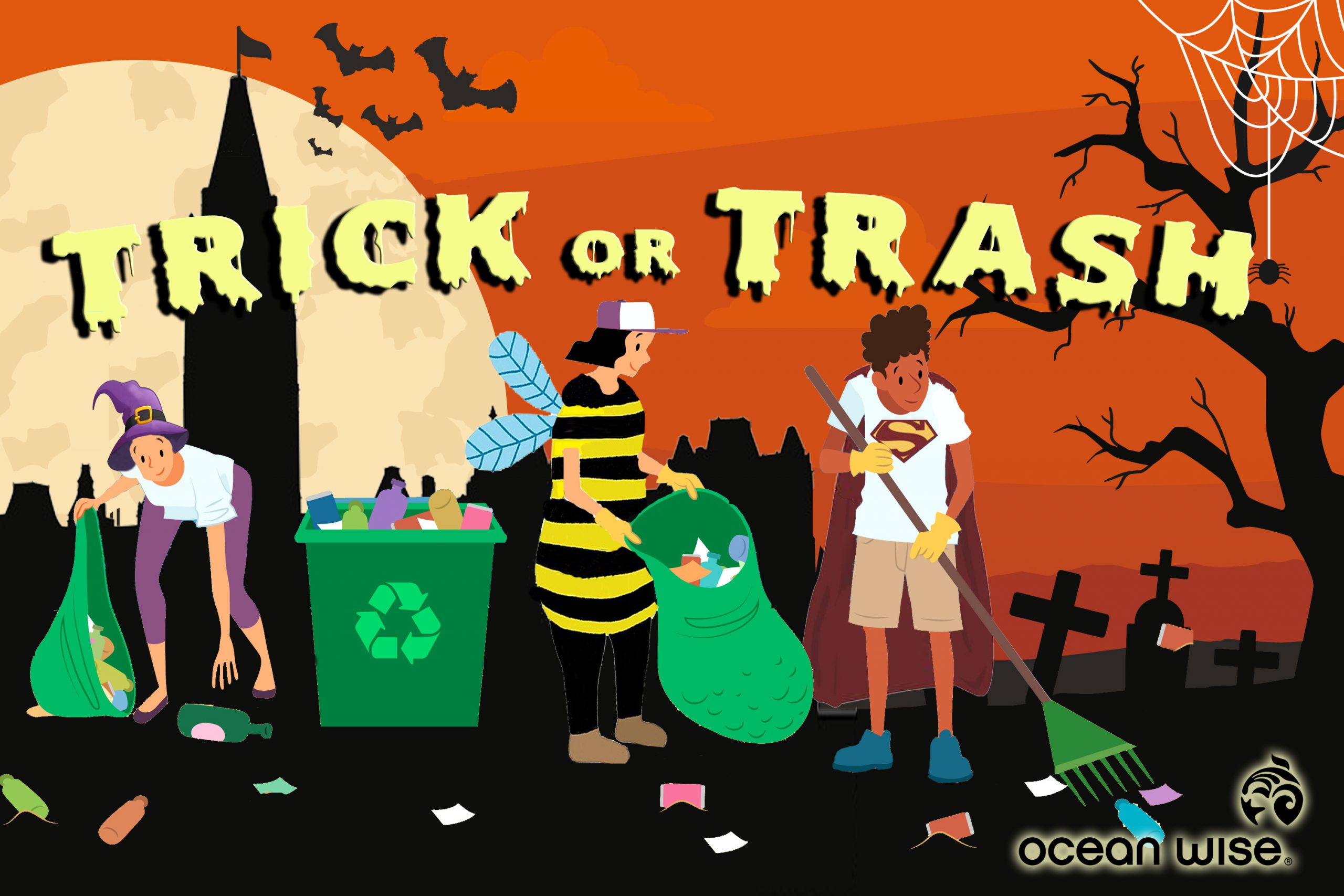 Trick-or-Trash: Ocean Bridge youth creates national Halloween clean-up initiative
With trick-or-treating on the backburner this year for some folks, a youth with Ocean Wise's Ocean Bridge program has created a Halloween campaign to encourage people in her community and across Canada to "Trick or Trash" this coming weekend.

Aileen Duncan of Ottawa has created the Trick or Trash initiative as part of her community service work as an Ocean Bridge youth ambassador. She has created a Facebook page with how-to instructions and has organized a series of cleanups through the Great Canadian Shoreline Cleanup.

Duncan is encouraging others to sign up for existing cleanups or start their own – not just in Ottawa, but in communities across the country – and have fun doing so by dressing up and getting outdoors on Halloween weekend.

"Anyone can participate no matter where they are, as long as they're in a place where there's pollution – which is unfortunately a lot of our environments and communities," explains Duncan. "Halloween in general is a bit of a waste-driven holiday. You have a lot of these individually wrapped small candies, and it's not the most sustainable way to enjoy these sweets.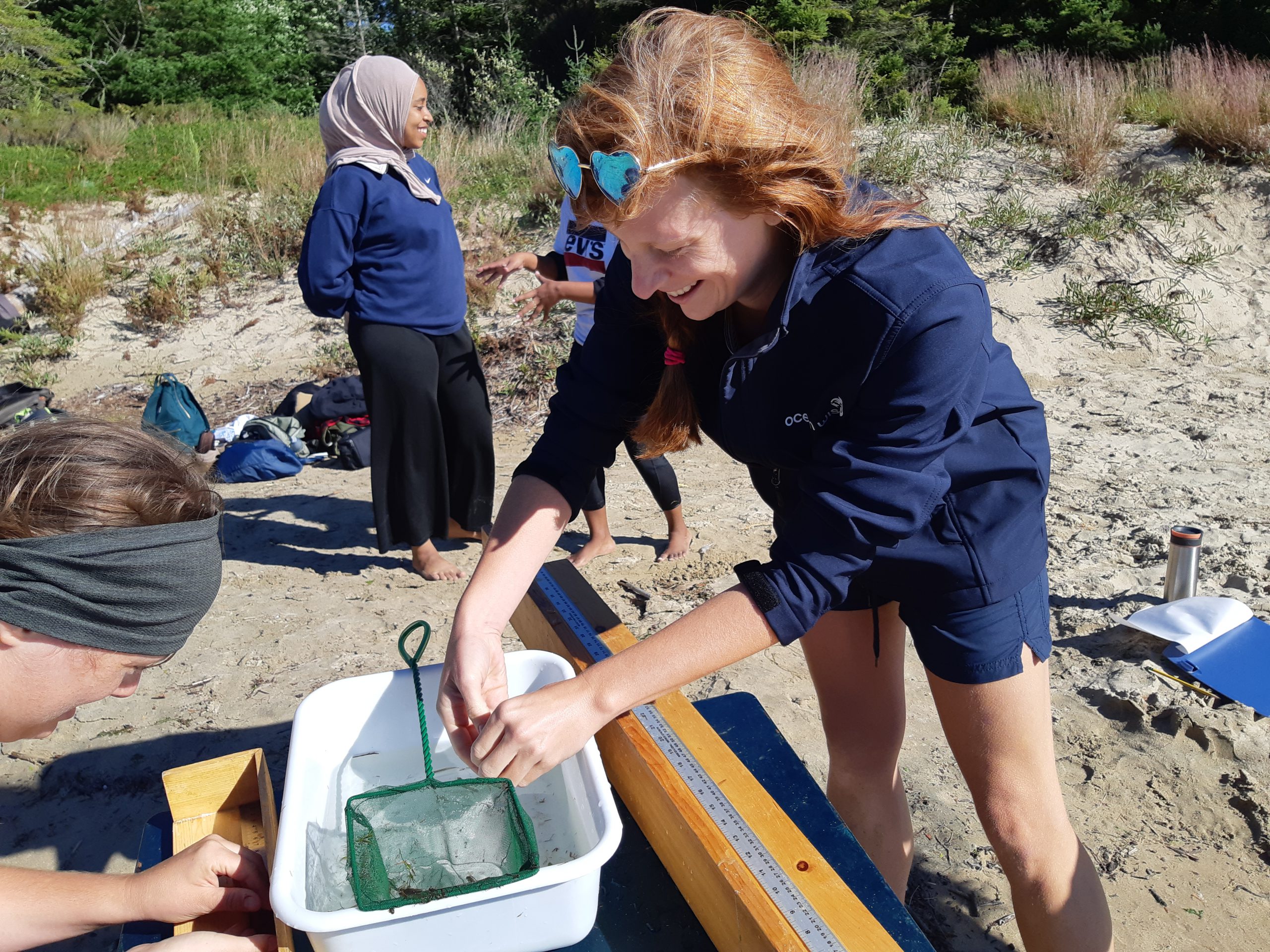 "So I think this is a nice opportunity to dress up and enjoy some time outside, and also make a positive impact while partaking in this ritual of Halloween of dressing up that we often appreciate," adds Duncan, who notes that not everyone may feel comfortable going door-to-door for treats this fall as in years past.

Duncan is an ocean ambassador and one of 160 youth and young professionals (aged 18-30) throughout Canada selected for the 2020 Ocean Bridge program, which supports and encourages participants to be ocean leaders in their communities and helping instill culture of service toward our oceans, through mentorship, connecting with one another and learning from experts in marine and Indigenous knowledge as part of the year-long program.

They also participate in two immersive learning journeys where they meet other ocean ambassadors and engage in place-based ocean stewardship projects to deepen their understanding of the challenges facing the ocean.
On her recent learning journey with Ocean Bridge to Lake Huron and the Bruce Peninsula with a group of fellow Ocean Bridge ambassadors in September, Duncan took part in one of her first shoreline cleanups. She says it was an eye-opening experience, on multiple levels.

"I was shocked at how much pollution was there, and some of it was quite small. It was a bit of a hunt to find it," notes Duncan. "I guess I'm a bit of a puzzle person; I like to find things and spend time in nature. It just struck me as a really positive way to spend time outdoors and make a impact."

How to participate?

Duncan says anyone interested can organize their own cleanups, either with a small group or household bubble, and can even register their own cleanups on the Great Canadian Shoreline Cleanup site (www.ShorelineCleanup.ca).

All those participating in cleanups are also encouraged to hashtag #TrickOrTrash on social media to share their costumes and pictures of their cleanup hauls. She adds the Halloween cleanups can take place anytime from Friday to Sunday.

Duncan says that data will be used to do a final tally of what was picked up by participants all across the country.

Anyone with questions about how to go about it or find a cleanup in their area can visit and like the Trick Or Trash Facebook page and get in touch with Duncan there. Happy Halloween cleanups to all!

Aileen Duncan is a young up-and-coming community leader with Ocean Bridge, who was born and raised in Ottawa. She studied international development and globalization at the University of Ottawa, and has also lived in Hong Kong and New Delhi.

Media Contact:
Benjamin Aubé
Ocean Bridge communications coordinator
[email protected]
What is Ocean Bridge?
Ocean Bridge brings together 160 young Canadians aged 18-30 to form four national cohorts – Pacific, Great Lakes, St. Lawrence and Atlantic – composed of youth with a wide range of backgrounds and experiences who are passionate about making a difference in their communities through the lens of oceans and waterway conservation. These Ocean Bridge Ambassadors from all across Canada work together, receive funding and learn from experts in marine conservation and education through an online platform and in-person learning journeys to develop service projects related to ocean health and ocean literacy in communities across the country. Ocean Bridge is an Ocean Wise initiative funded by the Canada Service Corps through the Government of Canada. Ocean Wise was born out of the Vancouver Aquarium's 60-year commitment to marine ecosystems and is headquartered at the Vancouver Aquarium in Vancouver's Stanley Park. Learn more at ocean.org.
Canada Service Corps
Canada Service Corps is designed to generate a culture of service among young Canadians; concrete results for communities; personal growth through participation in a diverse team of peers; and lasting impacts on participants. Visit www.canada.ca/CanadaServiceCorps to learn more and how to get involved in the way that works best for you.
Trick-or-Trash: Ambassadrice Portail Océan mène une initiative nationale de nettoyage pour l'Halloween
Avec une Halloween incertaine cette année, une jeune femme d'Ottawa mène une campagne pour encourager les gens de sa communauté et de partout au Canada à participer à « Trick or Trash » cette fin de semaine.
Aileen Duncan a créé l'initiative Trick or Trash dans le cadre de son travail de service communautaire en tant que jeune ambassadrice de Portail Océan. Elle a créé une page Facebook avec des instructions et a organisé une série de nettoyages sur le site du Grand nettoyage des rivages canadiens.
Duncan encourage les autres à s'inscrire aux nettoyages existants ou à démarrer le leur – pas seulement à Ottawa, mais dans des communautés partout au pays – et à s'amuser à le faire en s'habillant et en sortant de la maison de façon sécure le week-end d'Halloween.
« N'importe qui peut participer n'importe où, à condition de se trouver dans un endroit où il y a de la pollution, qui est malheureusement une grande partie de notre environnement et de nos communautés », explique Duncan. « Halloween en général est un peu axée sur les déchets. Vous avez beaucoup de ces petits bonbons emballés individuellement, et ce n'est pas la façon la plus durable de les savourer.
«Je pense que ceci devient une belle opportunité de s'habiller et de passer du temps à l'extérieur, et d'avoir un impact positif en participant à ce rituel d'Halloween de s'habiller que nous apprécions souvent », ajoute Duncan, qui note que peut être pas tout le monde ne se sent pas à l'aise faire du porte-à-porte pour des friandises cet automne comme par le passé.
Duncan est une ambassadrice des océans et l'une des 160 jeunes et jeunes professionnels (âgés de 18 à 30 ans) à travers le Canada sélectionnés pour le programme 2020 Portail Océan, qui soutient et encourage les participants à être des leaders des océans dans leurs communautés et à inculquer une culture de service envers nos océans, par le mentorat, la connexion les uns avec les autres et l'apprentissage d'experts en connaissances marines et autochtones dans le cadre du programme d'un an.
Ils participent également à deux voyages d'apprentissage immersifs où ils rencontrent d'autres ambassadeurs de l'océan et s'engagent dans des projets de gérance des océans basés sur le lieu pour approfondir leur compréhension des défis auxquels l'océan est confronté.
Lors de son récent parcours d'apprentissage avec Portail Océanjusqu'au lac Huron et la péninsule Bruce (Saugeen) avec un groupe de collègues ambassadeurs des océans en septembre, Duncan a participé à l'un de ses premiers nettoyages du rivage. Elle dit que c'était une expérience révélatrice.
« J'ai été choquée de voir à quel point la pollution était là. C'était un peu une chasse pour tout trouver », note Duncan. « Je suppose que je suis un peu une personne qui aime les casses-têtes. J'aime trouver des choses et passer du temps dans la nature. Cela m'a simplement frappé comme une façon vraiment positive de passer du temps à l'extérieur et d'avoir un impact ».
Les gens de tout âge peuvent organiser leurs propres nettoyages, avec un petit groupe ou une bulle domestique, et peuvent même enregistrer leurs propres nettoyages sur le site du Grand nettoyage des rivages canadiens (www.ShorelineCleanup.ca).
Tous ceux et celles qui participent aux nettoyages sont également encouragés à utiliser le hashtag #TrickOrTrash sur les réseaux sociaux pour partager leurs costumes et photos de leurs nettoyage. Elle ajoute que les nettoyages d'Halloween peuvent avoir lieu à tout moment du vendredi au dimanche.
Duncan dit que les données seront utilisées pour faire un décompte final de ce qui a été recueilli par les participants partout au pays.
Ceux qui ont des questions sur la façon de s'y prendre ou de trouver un nettoyage dans leur région peuvent visiter et aimer la page Facebook Trick Or Trash et entrer en contact avec Duncan.
Aileen Duncan est une jeune leader communautaire avec Portail Océan, qui est née et a grandi à Ottawa. Elle a étudié le développement international et la mondialisation à l'Université d'Ottawa et a également vécu à Hong Kong et à New Delhi.
Contacts médias:
Benjamin Aubé
Coordonnateur des communications Portail Océan
[email protected]
Qu'est-ce que Portail Océan?
Portail Océan rassemble 160 jeunes Canadiens âgés de 18 à 30 ans chaque année pour former quatre cohortes nationales – Pacifique, Grands Lacs, Saint-Laurent et Atlantique – composées de jeunes avec un large éventail de parcours et d'expériences, tous avec une passion de faire une différence dans leurs communautés à travers la lentille des océans et la conservation des voies navigables. Ces ambassadeurs Portail Océan de partout au Canada travaillent ensemble, reçoivent des fonds et apprennent des experts en protection marine et en éducation grâce à une plateforme en ligne et à des parcours d'apprentissage en personne pour développer des projets de services liés à la santé des océans et à la littératie océanique dans leurs communautés. Portail Océan est une initiative d'Ocean Wise financée par Service Jeunesse Canada et le gouvernement du Canada.
Service Jeunesse Canada
Service jeunesse Canada a été conçu de façon à créer une culture de bénévolat chez les jeunes canadiens, à obtenir des résultats concrets pour les communautés, à favoriser la croissance personnelle en permettant aux jeunes de faire partie d'une équipe diversifiée et à avoir une incidence durable sur les participants. Visitez canada.ca/ServiceJeunesseCanada pour en apprendre davantage.