Supporting Seaforestation One Receipt At A Time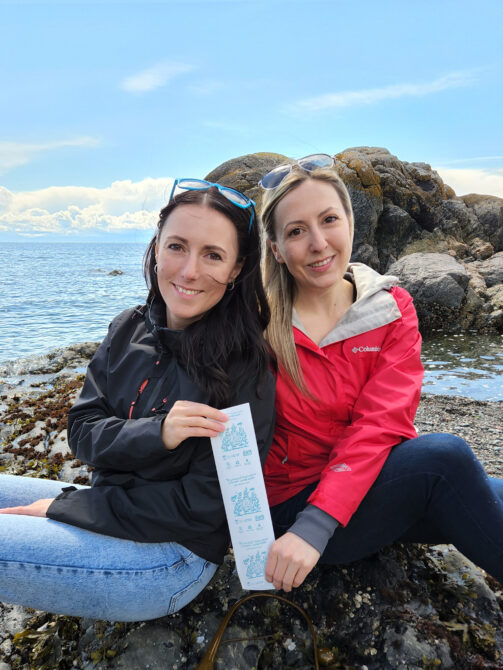 It's truly heartwarming to see business take action for our ocean. EcoChit, a Vancouver-based company, on a mission to help save our planet. They developed eco-friendly receipt paper that is designed to create awareness about climate solutions while giving businesses a simple way to support them.
EcoChit's founders, Lauren Cousins and Meagan Siddall, have been supporters of Ocean Wise and our mission to plant and restore kelp forests. Growing up on the West Coast, Lauren and Meagan have developed a deep connection and appreciation for the ocean, understanding that the ocean provides us with so many things, from food sources to a coastline of biodiversity, and even the air that we breathe.
"One out of every two breaths of oxygen that we take comes from the ocean. Isn't that reason enough to make sure we preserve it? We greatly value the work that Ocean Wise does to preserve the health of our ocean for generations to come." – Lauren Cousins, Founder of EcoChit
This year we are excited to announce the launch of their newest product line: EcoChit x Seaforestation – in support of Ocean Wise. This new product line will give businesses the opportunity to support Ocean Wise as we explore ocean-based climate solutions through the planting and restoration of underwater kelp forests. To learn more about seaforestation, look for the unique custom print featured on the back of each receipt printed with EcoChit's paper across Canada! For those interested in taking a deeper dive into the sustainability facts, they have included a scannable QR code to give customers the option to learn more. Their aim is to increase environmental literacy – one receipt at a time!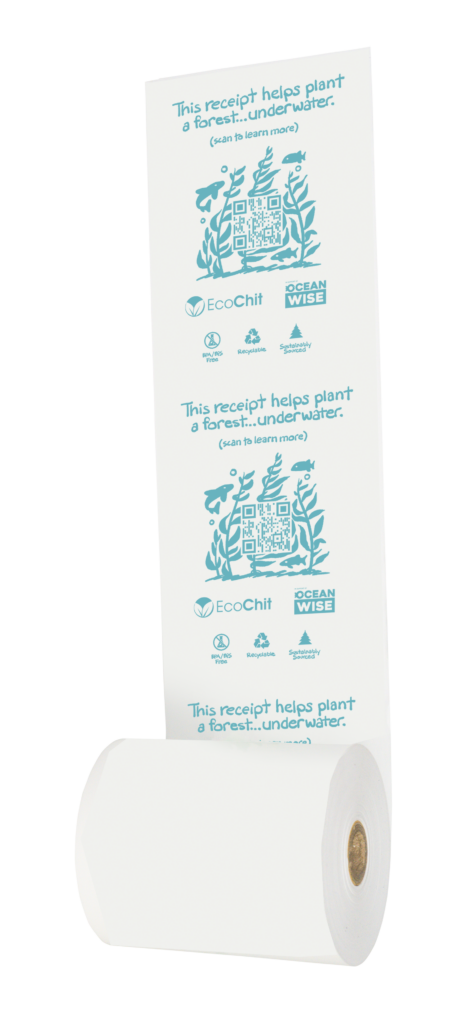 Kelp forests are crucial to countering the effects of global warming. Kelp grows 30 times faster than trees and helps absorb and store CO2 for centuries to come. But shrinking kelp forests need our help. This is why Ocean Wise is on a mission to grow and restore kelp forests at scale. Through kelp restoration, we can remove CO2 from the atmosphere, create marine habitat, and combat ocean acidification, all while creating economic opportunities for Indigenous and coastal communities.
"We, as humans, rely so heavily on the health of our ocean and supporting Seaforestation is a simple way that we can give back. Through the planting and restoration of kelp forests we can help reduce ocean acidification and create a habitat for countless species. It's an easy initiative to be passionate about!" Meagan and Lauren tell us.
EcoChit believes that businesses should lead with purpose. Their goal for the paper industry at large is to lead and encourage others to put the planet first when providing products that depend so deeply on it.

The EcoChit x Seaforestation product line is launching this June in celebration of World Ocean Month. To pre-order your first case or if you would like to learn more about EcoChit, please reach out to them at [email protected].

Are you interested in supporting seaforestation like EcoChit? Or getting EcoChits in stores near you? Contact our team at [email protected] and we're happy to help you get started.