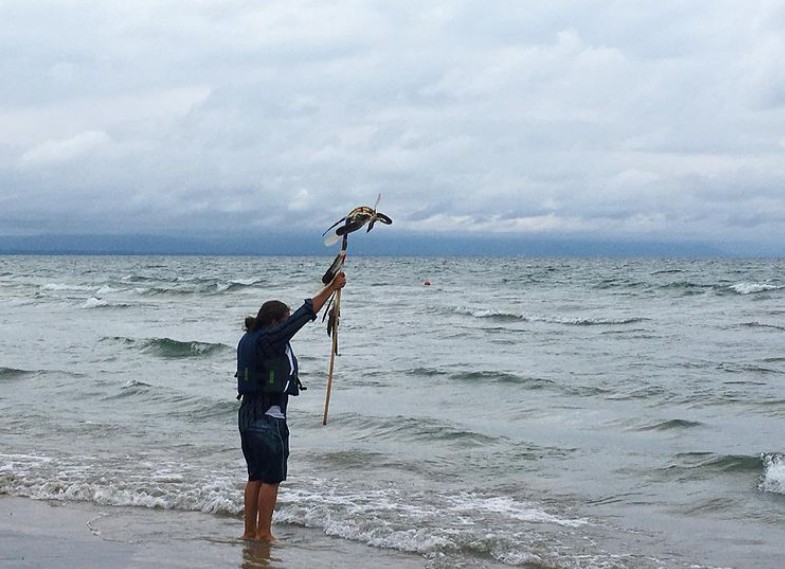 Making a Splash- Actionism for Ancestors
In 2021, 160 young people (ages 18-30) formed Ocean Wise's Ocean Bridge program, a national team engaged for eleven months in co-creating and delivering ocean and waterway service projects for their home communities.
Waasekom is a 2021 Ocean Bridge Ambassador creating waves across Canada, from water activism to Indigenous Peoples advocation. Waasekom is from the community of Kettle and Stony Point First Nation in Ontario, and they remember growing up close to the lakes and participating as a ceremonial helper and student of the Anishinaabe lake ways. An Indigenous advocate for water health and awareness, Waasekom is leading four ceremonial canoe journeys throughout the Great Lakes raising awareness about water, climate change, and Indigenous sovereign responsibilities. A major passion for Waasekom is finding a way to bring the voice of the water into decision–making and building intergenerational tools and agency for Indigenous led nation building.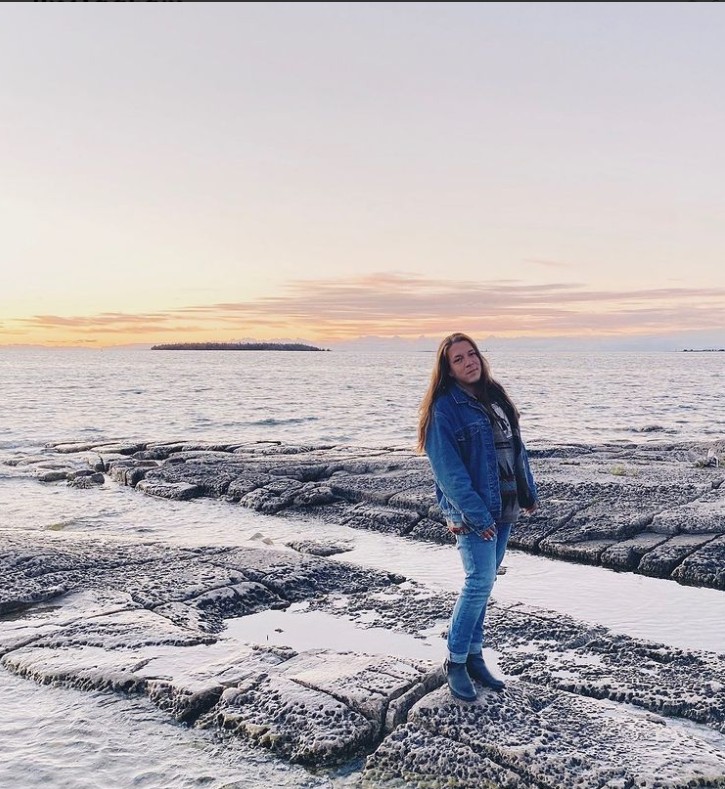 Through that passion for water and their time spent in Ocean Bridge, Waasekom started a new project, The Elegy of Ancestors. Elegy is an expression of intergenerational love for the ancestors, specifically those captive within museums and other forms of public or private institutions. Globally, there are millions of Indigenous human remains and sacred items hidden from their people. Elegy of Ancestors is an emergent Indigenous led ceremonial expression and performing arts movement that hopes to lift that conversation and urge the return of ancestral remains and sacred items back to Indigenous communities. The project is focused on using performance, art, song, and stories to engage the audience and experience the ancestors' stories as an expression of intergenerational love. Waasekom hopes to build public awareness through Indigenous excellence, community collaboration, and to ultimately encourage the release of ancestors and items.  
This project came to fruition on a cold, February night while Waasekom and their group were engaging over 8,000 members of the public on climate change during an ancestral canoe journey. On the last day of that journey, Waasekom slipped and fell on ice. As they fell, they closed their eyes and they saw a flash of light. Waasekom says, "it was in this flash that it was like a glimpse into seven generations." Waasekom continued to describe that "our ancestors seven generations ago looked ahead for us and they made choices that would help us to be here." In that flash, Waasekom reflected that the tools and the knowledge that are contained within institutions are now disconnected from the Indigenous communities. In order to equip communities and future generations like the ancestors did for them, Waasekom realized they have to re-collect that knowledge and memory.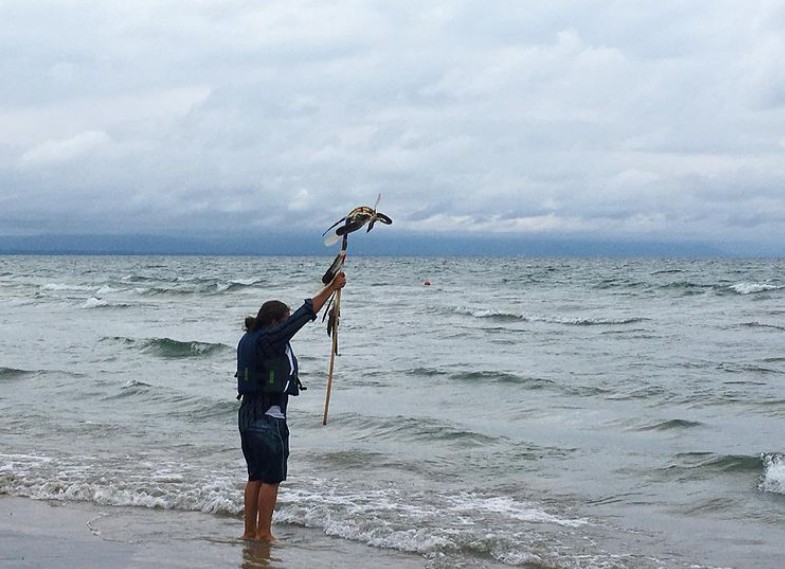 Waasekom joined the Ocean Bridge program this summer to continue to amplify their voice in the water conservation community and to broaden their connections nationally. They are excited to see how this program will continue to show up for them and support Indigenous voices.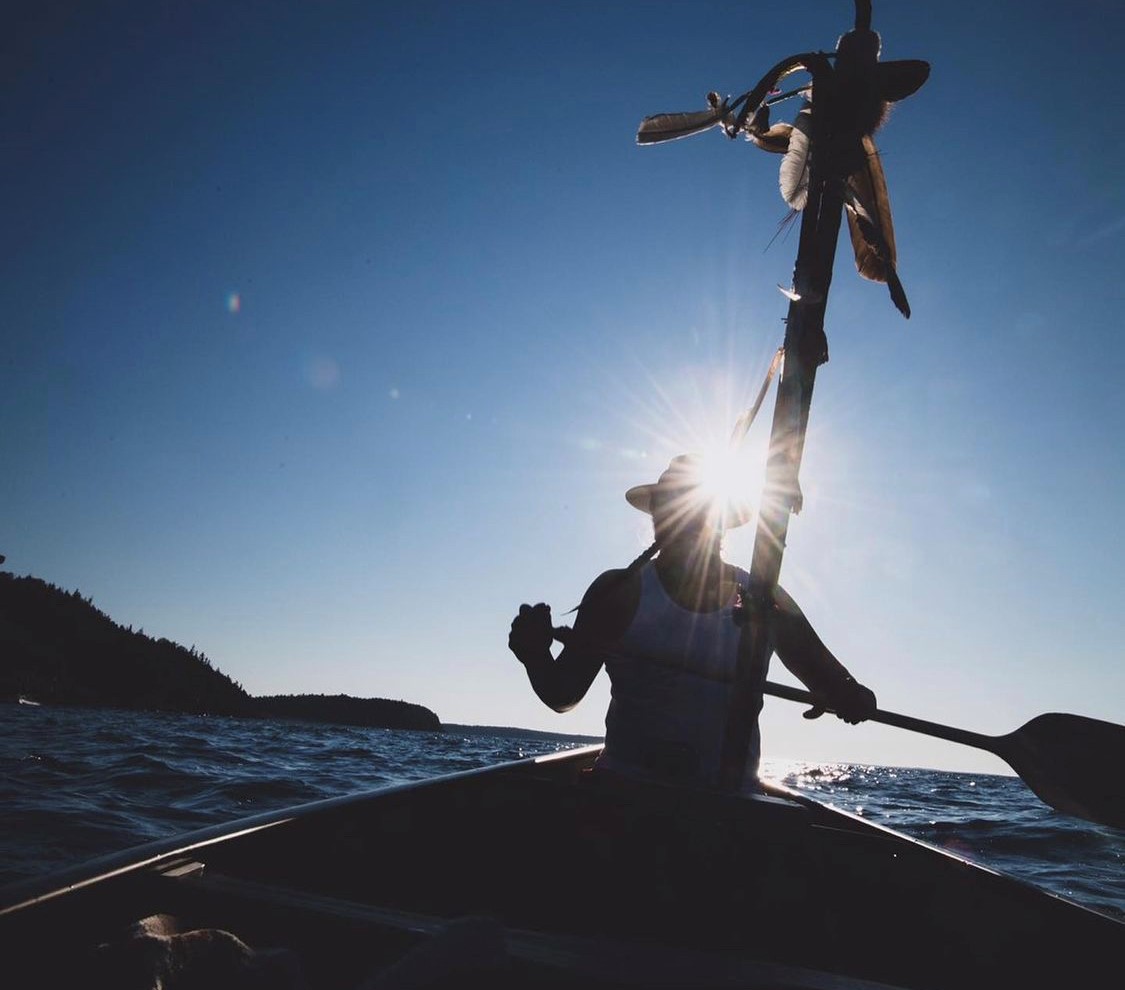 The Elegy of Ancestors Project will be kicking off soon and there are a number of ways you can get involved. A big way to show support is by honouring and lifting Indigenous People who are bringing this project forward. You can connect with the public fundraiser to help sponsor this project and check out the website to stay updated. We can't wait to see the great work Waasekom does after Ocean Bridge!
What is Ocean Bridge?
Ocean Bridge brings together young Canadians with a wide range of backgrounds and experiences who are passionate about making a difference in their communities through the lens of oceans and waterway conservation. These Ocean Bridge Ambassadors from all across Canada work together, receive funding and learn from experts in marine conservation and education through an online platform and in-person learning journeys to develop service projects related to ocean health and ocean literacy in communities across the country. Ocean Bridge is an Ocean Wise initiative funded by the Government of Canada through the Canada Service Corps.
Canada Service Corps
Canada Service Corps is designed to generate a culture of service among young Canadians; concrete results for communities; personal growth through participation in a diverse team of peers; and lasting impacts on participants. Visit www.canada.ca/CanadaServiceCorps to learn more and how to get involved in the way that works best for you.