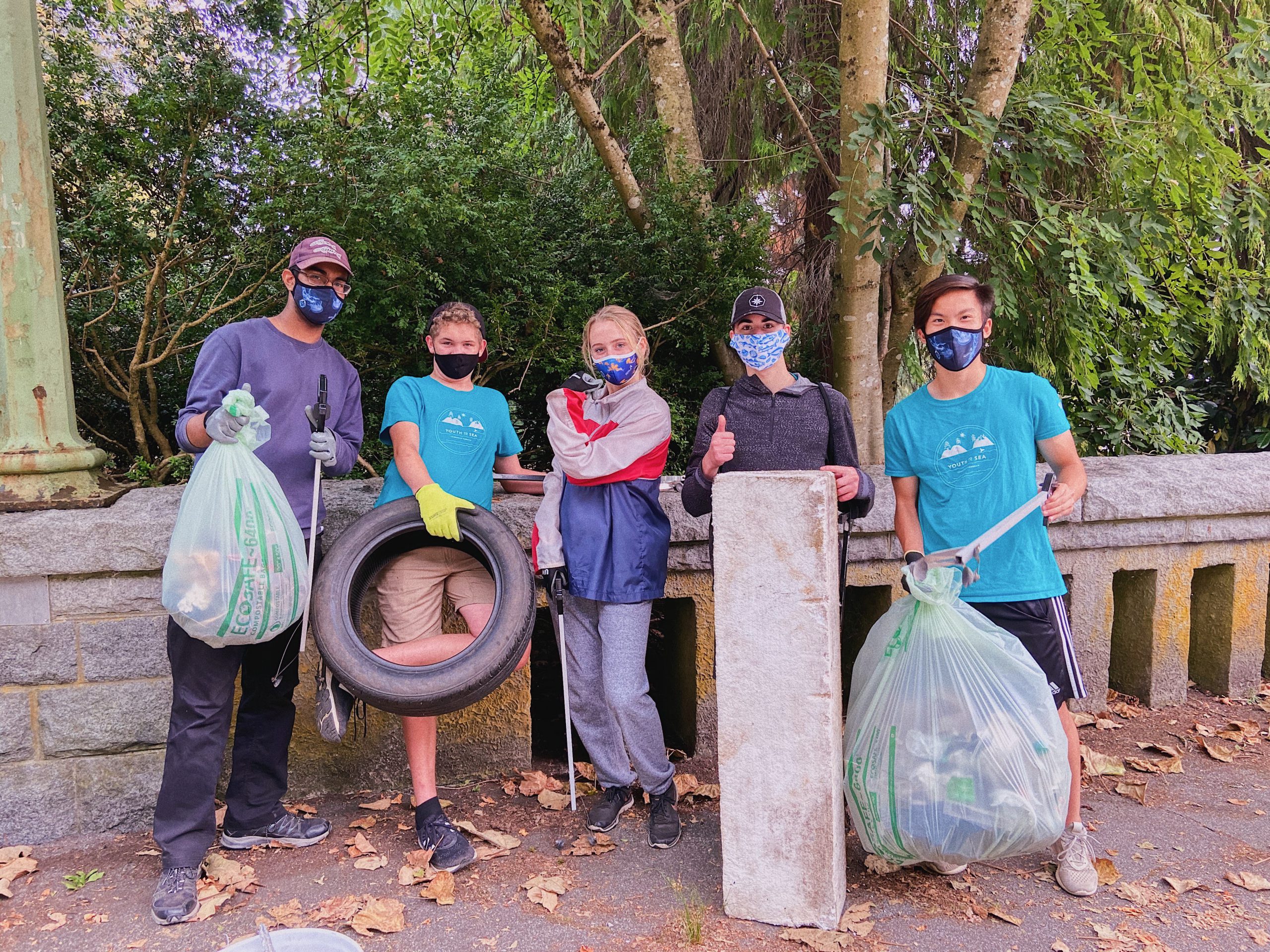 Local Teens Hope to Inspire Shoreline Cleanups in March with Restaurant Gift Cards
"Clean Coastal, Eat Local" initiative spearheaded by teens from Ocean Wise's YouthToSea program
A group of Metro Vancouver teens in Ocean Wise's YouthToSea program have set out to address a number of pandemic-related issues facing our environment and community: the increase in litter on local shorelines, the drop in participation in Great Canadian Shoreline Cleanup, and the decline in business experienced by local restaurants due to COVID-19.
The 15 teens from across Metro Vancouver teamed up with Great Canadian Shoreline Cleanup to launch Clean Coastal, Eat Local. During the month of March, the Clean Coastal, Eat Local initiative is designed to incentivizing individuals and households to host Shoreline Cleanups by awarding $50 restaurant gift cards to anyone who organizes a cleanup which meets the criteria.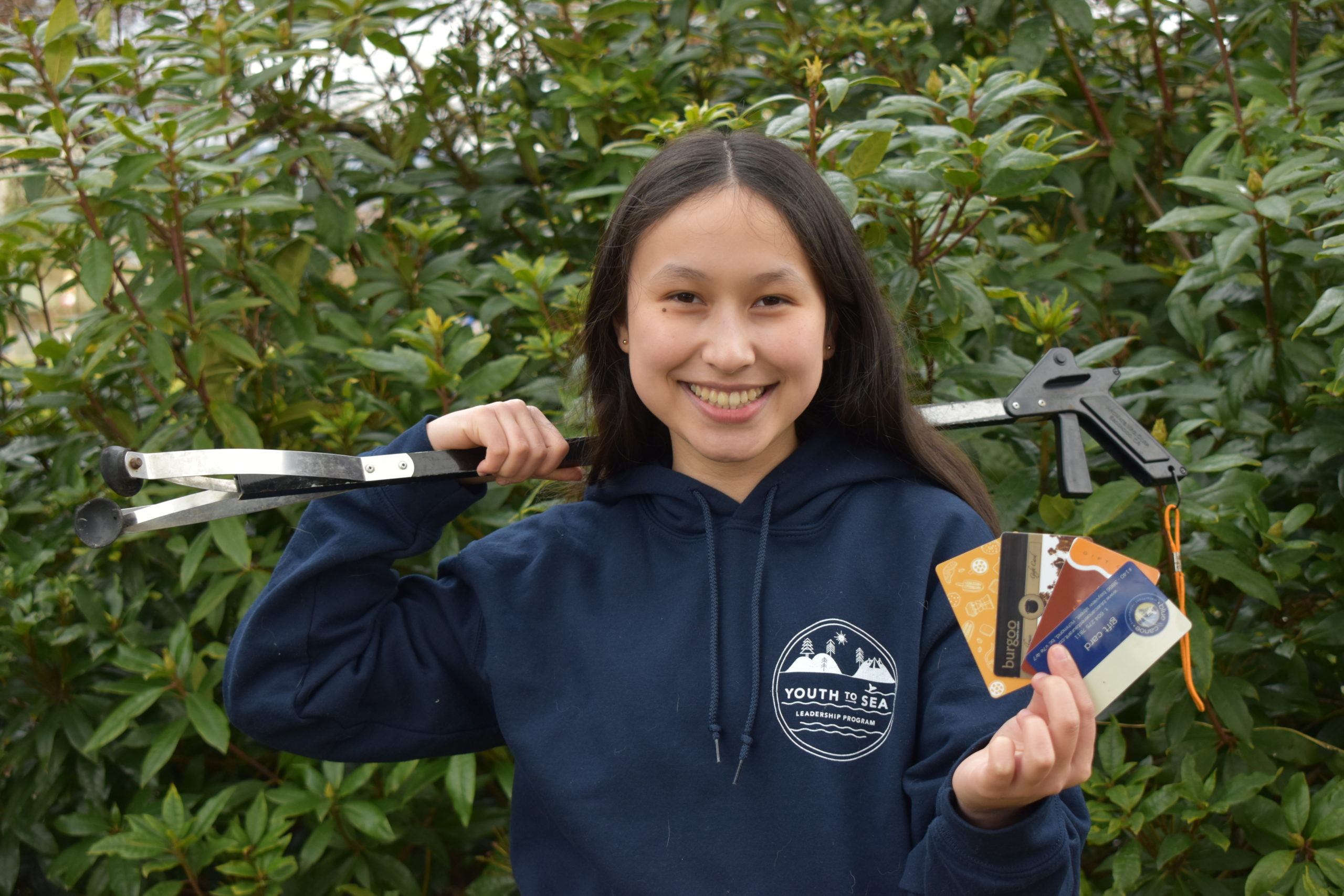 Their goal is to get 120 shoreline cleanups happening in Metro Vancouver this March. In 2020, due to the pandemic, there was more than a 50% drop in participation in Great Canadian Shoreline Cleanups in Metro Vancouver.
"We decided to create this initiative after learning that the Great Canadian Shoreline Cleanup recorded record low turnout numbers over the past year," said Yonatan Roling, a 15-year-old YouthToSea participant from Vancouver. "As a group we decided that restaurant gift cards would both encourage families to take action against shoreline pollution and help keep small businesses running during the pandemic."
With funding through the program, the teens purchased gift cards from restaurants across the Lower Mainland based on three requirements: the restaurant had to be locally owned, provide takeout, and – if it offered seafood – it had to be sustainable. Restaurants chosen include Heirloom Vegetarian Restaurant, Tacofino, The NAAM, Fable Diner, Sammy J's Grill and Bar, Olive and Anchor, Charlie Don't Surf, Burgoo, Cotto Enoteca Pizzeria, Bowen Island Pub, Blue Canoe Waterfront Restaurant and Hive Café.
"All of us at YouthtoSea wanted to come up with an idea to incorporate doing a good deed for something in return. Through Clean Coastal, Eat Local, we are supporting local businesses while encouraging individuals to get out and clean their local shoreline or waterway" said Elizabeth Chung, an 18-year-old YouthToSea participant from Burnaby." "During the pandemic I constantly see disposable masks and takeout containers carelessly thrown on the ground. Hopefully, this initiative will improve the cleanliness and health of our oceans, lakes and rivers."
"With the incentive of gift cards from local restaurants and cafes, we are hoping to shine a light on small businesses that are struggling currently. Overall, I'm super excited to get this started and see how our communities can rise together – from sea to shore!" added Sophie Dublin, 18-years-old, from Burnaby.
To be eligible for a gift card, your cleanup must take place in Metro Vancouver between March 1 and 31, 2021 and you must officially register it on the Great Canadian Shoreline Cleanup website. Participants must collect a minimum of 50 pieces (or 10 lbs) of shoreline litter and litter data must be logged via Great Canadian Shoreline Cleanup's website. Finally, to comply with Great Canadian Shoreline Cleanup's COVID safety protocols, cleanups must be solo or household only. Full details are available at shorelinecleanup.ca/cleancoastaleatlocal.
Ocean Wise's YouthToSea program brings together 100 youth aged 15-to-19 from across the Lower Mainland with a common goal: to protect and conserve our ocean. The leadership program supports youth in creating ocean and water service projects in their communities. YouthToSea is funded by Employment and Social Development Canada and is part of the Canada Service Corps program.
Great Canadian Shoreline Cleanup is a conservation partnership of Ocean Wise® and World Wildlife Fund Canada. Presented by Loblaw Companies Limited and Coca-Cola Canada, Great Canadian Shoreline Cleanup is one of the largest direct-action conservation programs in the country with volunteers playing a critical role in helping reduce plastic pollution in coastal and freshwater bodies.