Finding Joy and Resilience in Community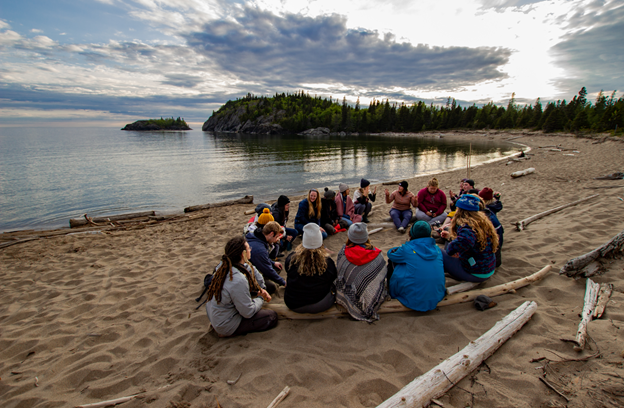 Ocean Wise's Ocean Bridge program brings together a national team of young people (ages 18-30) to contribute to ocean health and conservation. Ambassadors develop new skills, build relationships across the country and take meaningful action to protect the ocean.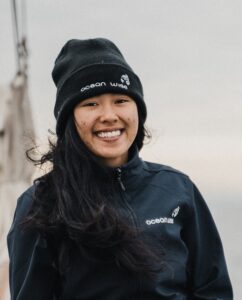 Frankie Marquez is an alumna from the 2019 Ocean Bridge cohort. She worked for Park's Canada's outreach team where she became a certified interpreter and taught people how to camp as part of the LearnToCamp program. However, she decided that she loves Ocean Bridge so much that she transitioned jobs and now she now works for the Ocean Bridge National team as a program specialist. In this role she designs dialogues, plans community building events, and looks for opportunities alumni can reconnect with the program. Frankie is particularly passionate about the role dialogue has to play in the conservation world and hopes to bring many different voices to the table.
Finding Joy and Resilience in Community
Calm waves from Lake Superior crashed on the shores of Pukaskwa National Park, and I sat in a circle with youth from across Canada who I had just met four days earlier.
It was reflection time. We were asked the question, "What brought you to Ocean Bridge?"
Just like in kindergarten, we went around the circle, and I sat and listened to my friends share their stories. From land-locked youth who were tired of seeing the amount of plastic waste being produced in their communities, to youth from the Yukon who wanted to see more action in their communities.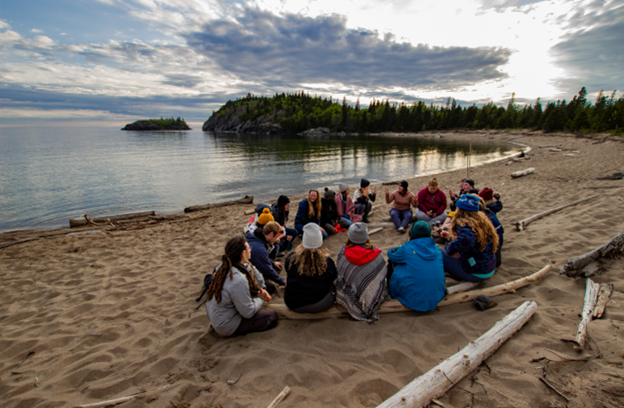 The stories I heard were raw, powerful, beautiful, and came from real people. I could feel passion, frustration, and the desire for action and change to occur. It struck a chord deep in my heart and soul to be surrounded by like-minded people.
These stories brought up an emotion that I did not realize I suppressed: Loneliness.
Soon it was my turn to share my story. I sat quietly as tears started to pool in my eyes. Having met these people four days ago, they probably were not ready to see me have a complete emotional breakdown. I felt like I was stuck on a rollercoaster. My tears were there, and as hard as I tried to reabsorb them, it was physically impossible. I made eye-contact with every single person in the circle before I started hysterically crying tears of joy.
All I could manage to say between the tears was, "I'm not alone anymore."
Alone we can do so little; together we can do so much.

Helen Keller
These tears of joy came from my previous experiences and my personal relationship with the ocean.
At one point in my life, I felt more connected to fish than I did with people. My love for the ocean is part of my identity. Coming from the Philippines, my earliest childhood memory was of my dad throwing me into the ocean to snorkel with the fishes. Moving to Vancouver, my life changed when I held a sea star in my hands for the first time.
Whenever I'd talk about the importance of the ocean with people, it felt like I was speaking a different language. I'd prattle on about all the oxygen it gives us and the alien-like creatures that call the ocean home. People would look at me and nod, but at the end of the day I was left unsure if my words had any impact on what people thought of the ocean. I felt alone in a room full of people.
As I grew older, I learned about the many different threats the ocean faced, including global warming, pollution, overfishing, and the loss of sea ice. This endless list of threats made me feel small, lost, anxious, and a little angry. I wanted to take action and to feel as though I was doing something, anything, to help the oceans that I love so much.
That's when a mentor told me to apply for Ocean Bridge. Before then, Ocean conservation took a back seat for three years as I dived into University and work, so when this opportunity came up, I knew I had to immediately apply. My acceptance into the program created much determination and nervous excitement in me.
One of the most important things you can do on this earth is to let people know they are not alone.

Shannon L. Alder
When the 10-day Learning Journey came around, it was the first time I met other members of the Ocean Bridge cohort. As excited as I was, I felt like a child going to their first day of kindergarten. What if I couldn't make friends? What if they didn't like me? As a full-fledged 22-year old adult I thought it was ridiculous to be having these feelings.
Well, I did make friends – dare I say it, I found a family. I did not expect that being part of Ocean Bridge would be like joining a raft of sea otters. Yet, I found myself in Northern Ontario surrounded by a network of ocean-loving people who cared and supported each other.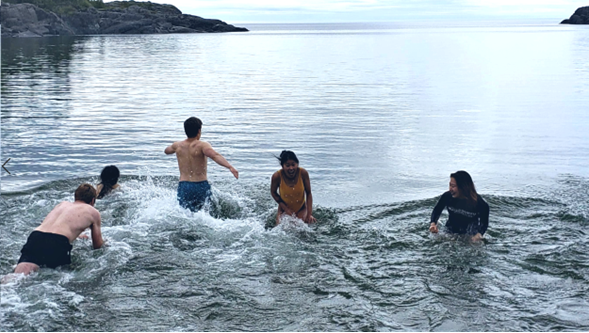 Being in Northern Ontario for the wilderness journey gave me once in a life-time experiences. The Pawgwasheeng peoples from Pays Plat first nations and the Red Rock Indian band welcomed us by letting us participate in a sweat-lodge, sleeping in a tee-pee, and swimming in the frigid cold waters of Lake Superior. My desire for action was satisfied when I planted trees at Neys Provincial Park, cleaned up microplastics from the shores of Lake Superior, and identified lichen at Hard Scrabble Island.
So many activities happened during this journey, but the most memorable part was experiencing them with all the members of the Ocean Bridge family. Ultimately, community is where you can find strength and resilience.
The fight against climate change is long, exhausting, and difficult. My advice to any environmentalist finding it difficult to stay motivated and determined is to collaborate and surround yourself with like-minded peers.
There is no power for change greater than a community discovering what it cares about.

Margaret J. Wheatley